Cisco UCCE Reporting and Analytics
Cisco CUIC Alternative for UCCE with
built-in Cisco Finesse, Reskilling and more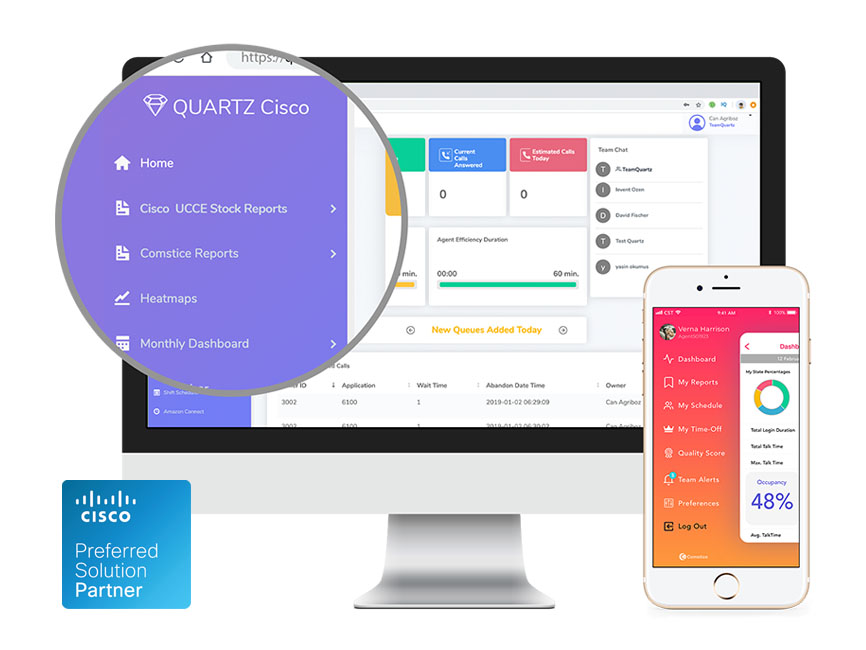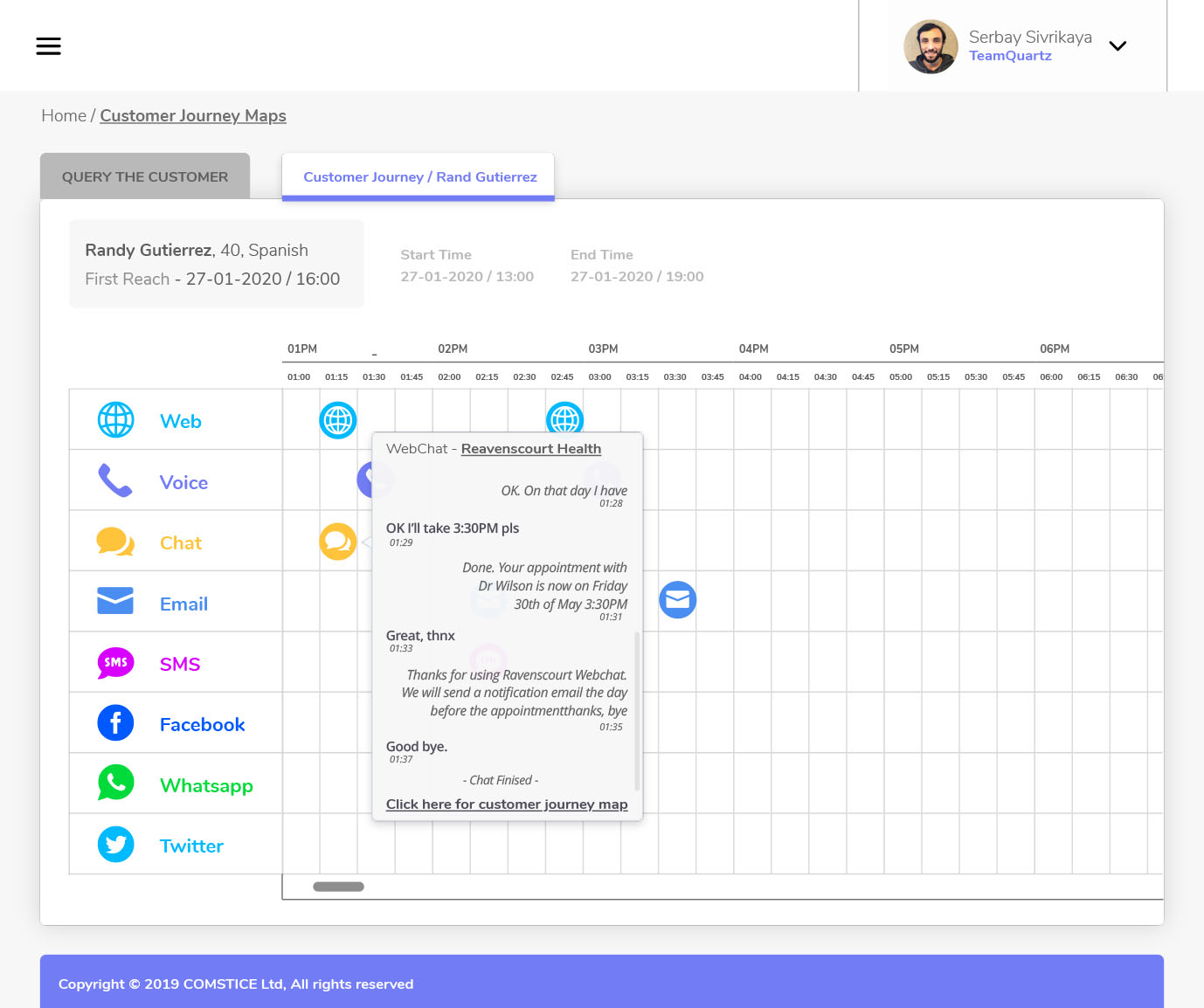 Customer Journey Maps
Visualise Contact Flows
Information can be presented in real time to your agent, to give them the latest view of the individual customer's journey history.
Key journeys, such as renewals, can also be mapped to identify areas for improvement - especially relevant in an omni-channel context.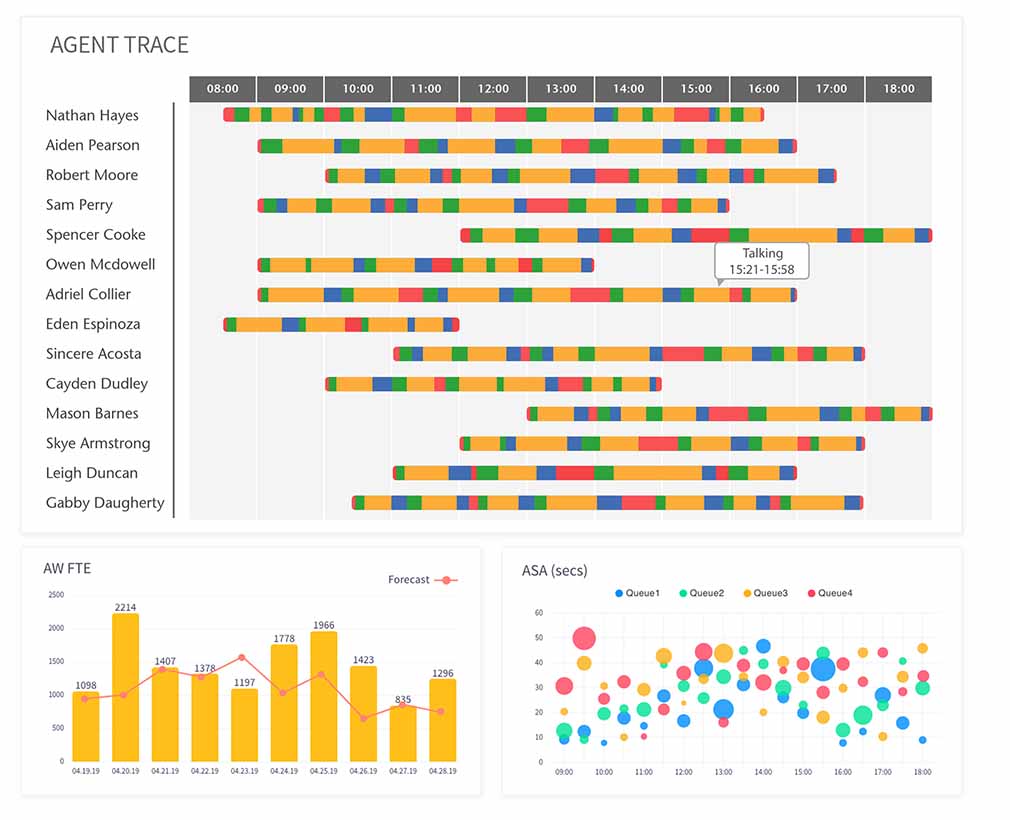 Faster Data Visualisation
Easy Access to Meaningful Data
Comstice Quartz offers Heatmaps, Drilldowns (monthly / weekly / daily / hourly) and Year-On-Year data for a better visibility in the performance.
Comstice Quartz ensures that these long-term charts generate quickly by optimizing the data. Visual reports can be built and shared easily with our report designer feature.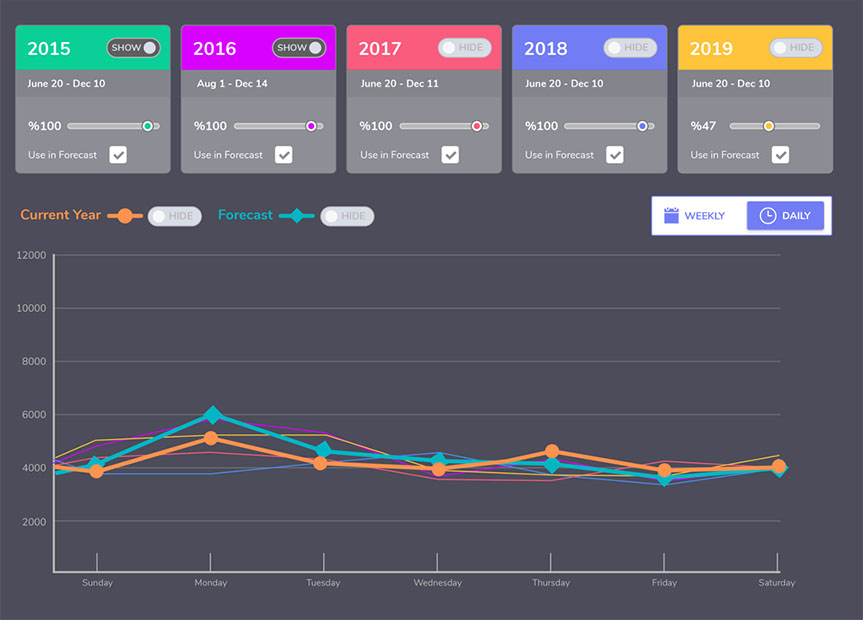 Analytics and Forecasting
Eliminate the Noise in your Forecasts
Our visual forecaster feature helps you to blend data from the past few years, filter unusual intervals such as holidays or technical faults, then forecast for each week, days of the week and intra-day. It also provides percentage distribution of the call volumes during the day for every 30mins.
Our AI-based time-series forecasting feature lets you estimate your resources automatically.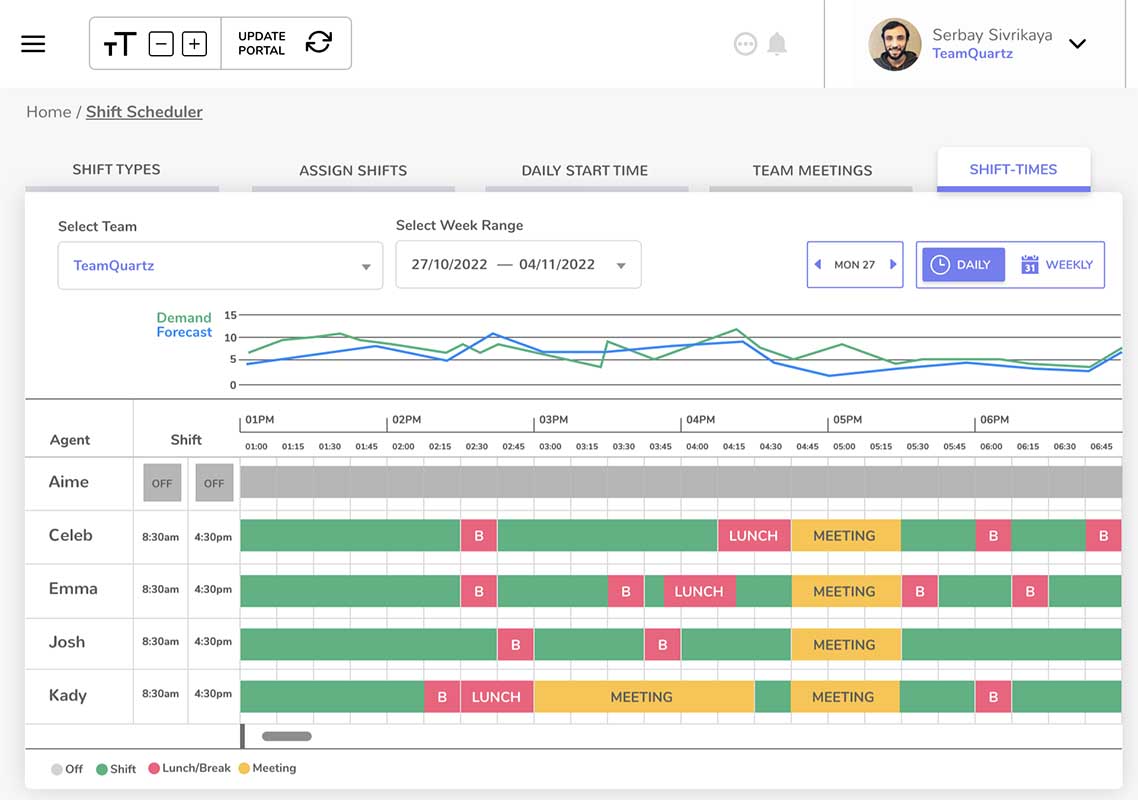 Reskilling and Resource Management
Smart Resource Management
Quartz Resource Management builds and updates shift schedules in real-time, based on agent availability and preferences, to meet forecast demand.
The Quartz mobile app lets agents access shift details, update their availability and preferences and review their personal performance against your key indicators.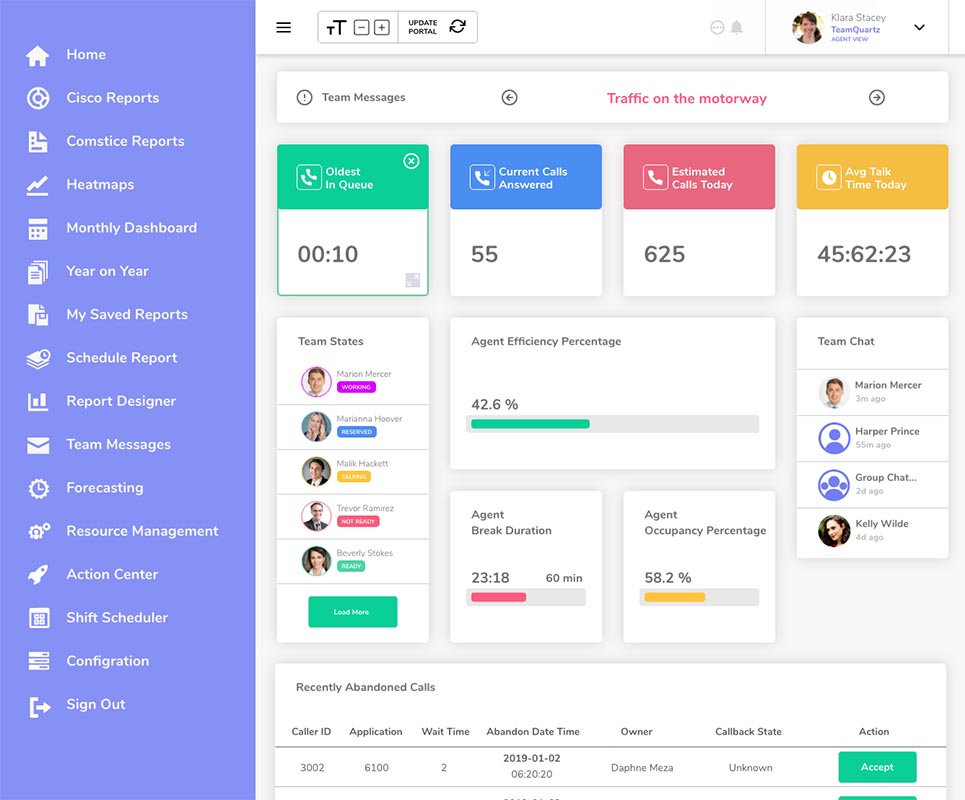 Stock Reports
Cisco and Comstice Stock Reports
Comstice Quartz offers access to Cisco UCCE stock reports, CVP and ECE reports as well as Comstice Stock reports created for Cisco UCCE.
Comstice Quartz also helps to create custom reports, add third party data to the reports, schedule the reports to run periodically and to be delivered to the list of recipients as a web link on an email.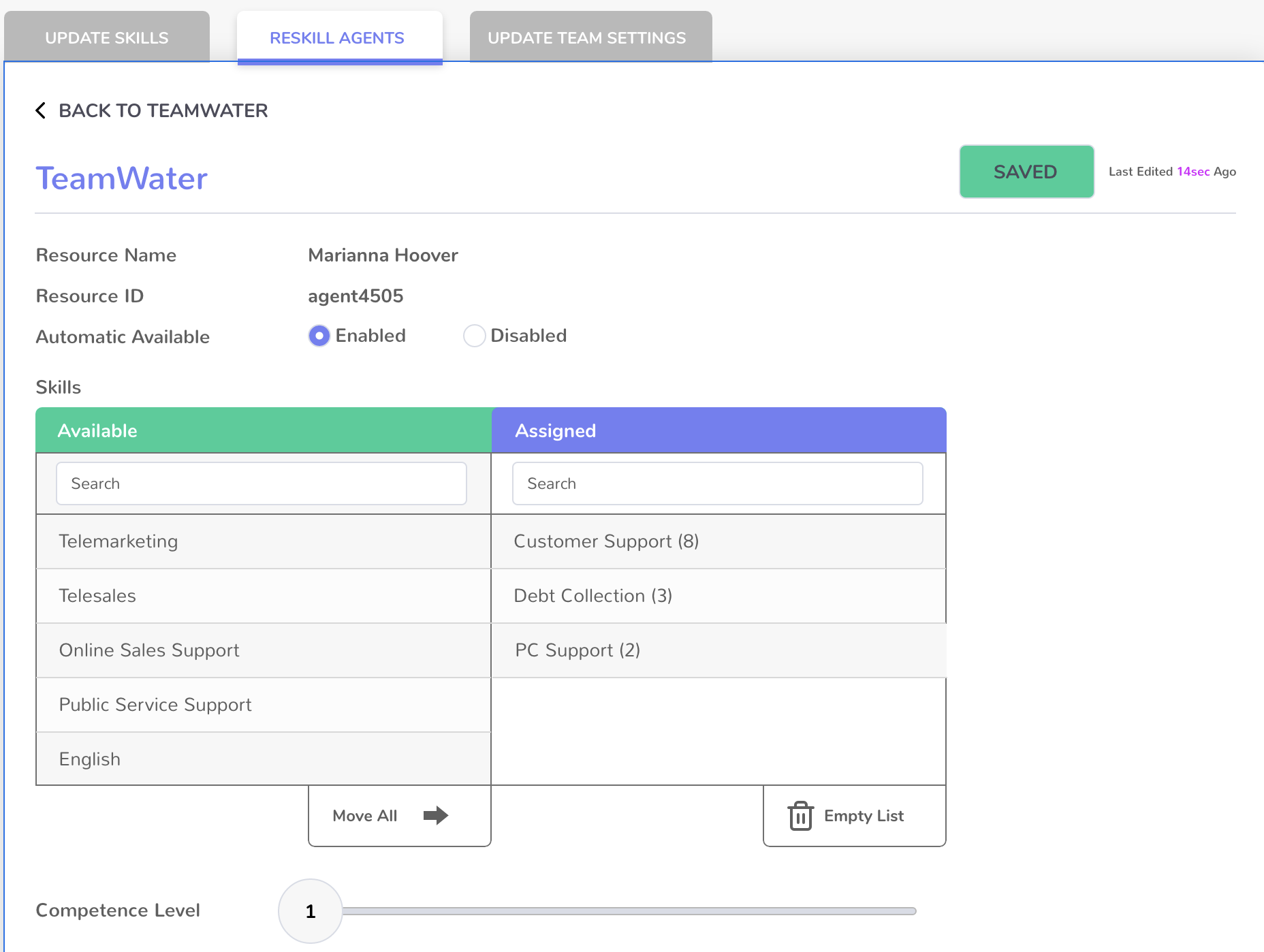 Re-Skilling Cisco UCCE Agents
Cisco UCCE and PCCE supervisors can update agent skills, add one or more skills to an agent, add one or more agents to a skill with competency levels using Comstice Quartz web portal. They will be restricted to the teams they are managing.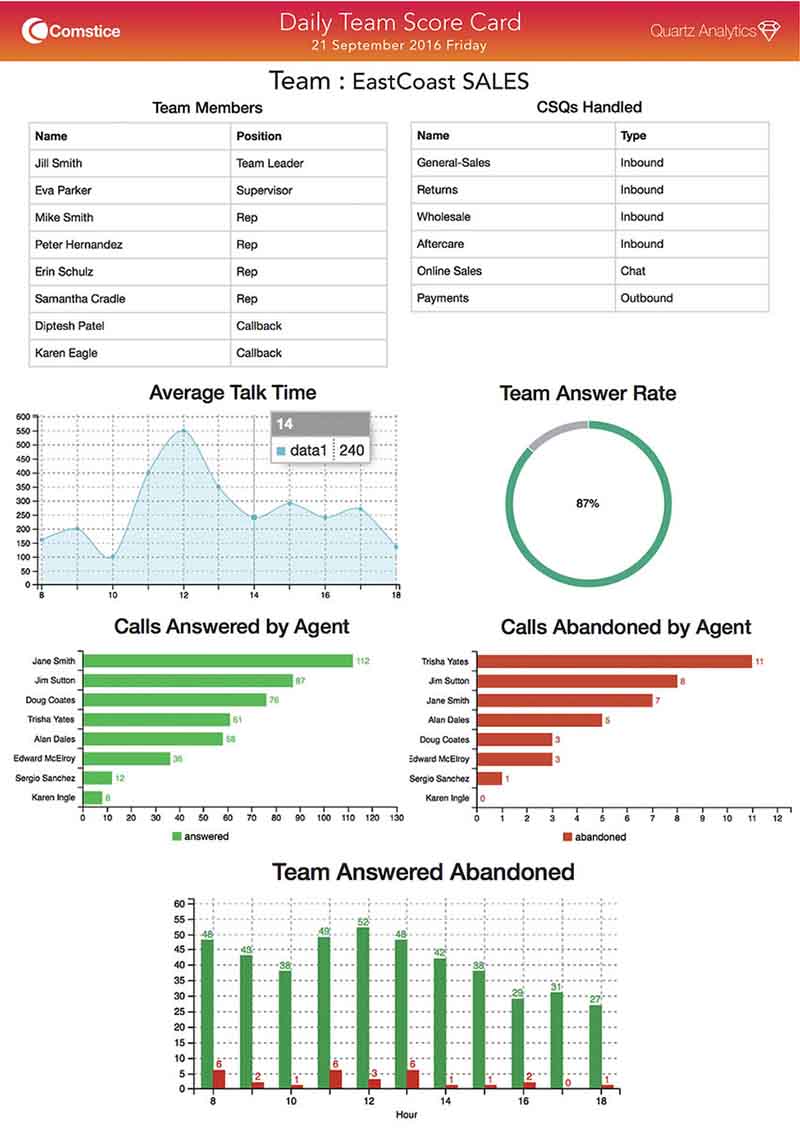 What is the license model for Comstice Quartz?

Quartz is built on a reported (named) agents license model. There is no restriction on number of concurrent users accessing the data. Agents and other business stakeholders can access and view the permitted data.

Do I need additional licenses on Cisco UCCE to use Comstice Quartz?

No additional licenses needed. All the services will be provided as part of the solution.

Is Quartz a CUIC replacement or can we use them at the same time?

Quartz is an alternative to Cisco CUIC, however it does not depend on CUIC. You can use both at the same time, although you can shut down CUIC and Quartz will still work.

Can we create our own reports for Cisco UCCE?

You can create new reports by editing or merging Cisco stock reports, create chart-based reports, insert third party data into a report, build a score card using Quartz Report Designer.

How can I migrate my existing reports from another vendor?

Comstice Professional Services can help you to migrate your data from Excel or another DB into Quartz so you can compare the indicators over the years even though the data comes from different vendors.

Why should I use Quartz instead of Tableau?

Quartz is specifically designed for managing and visualising customer experience. It has built-in contact center reports, charts and dashboards as well as other contact center features such as agent functionality, forecasting, resource management, time-off management out of the box.

Does Comstice Quartz offer a data warehousing feature?

Quartz can offer data warehousing, so that your historical data is retained, even after your call center database is purged.

Can I control the level of access that my team members and supervisors have?

Yes, you can. It is possible to create profiles to access agent-specific and call volume information.

Can I plan, allocate and monitor backoffice tasks using this system?

Yes, you can, via our Task Manager capability. It is quite comprehensive and lets you to document, report and forecast backoffice tasks with reporting.

Can I change agent skills / settings?

You can assign skills to agents, agents to a skill group as well as precision queue attributes to agents.

How long does it take to train an agent or supervisor on Quartz?

Typically we run one hour-long train-the-trainer session for supervisors, and also provide video and pdf content.

How easy is it to send a report to a stakeholder who is not set up as an agent?

You can create a report and share the permanent link, or schedule the report and they will receive it as a weblink via email once the report is generated. Past reports can be accessed from their Quartz accounts.