Cisco Finesse Screen Recording Gadget
Start Agent Full-Screen Recording from Web Gadget
On-Premises Solution for recording full agent screen including audio, without any installation on agent PC.

Download Cisco Finesse Screen Recording Gadget Data Sheet and learn more about how you can recordagent screens without any installation.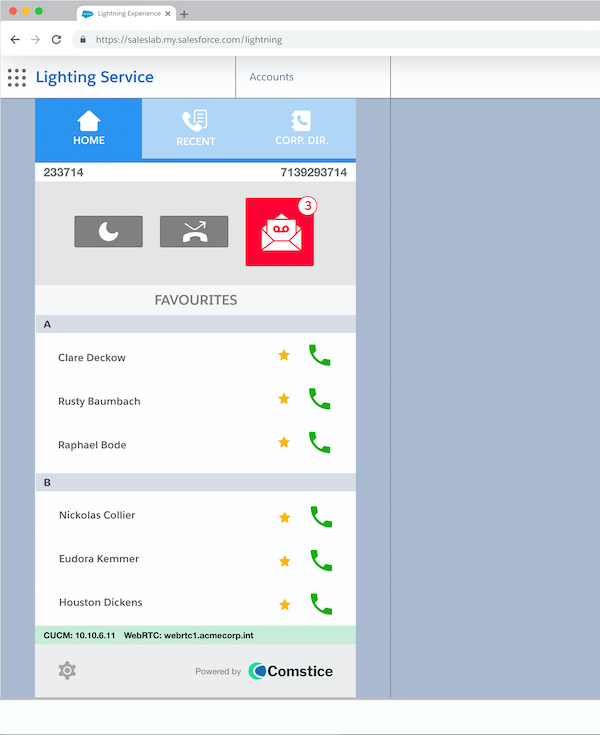 CUCM Webphone inside Your CRM Platform
Comstice Webphone supports Salesforce, Zendesk and ServiceNow so you can integrate webphone functionality on your CRM pages.
Sales reps can do callbacks from the CRM pages and can handle incoming calls with the caller's CRM contact pushed for the new call.
The calls will go through your Cisco CUCM and existing telephony infrastructure. No installation or Cisco phone required.
Why Cisco Finesse Screen Recording Gadget by Comstice
Avoid Software Installs on Agent PCs
Webphone inside CRM Pages
Comstice Webphone can work with any web browser and users can make and receive calls from CRM contacts or other web apps.
Chromebook Support
Low-cost, low maintenance Chromebook PCs can be used by enterprise users and partners with no installation required.
On-Premises Solution
Comstice Webphone offers full privacy and end-to-end encryption since it is running on company's network.
Compare Comstice Screen Recording Gadget with Installed Screen Recording Software
| Features | Installed Screen Recording Software | Web-based Screen Recording Gadget |
| --- | --- | --- |
| Works with no installation on agent PC | No | Yes |
| Google Chrome Support | No | Yes |
| Can be integrated inside CRM webpages? | No | Yes |
| Offers API library to implement inside Web applications? | No | Yes |
| Works without Complex Security/Firewall Setup? | No | Yes |
| Works without software upgrades? | No | Yes |
| SMS notifications for the incoming and missed calls | No | Yes |
| Name-only inbound and outbound external calls for protecting customer numbers | No | Yes |
| Reliable Mobile Softphone App with cell network fallback? | No | Yes |
| MS Teams Chat/IM Access | No | Yes |
| On-Premises Solution? | Yes | Yes |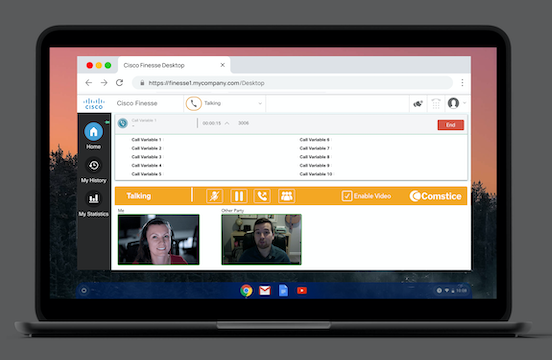 Chromebook Support for Cisco Enterprise Telephony Users
Sales reps, partners and temporary staff can use Chromebook PCs with no installation required and communicate with the clients through webphone.
Chromebook PCs are the low-cost, low-maintenance alternatives to other PCs. No data can be saved on the Chromebook and user has very limited permissions to install apps.
Comstice Webphone helps to handle audio conversations using browser. It can work without the VPN, through the public Internet.