Amazon Connect SIP Connector
Connect to AWS Self-Service and Telephony Services using Comstice SIP Connector for Amazon Connect
Integrate existing collaboration infrastructure with AWS Services via Amazon Connect for self-service features, Speech-to-Text, Text-to-Speech, webchat, mobile softphone and cloud contact center features.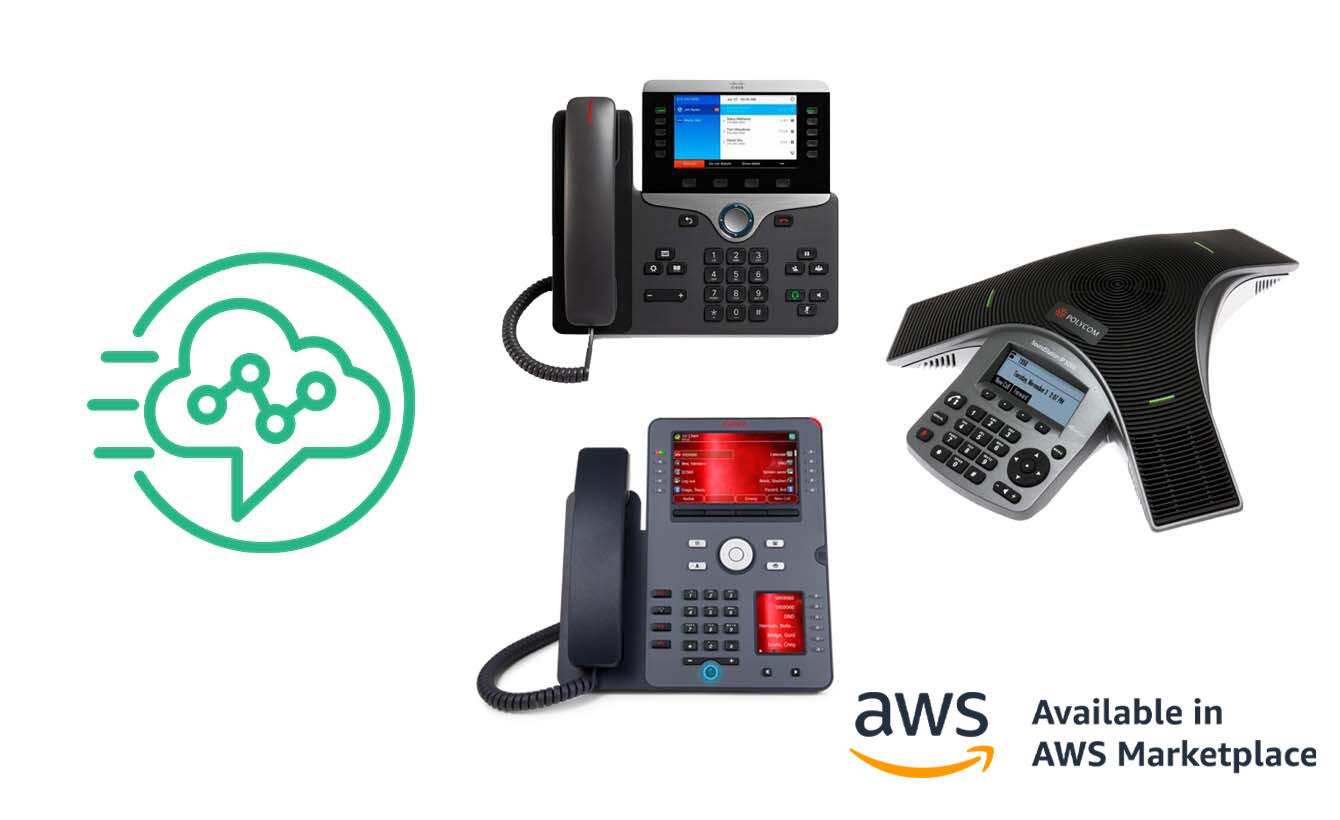 Why Amazon Connect SIP Connector
Eliminate Costly Self-Service Solutions
AWS offers many customer self-service features as a pay-as-you-use service. So you can integrate AWS IVR and Self-Service features into your existing contact center.
SIP Phone Support
You can integrate your SIP Phones and other SIP-based telephony devices with Amazon Connect for better user experience.
Phased Migration to Cloud
Comstice Amazon Connect SIP Connector offers phased migration to Amazon Connect Cloud Telephony solution, so you can move your users gradually.
Mobile Business Line
Enterprise users can use physical phones while at the office and Cosmtice Mobile Softphone for Amazon Connect when they are on the move as their mobile business line.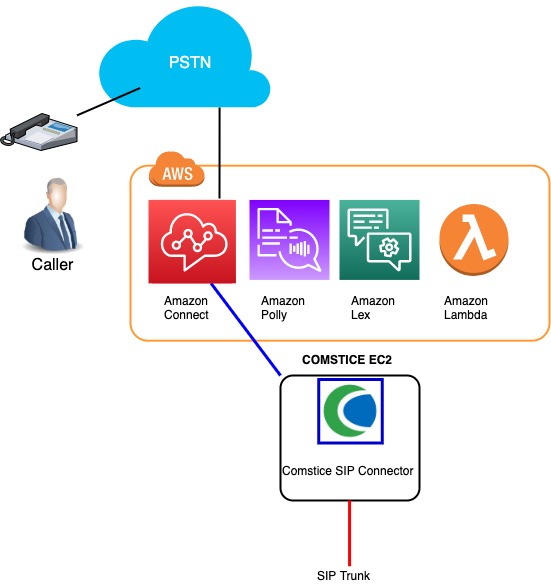 Amazon Connect SIP Trunk
Comstice SIP Connector for Amazon Connect offers a SIP trunk integration with Amazon Connect for any SIP-Compatible VoIP platform.
Comstice SIP Connector includes WebRTC Gateway, SIP Proxy and SIP Session Border Controller. You can easily host Comstice SIP Connector on your own EC2 instance or get it as a service.
Amazon Connect Self-Service for Cisco CUCM, Avaya CM or any other IP-PBX
Comstice SIP Connector helps Cisco Callmanager, Avaya Communication Manager or any IP-PBX to integrate with AWS services such as Amazon Connect, Amazon Polly (text-to-speech), Amazon Lex(speech bot) and Amazon Lambda (serverless scripting for third-party API-based integrations).
This helps companies to use Amazon Connect as self-service IVR and also utilize AI-based Speech bots and other service features. If a human interaction is needed, the calls can be sent through Comstice SIP Connector via SIP trunk to your SIP endpoints.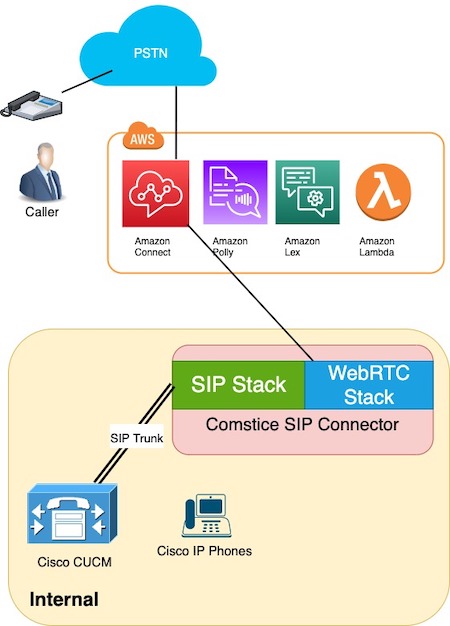 How It Works
You will create a group of Amazon Connect users as agents on your instance. Incoming calls can be sent to those users with destination call number as a a contact flow attribute.
These users will terminate and extend the call to Comstice WebRTC Gateway which will convert the call into a SIP call. Destination number which is sent as contact flow attribute will be used by Comstice SIP Proxy to route the call further within your existing SIP network.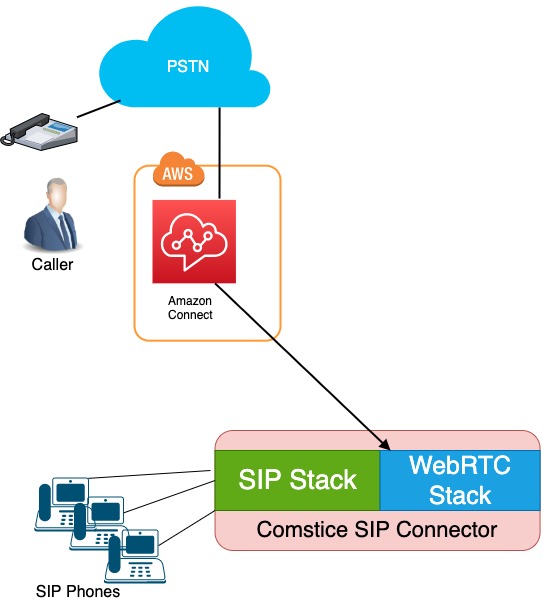 Frequently Asked Questions
How is Comstice SIP Connector licensed?
It is licensed based on the number of voice channels i.e. concurrent number of calls you would like to handle between your Amazon Connect instance and SIP networks.
Can I integrate multiple Amazon Connect Instances
You can use the same connector service account for multiple instances but the voice channels need to be per instance.
What is the minimum number of voice channels I can subscribe?
Voice channel subscriptions are available 5-channel bundles. You can have minimum 5-channel bundle per Amazon Connect instance.
How does the rollout work?
You will create dedicated agents for the voice channels and Comstice will configure your instance on the connector. You will then send the call to those agents with an attribute for the destination number.
Our instance is SSO-Enabled. Is that a problem?
Comstice SIP Connector supports many popular SSO providers such as AzureAD, Google and Okta, as long as multi-factor authentication is not enabled.
Can I send calls from SIP network to Amazon Connect contact flows using this?
That flow is not supported.
Can I use this to connect multiple Amazon Connect instances?
No. That is not supported.
What are the supported round-trip times?
RTT of 200ms is recommended for an acceptable audio quality.
Can I still record calls using Amazon Connect?
Yes, you can still record as before.
Can I terminate SIP Phones directly on this setup?
That feature will be available soon. You will be able to terminate SIP Phones directly on the Comstice SIP Proxy.