Avaya Contact Center
Reporting and Workforce Management (WFM) App
Avaya Contact Center Workforce Management (WFM) and CMS Reporting mobile app to access daily performance scorecards, shift schedule, shift preferences, team calendar, request time-off, swap shifts, update shift preferences, access Quality Assurance reports receive mobile notifications. Learn more about Comstice Workforce Management for Avaya and Comstice Reporting and Analytics for Avaya CMS.
No need for Mobile VPN or specialist firewall

No additional Avaya license required

Mobile Reporting and WFM app for contact center agents

Access daily performance scorecards, team calendar and shift schedule

Request planned or unplanned time-off, trade shifts with other agents

Visual scorecards for the agent's daily, weekly and monthly performance

Monitor agent efficiency and occupancy daily, weekly and monthly

Access personal shift schedule for a specific date

Receive mobile notifications before the breaks and shift starts

View team calendar and time-off requests

Make a new planned or unplanned time-off request using the app

Access to quality assurance scores

List the calls with low quality scores and feedback.

Agent can select daily, weekly and monthly scorecards.

Agent can request a new time-off and access to existing time-off requests.

Agent can update her shift preferences, start and end time as well as overtime options.

Agent can retrieve the license and the setting information using company code assigned by Comstice.

It is a 6-character code with three letters and numbers.

Agents can also swap shifts within the team using this app.

Shift swap requests can be approved automatically or sent to the team leader for the aproval.

Team leaders can create team messages and they are delivered as mobile alerts to Comstice WFM App users.

Team messages or alerts have priority levels and expiry date.

Avaya Contact Center
Wallboard Mobile App
Mobile app for Avaya Contact Center team leaders and executives to monitor real-time
and daily historical performance and receive mobile notifications. Ability to restrict access using Comstice Wallboard profiles.
No need for Mobile VPN or specialist firewall

No additional licenses required

Mobile app for contact center real-time and daily performance

Access split, VDN and agent information

Team alerts and notification on the mobile

Login using your Comstice Wallboard username and password

Integrate with Active Directory using AzureAD

Access permitted agent, VDN and split information for your username

Refresh real-time data by pulling the screen down for a better battery life

Switch between Split and VDN-based data

Agent and Queue-related real-time data as well as hourly charts for daily trends

You can tap on the hours of the daily chart and see the hourly values of the indicator

Agent state information based on the list of agents permitted by your Comstice Wallboard admin

Table-based information set for each split or VDN.

Filter the splits or the VDNs from the top right menu option

Real-time service level answered percentage for the splits and the VDNs.

Set caution and warning thresholds in Preferences in order to color-code the SLAs

Agent state, reason / AUX code and duration for the permitted list of agents for your account.

Tap on the list of agents to sort agents name ascending or state ascending.

You can access to the agent daily stats listed in the user's profile

Agent Efficiency and Occupancy percentages based on the team-level efficiency and occupancy criteria

Team leaders and supervisors can create alerts and app users can receive mobile notifications

You can also set agent and queue related thresholds and mobile notifications can be sent if they are reached.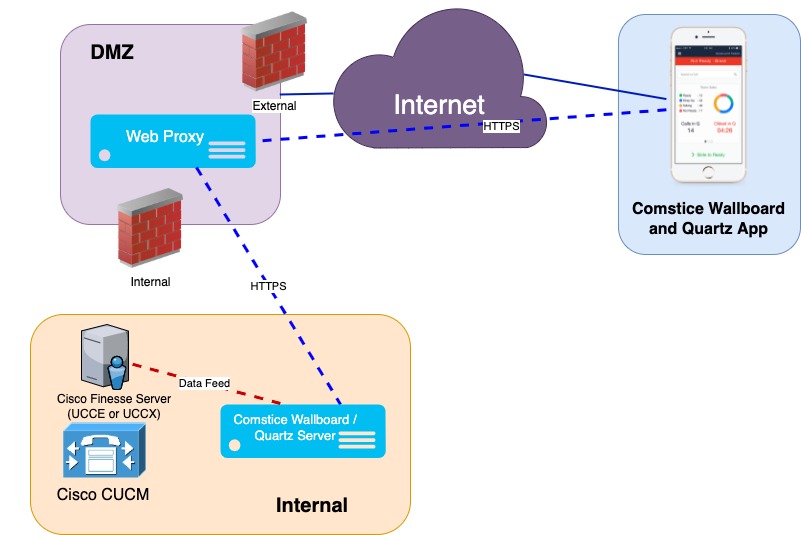 How to Use Avaya Mobile Apps by Comstice from Internet
Use mobile apps securely, without any mobile VPN required.
Comstice recommends to have a Web Proxy on your DMZ network to enable indirect access to Comstice Wallboard and Reporting/WFM servers. Mobile apps do not need to access Avaya solution components directly.
Comstice can help to build the Web Proxy with a virtual server using LinuxOS. Avaya and Comstice services on the internal network will be protected from the direct access through public Internet. Click here to learn more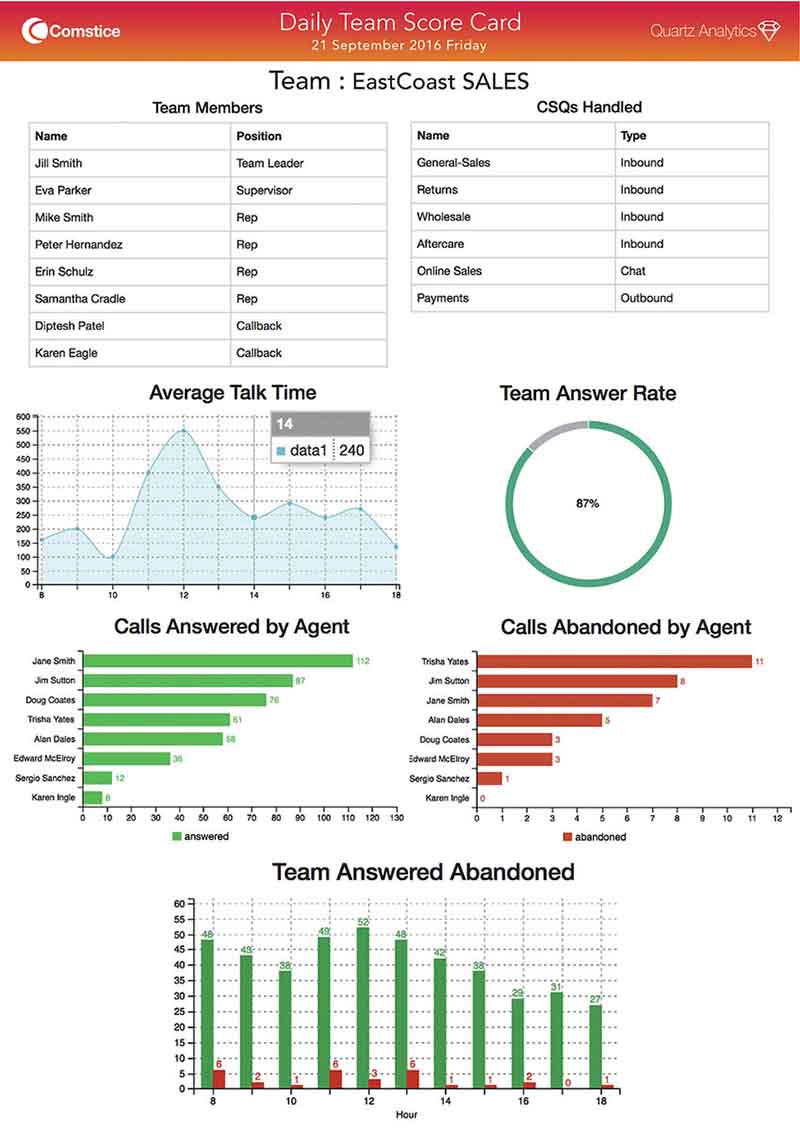 Is there an additional licence for the mobile apps?

No. There is no additional licence required for the mobile apps. They are complimentary, once Comstice Quartz Reporting/WFM and Wallboard solutions are purchased.

Do I need additional licenses on Avaya to use Comstice Quartz?

No additional licence needed for Comstice Quartz Reporting and Workforce Management solution for Avaya CMS. You will need Avaya CMS RT Socket license for the real-time data for Comstice Wallboard.

Can we create our own Avaya reports?

You can create your own scorecards and agents can retrieve those visual reports using the mobile app and the Quartz web portal.

It is important to note that Comstice Quartz is designed for contact center data. However you can still create reports using third party data, particularly omnichannel data.

Is this a cloud solution?

Comstice solutions are on-premises solutions, however you can run them in your cloud as well. You can use Web Proxy to access the servers from the public Internet while using the mobile apps.

Why should I use Quartz instead of Tableau?

Quartz is specifically designed for managing and visualising customer experience. It has built-in reports, charts and dashboards as well as other contact center features out of the box. With Tableau or Power BI, you need to do a lot of programming to achieve the same reports. Also data query performance is already optimized at Comstice Quartz.

Comstice Quartz also offers unlimited concurrent user access. There is no license limit on the concurrent users. Finally it offers Quartz Mobile app for the agents.

Does Comstice Quartz offer a data warehousing feature?

Quartz can offer data warehousing, so that your historical data is archived, even when your call center database is purged. You can retain data as long as you prefer and use the data from previous years for the forecasting.

Can I control the level of access that my team members and supervisors have?

Yes, you can. It is possible to create profiles to restrict agent-specific and call volume information.

Comstice Quartz Mobile App is specifically for the agents. Once they login, they will only access the data about their performance.

Can I plan, allocate and monitor backoffice tasks using this system?

Yes, you can, via our Task Manager capability. It is quite comprehensive and lets you to document,report and forecast backoffice tasks as well.

How long does it take to train an agent or supervisor on Quartz?

Typically we run 30-min train-the-trainer session for supervisors, and also provide video and pdf content.

Comstice also provides video training and pdf slide deck for the mobile apps and web portal.

How easy is it to send a report to a stakeholder who is not set up as an agent?

You can create a report and share the permanent link, or schedule the report and they will receive it as a weblink via email once the report is generated. Past reports can be accessed from their Quartz accounts.