Higher Efficiency in Call Centers
More accessible call centers with better business outcomes
Avaya, Genesys, Cisco and Amazon Connect contact centers
Privacy in Mobile Business Communications
Record mobile conversations, make and receive mobile calls without disclosing customer number
Protect your customer and employee information in mobile communications. Mobile calls and SMS chat by name and record mobile business conversations.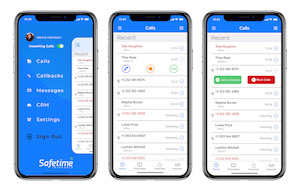 Make and receive mobile calls through cell network without disclosing employee and customer number. Learn more.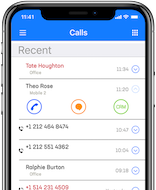 CRM Screen-pop and Callback Lists for mobile employees and partners. Learn more.

Salesforce Mobile app by Comstice for making and receiving mobile calls by name from contacts in the Salesforce mobile app. Learn more.
Mobility in Customer Service
Expand Customer Service Beyond Call Center Floor
Avaya, Cisco and Amazon Connect
Mobile Call Center Agent App to login as a call center agent, receive customer calls from mobile phone line, access CRM applications with detailed call center reporting and compliance recording.