Cisco Finesse Mobile Agent for UCCE, PCCE and UCCX
Do Your Remote Agents Have PCs?
Mobilize your organization around customer with full contact center functionality, detailed reporting and compliance recording.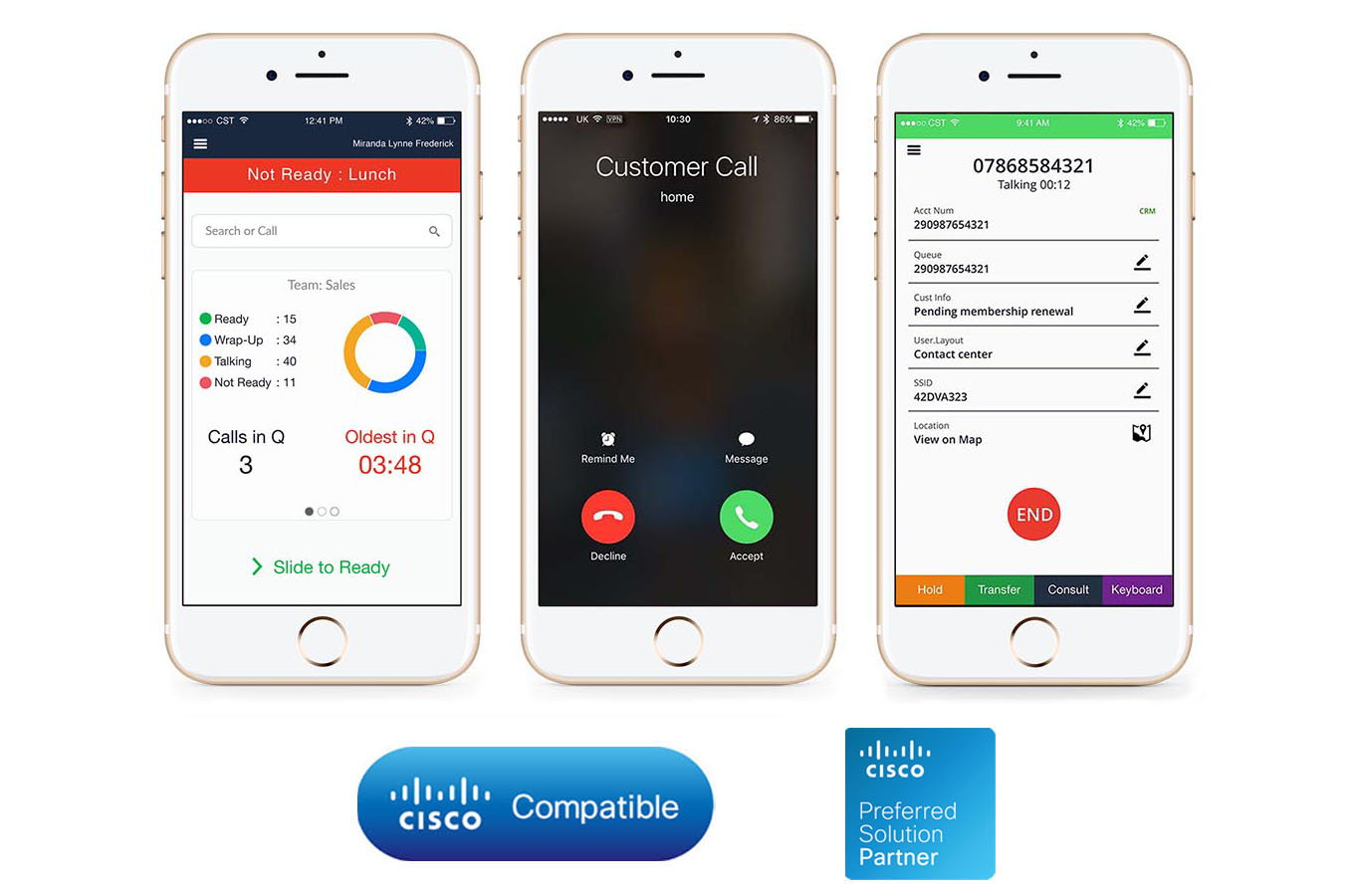 Why Cisco Finesse Mobile Call Center Agent
Switch between Finesse desktop and mobile
Agents can easily switch between desktop and mobile agent interfaces if they need to step away from their desks such as IT Helpdesk and Field Support engineers.
Expand Beyond Call Center Floor
Employees and partners can call the customers using Comstice Mobile Agent app and receive calls without disclosing employee's and customer's phone number.
Reporting and Voice Recording
All the mobile business calls can be recorded for compliance and training, calls can be reported in detail and itemised bills can be generated per department.
Built-in Softphone
Comstice Mobile Agent app for Cisco Finesse includes WebRTC-based softphone. Agents can make and receive calls over data.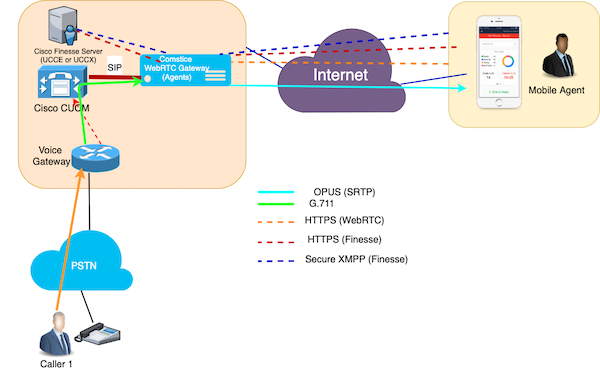 Built-in WebRTC Softphone
Comstice Mobile Agent app includes built-in WebRTC Phone. It communicates with Comstice WebRTC Gateway hosted in customer's network. Comstice WebRTC Gateway is connected to Cisco Callmanager via a SIP Trunk. Transcoding is done between WebRTC codec OPUS and Cisco Callmanager codecs such as G.711 or G.723.

Same App for the Agent and the Supervisor
If the agent has supervisor credentials, she can access to team states and change the state of the team members. Agents can also monitor the states of their team members.
Receive Customer Calls from Mobile Line or Softphone
Comstice Mobile Agent is a Voip app with built-in WebRTC Softphone. Agents can also use mobile phone line when they are on the move for guaranteed audio quality.
Works even when the phone is locked
Comstice Mobile Agents do not need to keep the screen active all the time; Comstice Mobility solution makes sure that agent state is preserved even when the phone is locked or intermittent data network issues are experienced in mobile internet.

Architecture
Comstice Mobile Agent is a Cisco Finesse client and communicates with Cisco Finesse through Comstice Mobility Servers. Comstice Mobility Server is a Linux-based virtual server hosted in organisation's data centers, preferably in the DMZ. Mobility Server regulates the communication between the Cisco Finesse Server and Comstice Mobile Agent app, delivering secure communications between the mobile app the Cisco Finesse servers.
No need for Mobile VPN

No need for specialist firewall

No additional Cisco license required

Receive customer calls from your mobile phone line

No Voice over IP related call quality issues

Stay logged in as a Cisco Finesse agent even when mobile internet is lost.

Enter vehicle ID for location-based monitoring (optional)

Retrieve your license by entering your company code

Enter the mobile number which the call will be retrieved.

Company code will retrieve your settings.

Login using Cisco UCCE, PCCE or UCCX

You can use any third party phone.

Monitor team member states and queue information

Make calls (you will actually receive a call from Cisco CUCM), slide to change the state or access other features from the menu

Agent can pull down the screen to update the data

Comstice Mobile Agent app is a Cisco Finesse client therefore calls use Cisco CUCM dial plan i.e. agents can make a call to extensions.

Agent can select Not Ready or logout reason codes where applicable

Agents can select wrap-up codes after the call

Agent can access to the previous call details including call variables from the call logs inside the app

Call variables can be listed

Comstice Mobile Agent app offers a seamless CRM integration without any development required

Built-in browser helps to access customer CRM data during or after the call has ended.

CRM page can screen-pop when the call arrives

Agent can access Cisco Corporate Directory contacts and third party Phone Books

Personal Contacts as speed dials

Company's CUCM dial plan is used

Built-in barcode reader and a signature pad

Barcode and signature information can be uploaded into CRM

Comstice Barcode and Signature Service is part of the Mobility Server

Locate caller's geo-location using Map feature

Find the directions to the customer using your preferred Map app.

Monitor the states and reason codes of the other team members

Supervisors can change the states of other agents or log them out using this app.
Frequently Asked Questions
How is Comstice Mobile App is licensed?
Comstice Mobile App is licensed per named agent. Using the company code provided agents can retrieve their company information from Comstice Licensing Server
If there is an active call on the mobile phone?
If there is an active call and agent is in ready state, Cisco Finesse will send the customer call to the agent's mobile phone line. Agent can decide to answer or ignore. If ignored, the call will be taken back to the queue after answer timeout and sent to another agent.
Where is Comstice Licensing Server?
Comstice Licensing Servers are spread around the world with geo-redundancy in mind.They can also be hosted locally on your network.
How does the rollout work?
Once you configure your Cisco CUCM and Cisco UCCE/UCCX, agents can retrieve their licenses by entering the company code provided into the app settings. Then either using a Mobile VPN or NAT over the firewall, they can access and login to Cisco Finesse. They can go to Ready state and start taking customer calls.
Can this app be used with normal phones and Cisco IP Phones?
Yes. Analogue phones or Cisco IP Phones can be used. You do not need to use your mobile phone line.
Do you support Windows Mobile Phones?
No. Currently we only support Apple IOS and Google Android devices.
Is there is Voice over IP? Do we need Cisco Jabber?
You do not need Cisco Jabber. There is a built-in WebRTC softphone in Comstice Mobile App. It works without any VPN or a sophisticated firewall required.
Can agent lock the phone screen and carry it in her pocket? Does the app need to be active all the time?
App can work in the background and agent can stay logged on even when the phone is locked.
Can agent disable location monitoring? Is it mandatory?
Location monitoring is not mandatory and agent can always disable location monitoring from the mobile device. Location monitoring only occurs when the agent is logged in and it is disabled by default. Depending on the requirements, it can be enabled per team.
Does this app have IPad/Tablet support?
Yes. You can run the app from IPad or an Android tablet. In that case, you can use the built-in WebRTC Softphone or a third party phone.
Can I try the app without any license or server?
Yes. You can download the app and run it in demo mode by tapping on the "Demo Mode" button at the login page. Also you can create a 30-day trial licence for the full feature set.
Is it possible to record voice conversations?
Yes. Existing voice recording platforms can be used to record mobile agent calls.