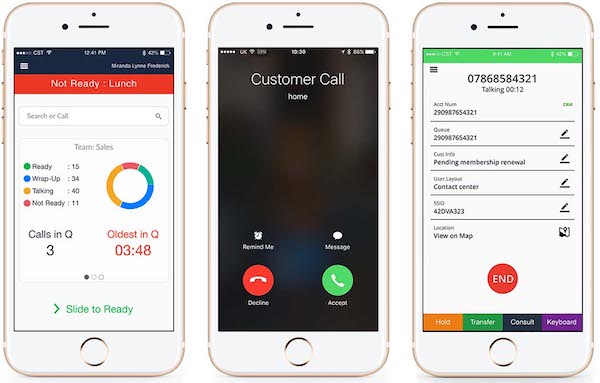 Comstice Mobile Agent for Cisco Finesse helps users to login from a mobile app and utilise call center features with Cisco UCCE, PCCE and UCCX contact centers. It is a great example of transforming business from legacy unified communications platforms into mobile business communications. You can be a regular employee and there are many benefits you can have from the app. There are many use cases for mobile contact center agents in the call centers as well as outside the call center, as a mobile business communications solution.

1. Prepare your setup for Comstice Mobile Agent
Your Cisco Contact Center environment must be configured for Comstice mobile agents. Click here for Cisco UCCE and PCCE configuration steps and here for Cisco UCCX configuration steps. You should be able to login as an agent with Cisco Finesse Web Interface, go to ready state and receive calls from your mobile phone line to make sure that your environment is ready for Comstice Mobile Agent.
Comstice will provide a company code to retrieve your license. Your license includes your Cisco Finesse Servers 1 and 2 IPs or hostnames as well as your company color scheme and logo. Once you enter the company code into the Settings in your mobile app, you should see your company logo and the colors in the login view. From a WiFi network that you can access to your Cisco Finesse Servers, you can try to login and set your state to "Ready". When there is a call in queue, your agentID will be picked and you should receive the call from your mobile cell phone line.
You can send the following information to [email protected] to request company code;
- Contact Center model: UCCE, PCCE, UCCX
- Contact Center version: 10.5, 11.0,11.5,12.0 etc. Mainly we need to know whether it is 11.5 and higher or not
- Finesse Servers 1 and 2 IP address or FQDNs: These will be the Pub/Sub servers for the UCCX builds
2. Comstice Mobile Agent in Production
In real life, users utilise Comstice Mobile Agent app through public Internet with no mobile VPN. They lock the phone and stay in the "Ready" state. They expect to see the caller's CRM page or the ticket on the mobile app as soon as the customer call arrives so they can update them. Even if they lose mobile Internet access intermittently, they expect to remain in the "Ready" state.

All of these features are available with Comstice Mobility Server. It is a Linux-based virtual server appliance running in customer's DMZ network and manages the communication between the mobile apps and the Cisco Finesse servers.Comstice will provide the download link once the first phase of the rollout is complete. During production, you will have two Mobility Servers for High Availability.
How App Works through Public Internet
Comstice Mobile Agent communicates with Cisco Finesse server and optionally communicates with Cisco CUCM to access Corporate Directory contacts.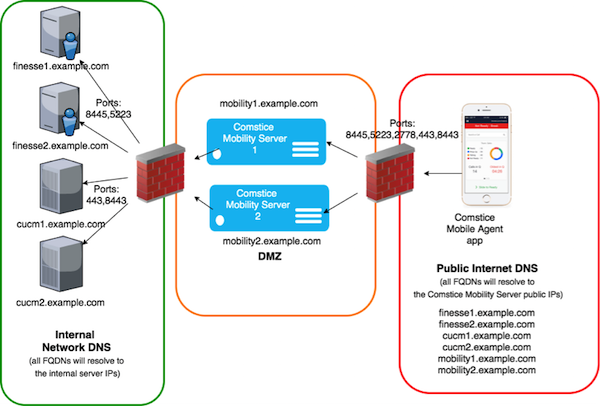 Comstice Mobile Agent app communicates with Comstice Mobility Server and this server manages the communication with other components. You need to have an external IP address and relevant ports (two Finesse ports, two CUCM ports and one Mobility Server port) will be permitted on your firewall. You can either use NAT/PAT or configure this external IP address as the Mobility Server IP.
You need to create FQDNs on your external DNS for the Finesse, CUCM and Mobility servers. All these FQDNs will point to Mobility server external IP on the public DNS. Mobile apps will communicate using the FQDNs, there will be no IP address information on your license.This was mobile agent apps can communicate with Cisco Finesse without exposing your Finesse servers directly to the public Internet.
Comstice Mobile Agent app for Salesforce
Comstice Mobile Agent app features can be launched from Salesforce Mobile app. This is often used to offer contact center features to salespeople, record sales calls and to have Salesforce screen-pop for the incoming mobile calls. It is also used to let sales person to call customer from mobile without seeing the phone number of the customer. Especially in high churn teams, businesses use this method to protect the leads from their salespeople. More information can be found in the product page.
Comstice is a Cisco Solution Partner specialising contact center technologies and omnichannel customer service.