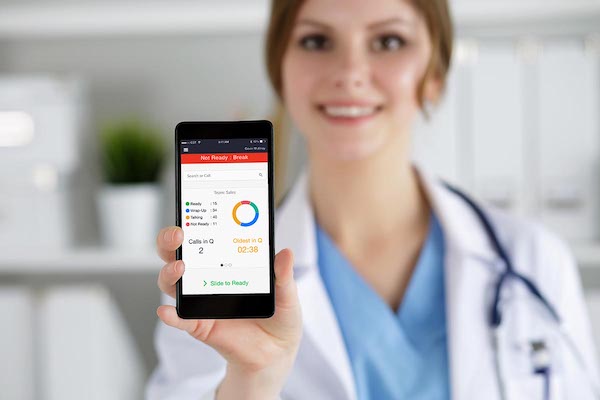 Businesses can use contact center functionality to mobilize their organisation around the customer. Contact center agents are traditionally desk-based, therefore they always have access to the PCs. However, there are many cases to login as a call center agent (or a supervisor) through mobile app and receive calls through mobile phone line with full call center functionality. Also partners, resellers, field sales and support staff can be reachable through the contact center for better accessibility, detailed reporting and audio recording for compliance and speech analytics. All conversations can go through mobile cellular network so the call quality is guaranteed.
Benefits of Mobility with Contact Centers
Some of the benefits of having contact center mobile agent;
Detailed, contact center level reporting
Compliance recording of conversations
Ability to shield mobile phone number of the employee or the partner
Ability to set yourself ready or not ready to take customer calls
Location-based selection of employees or partners for incoming customer calls
Receiving customer calls from mobile network for better call quality
Access to web-based CRM or ticketing applications through mobile
Switch between desktop and mobile
Call center agents can switch between their desktop applications and mobile app whenever they need mobility. IT Support staff can move around the campus but stay accessible as a call center through mobile phone line. They can switch back to desktop and desk phone when they return to their desks.

Partners, Resellers, Field Sales and Support
Partners and resellers are often not linked into the contact center network infrastructure. Resellers in particular may be small businesses therefore it may not be straightforward to hook them into the contact center infrastructure. Using contact center mobile agent app, these users can login as a call center agent, set themselves available and receive customer calls with all the call center features via their mobile phone line. You can see the experience on the video from this link.
Out of Hours Coverage
In many contact centers, out of hours coverage transfers the urgent calls to a particular number. It is not scalable, nor easily reportable. By using mobile agent app, multiple agents can be accessible for out of hours coverage, monitor the queue and stay in available state even when the phone is locked.
Off-Shift Staff
When there is an immediate need for the resources, off-shift staff are automatically alerted via SMS or mobile notifications. They can then login as an agent using mobile app and start taking calls like an on-shift agent.

Healthcare
Many medical doctors and nurses are often accessible through call centers. Mobile agent functionality offers them a greater flexibility so that they can still be reachable while they are on the move. Also mobile agent is helpful for on-call nurses and doctors.
Public Sector
Libraries, schools, public service centers need to be accessed through the call center. However, employees in the public services are often away from their desks and need to be mobile. They can use mobile contact center agent app and switch between desktop and the mobile. All the calls get reported in contact center reporting, conversations are recorded for compliance and speech analytics and agents are offered all the features through mobile app.

Insurance
Many insurance companies would like to transfer the calls to the nearest broker to the customer. However, insurance brokers are often small businesses that are outside the existing IT infrastructure of the insurance company. Insurance companies can turn brokers into call center agents through contact center mobile agent app for faster business closures.
Retail Sales
Many businesses would like to send the customer calls to the branch staff when needed. However branch staff are often on the move in the shop floor. Becoming a mobile contact center agent will help them to answer customer enquiries when they are available.
Airports
Airport staff are almost constantly on the move. Being able to login as a contact center mobile agent offers great flexibility; they are easily accessible when they have availability, they can be relocated quickly if needed.
Conclusion
Contact center functionality helps to collect detailed information on customer interactions. Mobility in contact center helps to bring human communications with the customers possible whenever and wherever needed. This helps to deliver great customer experience and higher retention as well as higher closure rate in the sales.
Comstice is a technology partner with Cisco, Avaya, Genesys and Amazon Connect. You can get more information about Contact Center Mobility solutions from here.