Contact Center Reporting and Shift Scheduling app for Cisco UCCE, UCCX, Amazon Connect and Avaya
Mobile app for Contact Center Agents to access their past performance, manage time-off and shift preferences and access shift schedule.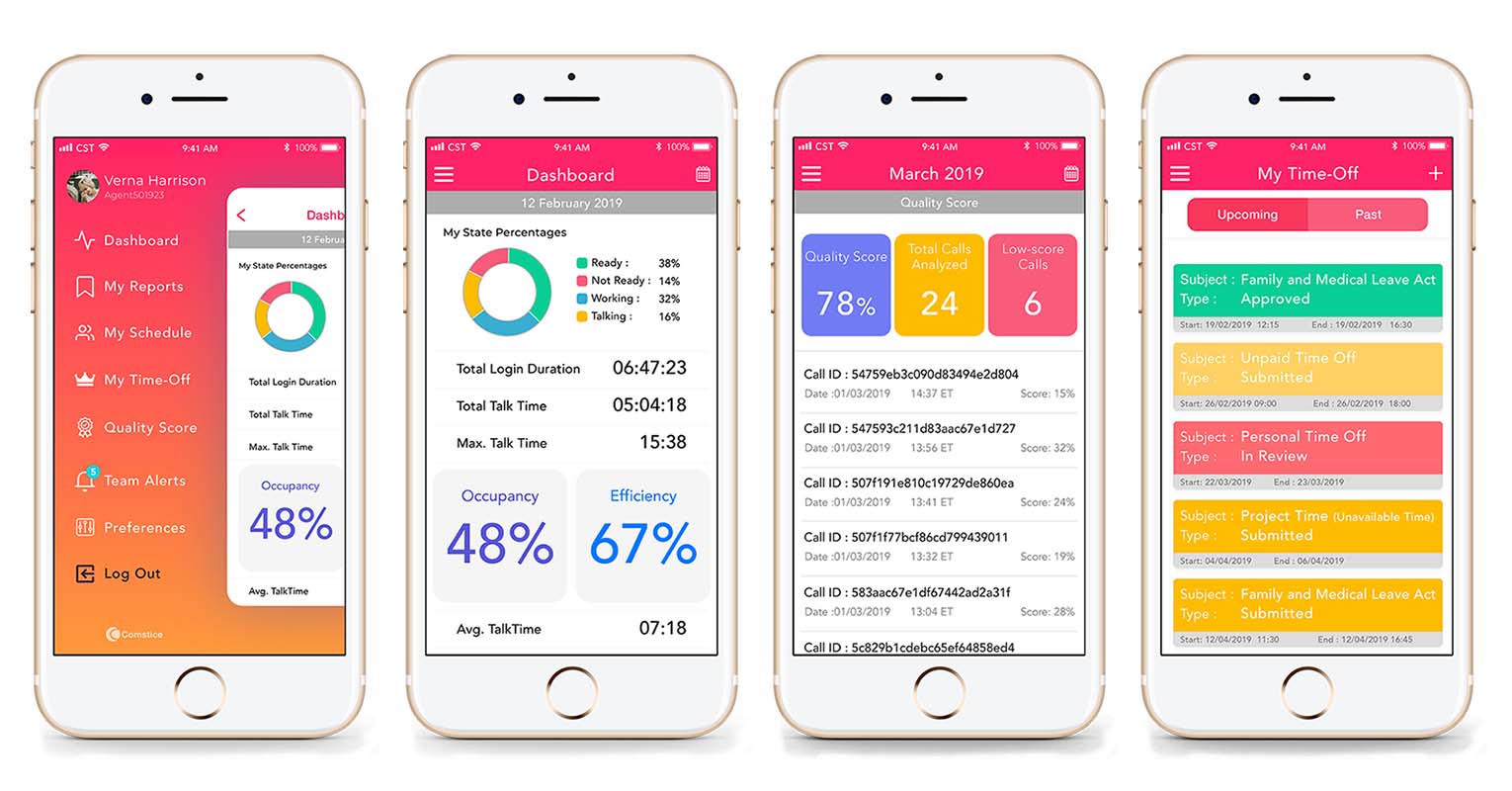 Agent Mobile App for Shifts and Reports
Comstice Quartz Mobile App helps call center agents to access their shift schedules and performance data, create time-off requests and access quality scores.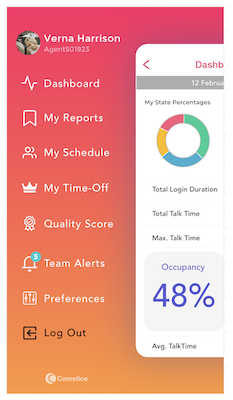 No need for Mobile VPN

No need for specialist firewall

No additional call center license required

Daily, weekly and monthly Scorecards

Access historical performance reports

Access daily shift schedule

Send Time-Off requests, monitor existing requests and results.

Access Quality Performance Reports

Detailed reviews about the low-score calls

Update Shift Preferences

Configure shift options, preferred start and end times.

Monitor team alerts and notifications
Why Comstice Quartz Mobile App for Call Center Agents
Better Performance Visibility
Agents often do not have access to their performance data or the reports shared are cumbersome. By accessing scorecards, agent can access meaningful data about her performance.
Insant Access to Shift Schdule
Employees and partners can call the customers using Comstice Mobile Agent app and receive calls without disclosing employee's and customer's phone number.
Request Time-Offs
All the mobile business calls can be recorded for compliance and training, calls can be reported in detail and itemised bills can be generated per department.
Monitor Quality Assurance Feedback
Employees can call customers without disclosing customer's phone number. This helps businesses to protect their customer leads and contacts.

Frequently Asked Questions
How is Comstice Mobile App is licensed?
Comstice Mobile App is licensed per named agent. Using the company code provided agents can retrieve their company information from Comstice Licensing Server
If there is an active call on the mobile phone?
If there is an active call and agent is in ready state, Cisco Finesse will send the customer call to the agent's mobile phone line. Agent can decide to answer or ignore. If ignored, the call will be taken back to the queue after answer timeout and sent to another agent.
Where is Comstice Licensing Server?
Comstice Licensing Servers are spread around the world with geo-redundancy in mind.They can also be hosted locally on your network.
How does the rollout work?
Once you configure your Cisco CUCM and Cisco UCCE/UCCX, agents can retrieve their licenses by entering the company code provided into the app settings. Then either using a Mobile VPN or NAT over the firewall, they can access and login to Cisco Finesse. They can go to Ready state and start taking customer calls.
Can this app be used with normal phones and Cisco IP Phones?
Yes. Analogue phones or Cisco IP Phones can be used. You do not need to use your mobile phone line.
Do you support Windows Mobile Phones?
No. Currently we only support Apple IOS and Google Android devices.
Is there is Voice over IP? Do we need Cisco Jabber?
You do not need Cisco Jabber and there is no voice over IP in Comstice Mobile App. It is possible to use Comstice Mobile Agent app with Cisco Jabber IOS or Android, if preferred.
Can agent lock the phone screen and carry it in her pocket? Does the app need to be active all the time?
App can work in the background and agent can stay logged on even when the phone is locked.
Can agent disable location monitoring? Is it mandatory?
Location monitoring is not mandatory and agent can always disable location monitoring from the mobile device. Location monitoring only occurs when the agent is logged in and it is disabled by default. Depending on the requirements, it can be enabled per team.
Does this app have IPad/Tablet support?
Yes. You can run the app from IPad or an Android tablet. In that case, you need to use an external phone that Cisco CUCM can dial in. This could be another mobile phone, Cisco Jabber, home or office phone.
Can I try the app without any license or server?
Yes. You can download the app and run it in demo mode by tapping on the "Demo Mode" button at the login page. Also you can create a 30-day trial licence for the full feature set.
Is it possible to record voice conversations?
Yes. Existing voice recording platforms can be used to record mobile agent calls.