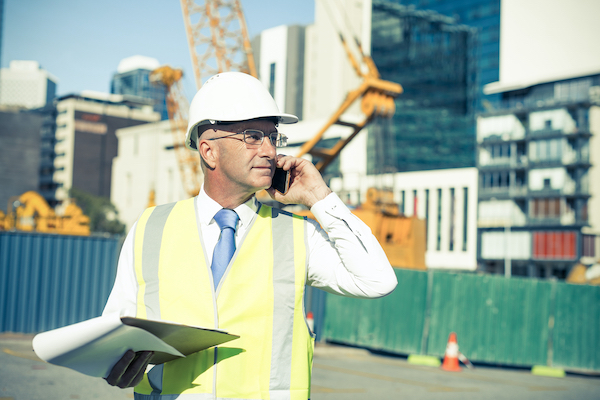 Cisco CUCM offers Extend and Connect feature which helps enterprise telephony users in Cisco Callmanager to receive calls to their extension through a third party phone line. Common use case for this is to be able to receive calls coming to business DID number from user's mobile phone line. Cisco CUCM also offers Cisco Mobile and Remote Access for Cisco Jabber. This helps enterprise telephony users to use Jabber softphone functionality outside the office network without VPN.

Both features have a number of limitations and due to the recent demand for the remote work, Comstice offers an altermative solution called Comstice Mobile Enterprise and acts as a mobile second line for business.
Why Mobile Second Line for Business
Many employees and partners would like to communicate with the customers through mobile phone. Unfortunately, offering a business mobile handset is costly and it does not solve all the challenges. Cisco CUCM offers Extend and Connect feature to help access mobile second line feature. However its rollout steps are comprehensive and often require specialist firewalls and other Cisco products.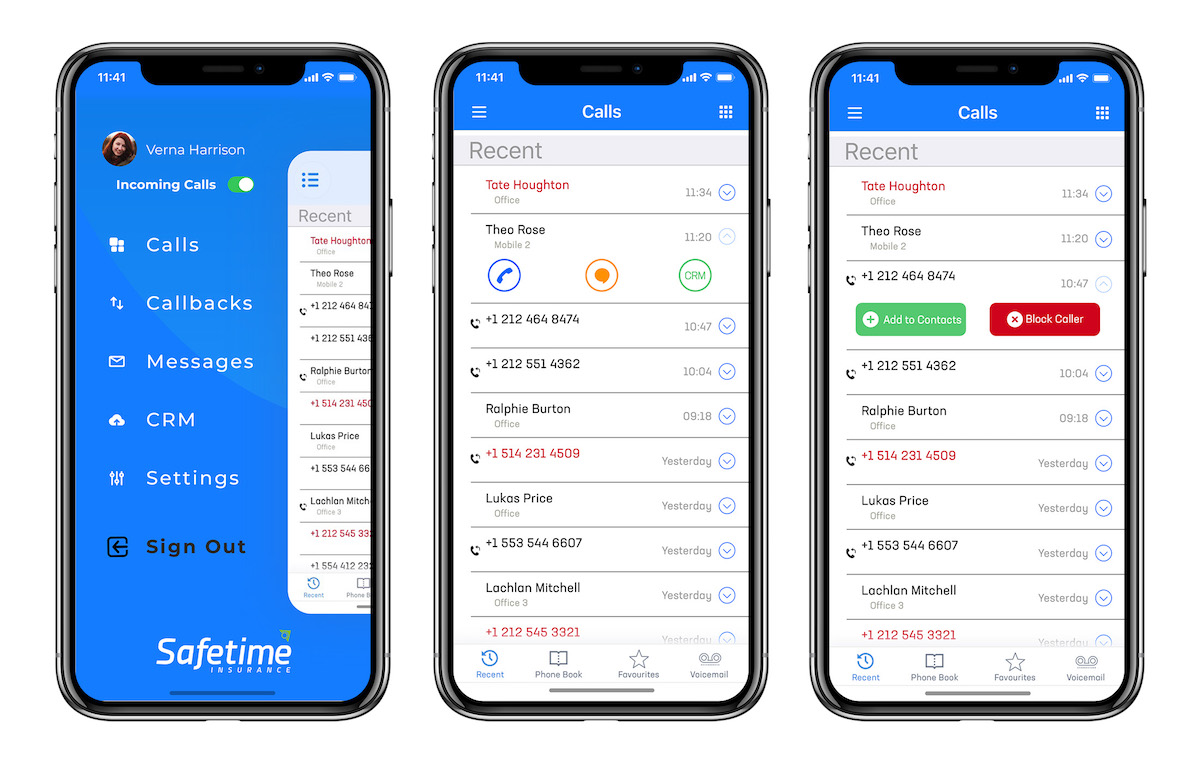 Based around customer feedback and limitations of Cisco Extend and Connect, Comstice created Mobile Enterprise solution. It helps employees to use their office DID in personal mobile, make, receive calls and have SMS chat using this DID number through mobile cell network. Here are the list of features Mobile Enterprise offers;
Comstice Mobile Enterprise vs Cisco Extend and Connect with MRA
| Features | Cisco Jabber App with Extend and Connect | Comstice Mobile Enterprise App |
| --- | --- | --- |
| Receiving business DID calls from Mobile Line | Yes | Yes |
| Call Recording for Compliance | Yes | Yes |
| Making 1-Stage Calls from Mobile using business DID | No | Yes |
| Block Callers (Robocalls, Sales Calls etc.) | No | Yes |
| Caller's Number and Name Instant Match | No | Yes |
| Call By Name: Protecting customer or lead's phone number from the employee | No | Yes |
| Outbound Calling by Name (without disclosing contact's phone number) | No | Yes |
| Transfer Outbound Calls to Internal Number | No | Yes |
| Conference Outbound Calls with Internal Numbers | No | Yes |
| Daily/Weekly Callback Lists | No | Yes |
| CRM Integration: Make calls from CRM by name | No | Yes |
| CRM screen-pop for incoming caller | No | Yes |
| Automated Mobile Presence | No | Yes |
| SMS Text to and from DID (where available) | No | Yes |
| Works WITHOUT Cisco Expressway Firewall | No | Yes |
| Company Logo and colors on the app login and menu pages | No | Yes |
How It Works
Comstice Mobile Enterprise is an on-premise solution which integrates with your Cisco Callmanager. Comstice offers Mobility Server as part of the solution which is hosted in customer's or Cisco HCS partner's network. Employees use Comstice Enterprise mobile app to make, receive calls and have SMS chat using their existing business phone number. Comstice Mobility Server is integrated with Cisco CUCM Cluster to offer all the features listed above.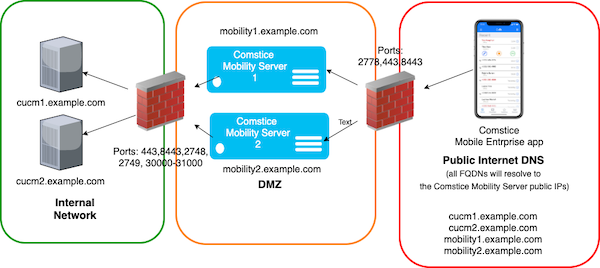 Making a Call
Comstice Mobility server manages inbound and outbound calls via CTI. It manages the call while it is active and helps to transfer or conference the call to an internal extension or external number.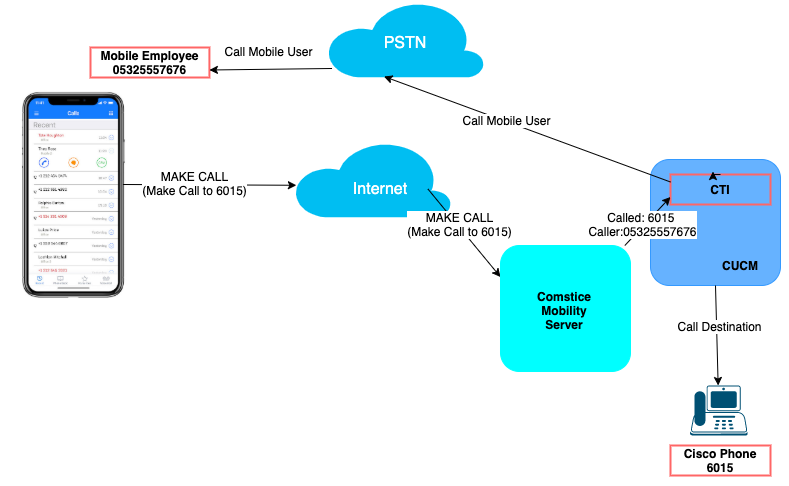 Mobile app make the call request to Comstice Mobility Server. Mobility server helps Cisco CUCM to generate calls to the employee's mobile number and the destination (internal or external). It monitors the active call in case the mobile employee would like to transfer or conference the call via Cisco CUCM. Destination phone sees mobile employee's office DID number as the calling number.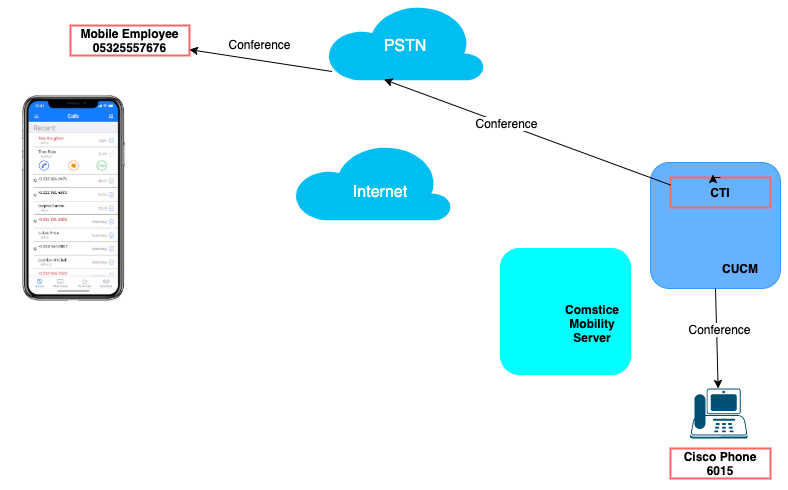 Transferring a Call
During an active call (inbound or outbound), mobile employee can transfer or conference the call to an internal or an external destination. In case of transfer, Mobility Server asks Cisco CUCM to remove mobile employee from the active call and transfer the call to the final destination. Call can not be controlled by Comstice Mobility server from this point onwards.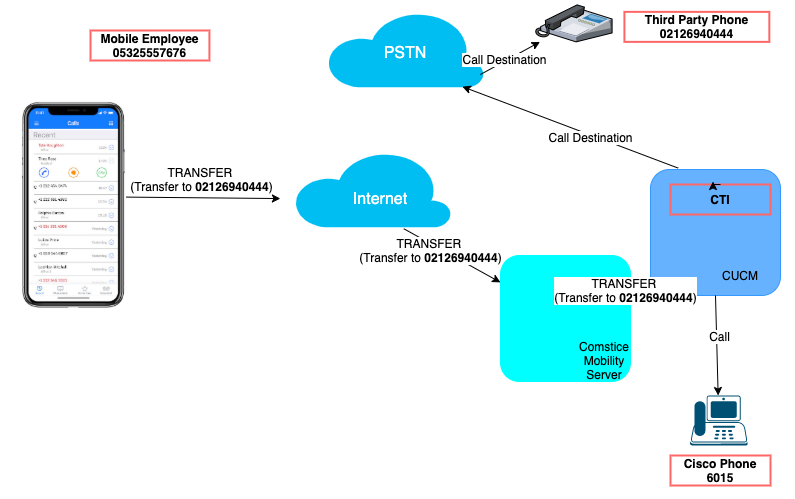 Receiving a Call
If a customer calls mobile employee's office DID number, the call will be managed by Comstice Mobility Server and Cisco CUCM will call mobile employee's mobile number.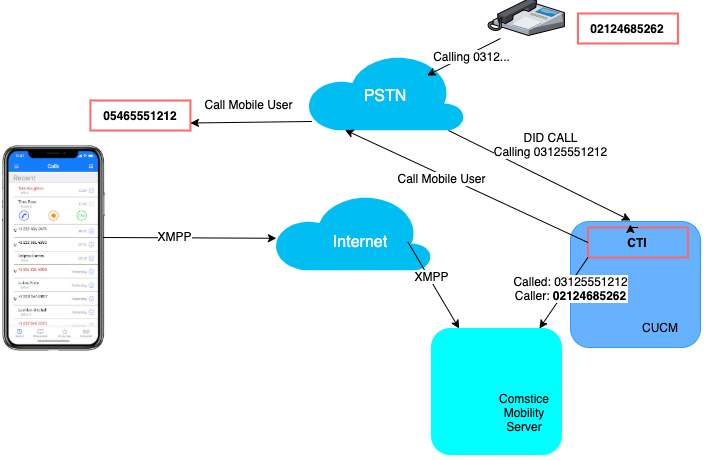 In this case again, mobile employee can terminate, transfer or conference the call. Transfer and conference features will be done through Cisco CUCM.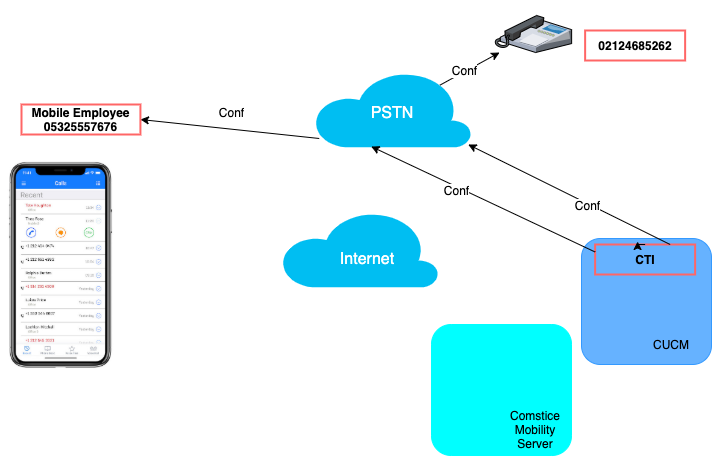 Conclusion
Remote working with the dedicated business phone number helps employees to handle customer communications better. It also gives businesses an opportunity to monitor mobile business communications, restrict employee's access to the customer contact details and vice versa.
Comstice Mobile Enterprise brings a new value to your Cisco CUCM investment and helps roll out remote working practice within days.
Comstice is a technology partner with Cisco, Avaya and Amazon Connect. You can get more information about Contact Center Mobility solutions from here.