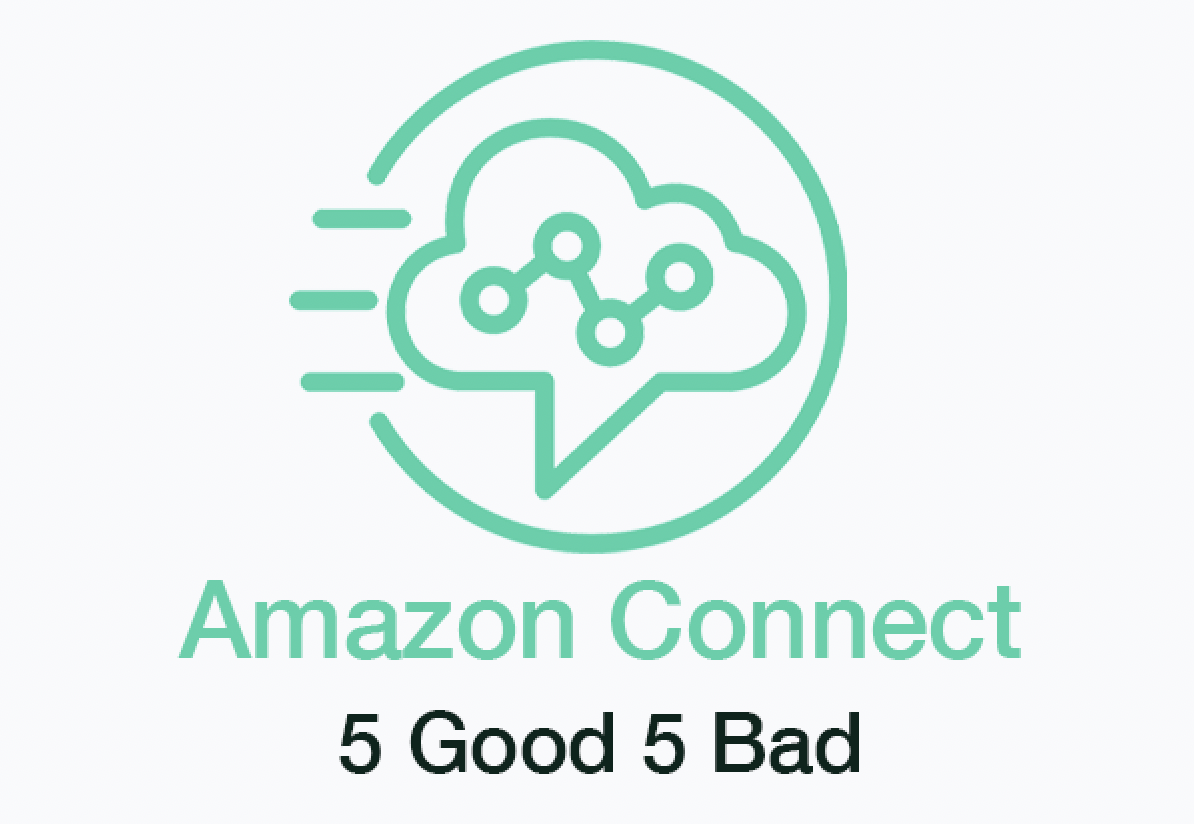 Amazon Connect is a cloud call ceter service from Amazon Web Services. Here are the five good and five bad things about Amazon Connect and how you can overcome the limitations for utilising it for your call center infrastructure and enterprise telephony needs.

Amazon Connect was originally created for the internal use and eventually released as an AWS service in March 2017. Here are the five good and five bad things about Amazon Connect.

Five Good Things About Amazon Connect
Reliability: The first good thing about Amazon Connect is the reliability. We are hearing many horror stories about the cloud call center downtimes in other providers. Your Amazon Connect instance is as reliable as your other AWS services.
Cost: Amazon Connect is cheap. Much cheaper than any other service available. You only pay for the number of minutes you talk over the phone with the customers. And that cost is quite reasonable. You can access our pricing comparison page between Amazon Connect and pay monthly cloud call centers.
Easy Integration with Other AWS Services: Amazon Connnect is easy to integrate with other AWS services such as text to speech, speech bots, and also features like single sign on. And voice recording comes built-in, so you don't need anything extra.
Quick to roll out and easy to manage: You can configure it relatively quickly for the basic call distribution features. Drag and drop call routing feature on the browser helps a lot. There are many training videos available online.
Programmable: Yes, as expected from any AWS service, Amazon Connect is very programmable. You can develop and run web services in AWS and integrate them with Amazon Connect. This makes the customisation and operations much simpler.
Five Bad Things About Amazon Connect
Missing call center features: There are quite a few call center features missing in this service. Everything is very basic, there is no teaming, agent and supervisor interfaces are very limited. So is the reporting, there are only two stock reports available. If you want to create your own reports, you don't have direct access to the Amazon Conect database either. You have to catch the real-time data streams, collect it on a DB and eventually develop reports using that data. There are however many third party reporting solutions out there. Check out Comstice Wallboard for Amazon Connect and Comstice Quartz Reporting for Amazon Connect. Comstice offers over 20 stock reports for Amazon Connect as well as the report designer, customer journey maps and visual scorecards.
Costs can spiral quickly: If you are integrating with other AWS services which are mostly pay as you use, you can start getting higher and higher monthly bills even though your call center service hasn't grown as much. You just need to keep an eye on the AWS services you use and optimise them to keep the cost minimum.
There is no concept of dial plans: You can only receive and make calls via public telephony in Amazon Connect. There is no dial plan concept. For that reason, you can not easily use things like SIP trunks, click and call button to collect customer calls from your website for example. These calls need to be sent to public telephony first.
Agent interface is very basic: When Amazon Connect was developed for internal use, the assumption was to embed agent features inside the CRM web pages. Call center users are not a big fan of that idea. Programmable CRM pages often lack great user experience design and increases the call handle time. User interface is often designed by a developer and it is very difficult to find your way around it. I agree it is convenient for the IT departments, but agent experience is compromised and call handle time increases a lot. Check out Comstice softphone for Amazon Connect, a client application for Amazon connect that you don't need to install. It has all the missing features you are looking for. Also it resolves the browser-related one-way audio issues. Also check out Comstice Mobile Softphone for Amazon Connect as well.
Not suitable for Enterprise Telephony: Amazon Connect, out of the box, is not suitable for enterprise telephony. You can not make agent to agent calls without going through the public telephony network and often the user interface piece is missing. Check out Comstice Desktop Softphone and Mobile Softphone app for agent to agent calling and other missing features to use Amazon Connect for enterprise telephony.

Conclusion
Amazon Connect offers great flexibility to create your own customer service solution. Comstice Amazon Connect Suite can help to get up and running very quickly with all the call center and enterprise telephony features you are looking for. Learn more about Comstice Amazon Connect Suite from here.