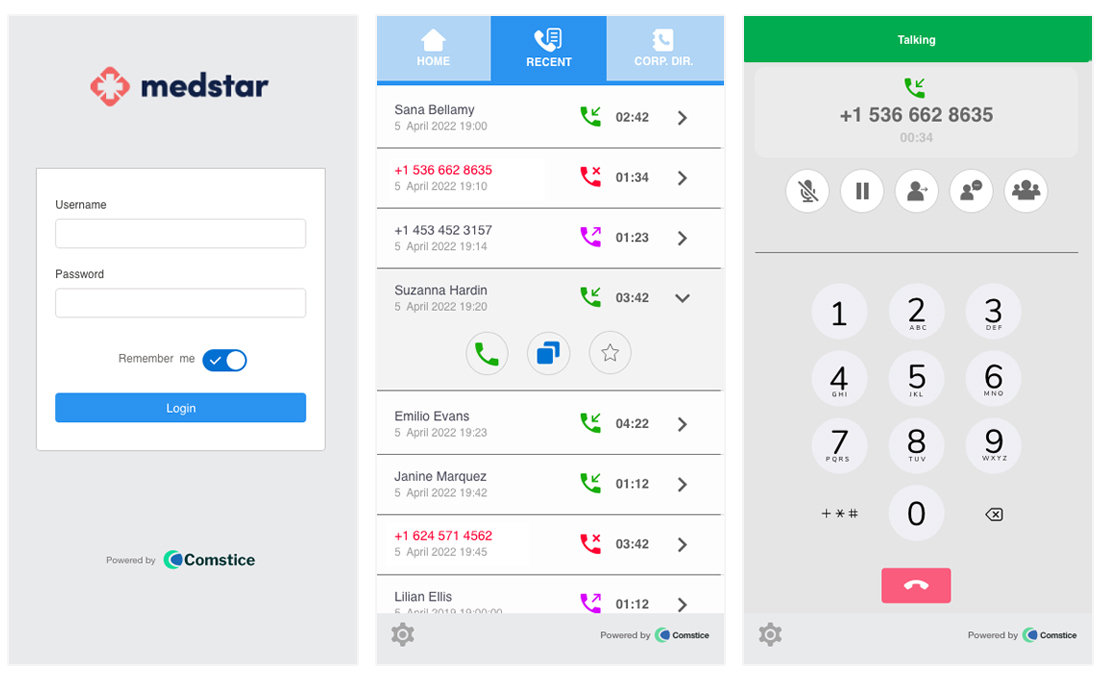 Azure Virtual Desktop supports WebRTC with its Multimedia Redirection feature. Comstice offers a web phone that converts WebRTC into SIP sessions so that you can have the benefits of WebRTC and also integrate with the rest of the telephony network via SIP.
Azure Virtual Desktop Multimedia Redirection
Azure Virtual Desktop supports WebRTC-based audio communications with the Multimedia Redirection feature. Multimedia redirection redirects media content from Azure Virtual Desktop to the user's local PC for faster processing and rendering. Both Microsoft Edge and Google Chrome support this feature when using the Windows Desktop client.​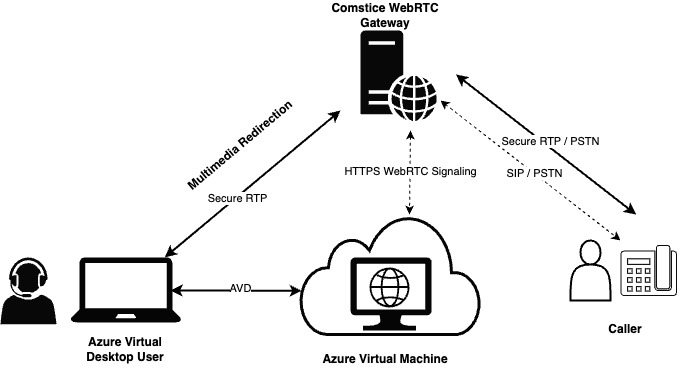 The WebRTC communication is between the AVD session and Comstice WebRTC Gateway. Audio communication is directly between the remote user's PC and Comstice WebRTC Gateway. Comstice WebRTC Gateway then converts this WebRTC session into SIP and extends to VoIP or PSTN networks.​
Case Study: Azure Virtual Desktop and Cisco CUCM
In this use case, remote users work via Azure Virtual Desktop. They would like to make and receive calls via AVD. In this scenario, a remote user receives a call from PSTN. This can be a direct call or a Cisco UCCX/UCCE type of call center session coming from PSTN.
The initial call is sent to Cisco CUCM from the Cisco Voice Gateway which then redirects the call to Comstice SBC and Comstice WebRTC Gateway via SIP trunk.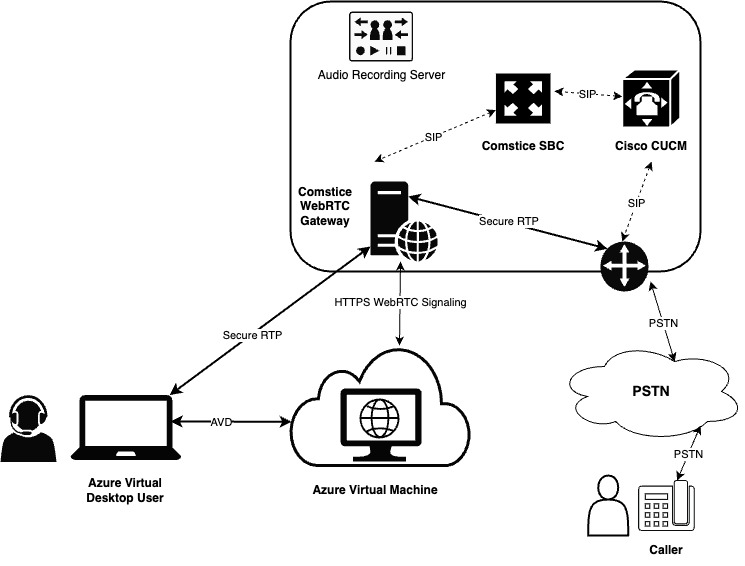 Each Webphone session is registered as a SIP phone to Comstice SBC via Comstice WebRTC Gateway. HTTPS signaling for WebRTC is from AVD and the Secure RTP stream is directly between AVD user's laptop browser session and Comstice WebRTC Gateway.
Audio Recording of Calls
You can also record calls by integrating the existing Audio Recording solutions into Comstice SBC. Comstice SBC has a media proxy feature that creates a stream of each call and sends it to the Audio Recording server using SIPREC protocol. The Cisco CallID of each call along with other details are included in the SIPREC meta tags and sent to the Audio Recording Server.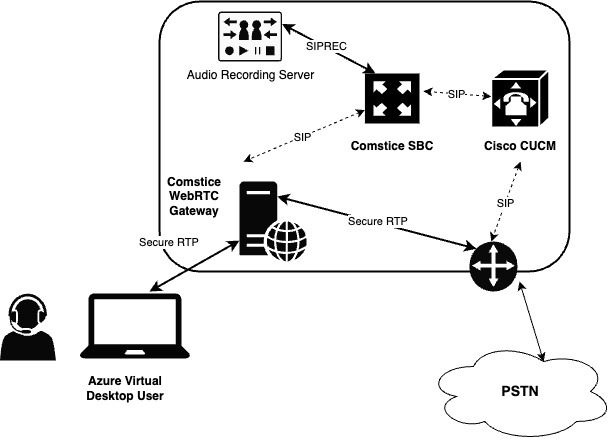 Video Support
The solution above supports both audio and video as well as a WebRTC-Based screen-recording features.
CRM Support
Cosmtice Webphone can also be integrated into Salesforce, MS Dynamics and Service Now. Click here to request more information.
Conclusion
VDI solutions are a great way to offer remote access with no VPN or software installation required. However, they often fall short on supporting real-time multimedia communications. with the Multimedia Redirection feature, Azure Virtual Desktop offers a solution for WebRTC-based audio and video communications. Click here to learn more about Comstice Webphone.