Download Comstice Webphone datasheet and learn more about Comstice Webphone benefits, use cases and technical architecture.
Login using existing Active Directory or Single Sign-On account.

Call Forwarding, Voicemail and DND buttons.

List of recent calls made and received. Ability to call back or copy the phone number and add to favourites.

Call logs for the last seven days

Copy, callback and favourite the numbers

Access to Cisco CUCM Corporate Directory

Handle incoming calls

Wide range of CODECs supported, including G.711 and G722

Call control features

Query the Caller in CRM button

Transfer or conference the call to another number, Cisco CUCM Corporate Directory contact or a contact in Favorites

Switch between the initial call and the consult call.

Customer Chats: Web and mobile

Accepting and managing Callbacks

Managing incoming customer emails, along with an automated ticketing system

Comstice Omnichannel features

Customer Chats: Web and mobile

Accepting and managing Callbacks

Managing incoming customer emails, along with an automated ticketing system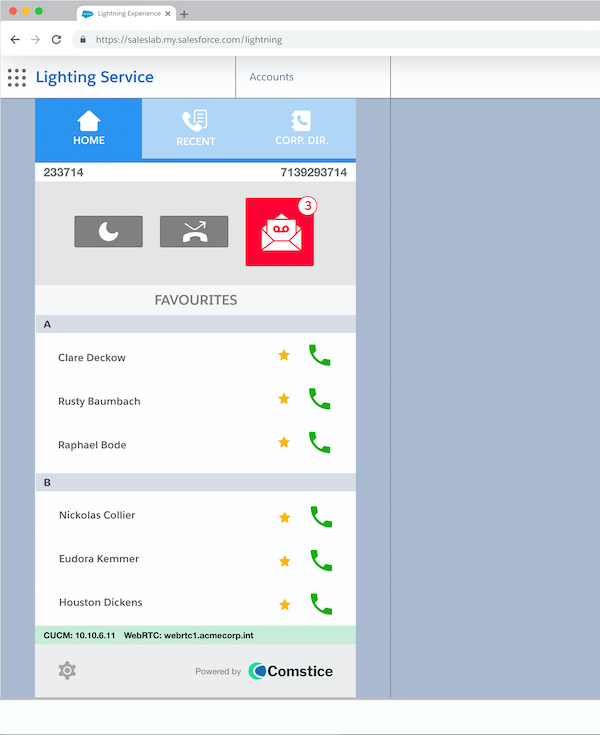 CUCM Webphone inside Your CRM Platform
Comstice Webphone supports Salesforce, Zendesk and ServiceNow so you can integrate webphone functionality on your CRM pages.
Sales reps can do callbacks from the CRM pages and can handle incoming calls with the caller's CRM contact pushed for the new call.
The calls will go through your Cisco CUCM and existing telephony infrastructure. No installation or Cisco phone required.
Why Cisco CUCM Webphone by Comstice
Unified Communications on the Browser
No VPN, no installation required. Enterprise telephony features on the web browser and mobile app.
Webphone inside CRM Pages
Comstice Webphone can work with any web browser and users can make and receive calls from CRM contacts or other web apps.
Chromebook Support
Low-cost, low maintenance Chromebook PCs can be used by enterprise users and partners with no installation required.
On-Premises Solution
Comstice Webphone offers full privacy and end-to-end encryption since it is running on company's network.
Compare Comstice Webphone with Cisco Jabber and Microsoft Teams
Features
Cisco Jabber
Microsoft
Teams
Comstice Webphone
Registered to Cisco CUCM?
Yes
No
Yes
Browser-Based?
No
Yes
Yes
Can be integrated inside CRM webpages?
No
No
Yes
Offers API library to implement inside Web applications?
No
Yes
Yes
Works without Complex Security/Firewall Setup?
No
Yes
Yes
Can be used by Cisco UCCX and UCCE/PCCE Contact Center Agents?
Yes
No
Yes Learn more
Cisco CUCM Enterprise Telephony Features (Call Park, Pickup, Hunt Group Member etc.)
Yes
No
Yes
SMS notifications for the incoming and missed calls
No
No
Yes
Name-only inbound and outbound external calls for protecting customer numbers
No
No
Yes
Reliable Mobile Softphone App with cell network fallback?
Yes
No
Yes
MS Teams Chat/IM Access
No
Yes
Yes
On-Premises Solution?
Yes
No
Yes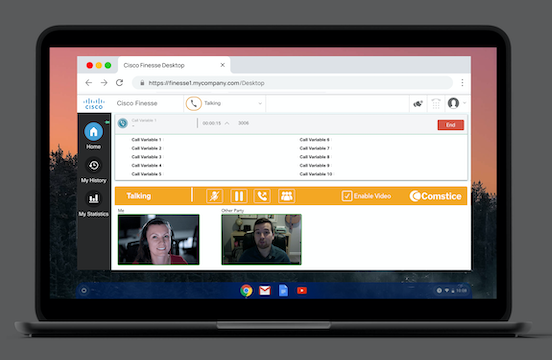 Chromebook Support for Cisco Enterprise Telephony Users
Sales reps, partners and temporary staff can use Chromebook PCs with no installation required and communicate with the clients through webphone.
Chromebook PCs are the low-cost, low-maintenance alternatives to other PCs. No data can be saved on the Chromebook and user has very limited permissions to install apps.
Comstice Webphone helps to handle audio conversations using browser. It can work without the VPN, through the public Internet.