You can have all the call center agent features available on a single portal for a better security, data privacy and remote working. Here are the integration options for Cisco Agent Portal by Comstice;
Cisco Finesse Integration for UCCE/PCCE and UCCX
Comstice Finesse Agent Portal integration with Cisco Finesse is via Finesse REST APIs and XMPP ports. Using HTTPS and external FQDNs, agent sessions can communicate with Cisco Finesse Server securely. Cisco Finesse real-time events can be exchanged via XMPP. There is no specialist firewall required; all the communication can be done through firewall and internal Web Proxy on Comstice Portal servers, without exposing Finesse server directly to the Internet.
Webex Contact Center Webphone Integrations
Webex Contact Center supports integration with any third-party SBC. Comstice SIP Proxy can also function as an SBC, so you can route calls to your Webphone with the Webex Contact Center SBC Integration. More information about this can be found at Webex Contact Center Voice Onboarding Guide
Webphone: Eliminate any Cisco Phone installation on Agent PCs
Comstice offers built-in Webphone based on WebRTC on the Finesse Agent Portal. This phone will help agents to make and receive calls using web browsers, so they do not need a Cisco phone or softphone installed on the PCs.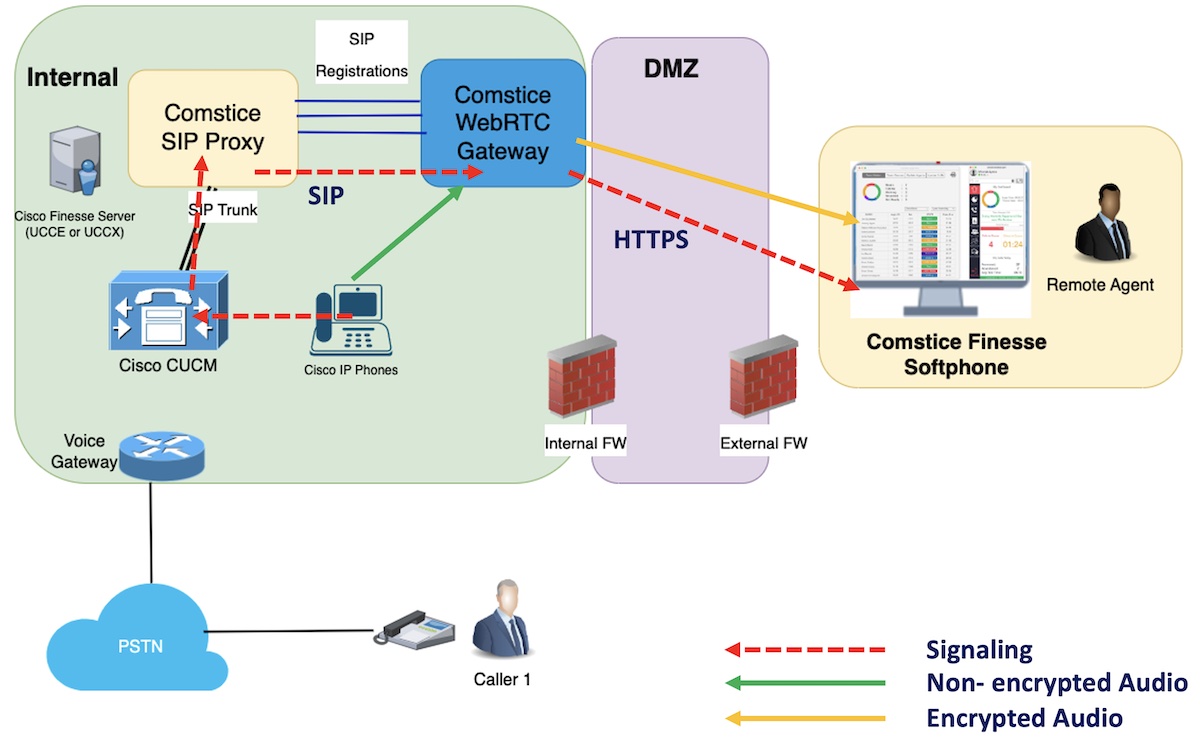 Comstice Webphone is a WebRTC session on the browser which is then converted into a SIP session by Comstice WebRTC Gateway. WebRTC is NAT-friendly so you can use this feature without any specialist firewall such as Cisco Expressway.
Webphone VDI Support
Agent can login to Cisco Finesse and Webphone gadget via VDI. However, running the audio session through VDI is not a great experience. Instead, Comstice offers a direct webphone login from a standard browser on agent's PC with SSO login, and retrieve the audio directly using the local browser on the user's PC. Agent does not need to do anything on this webphone session after login. Agent will use Cisco Finesse Web interface via VDI for all the call control features for receiving and making the calls. Also call mute/unmute feature will be available via Comstice Webphone Gadget inside the Finesse page in the VDI.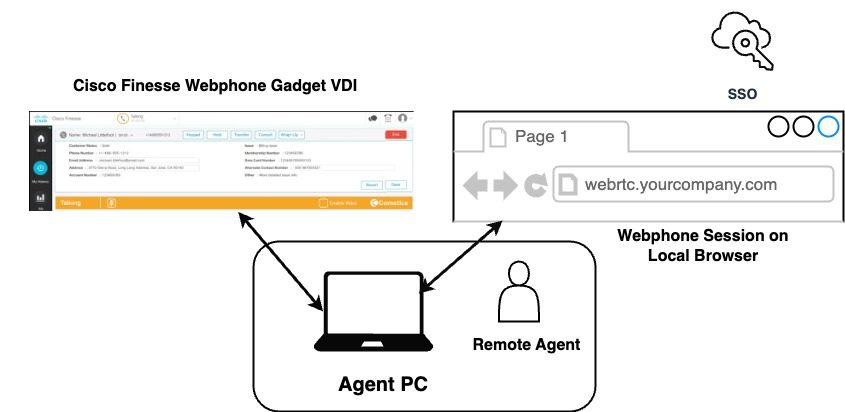 In this scenario, audio stream is securely delivered to the local PC via the local browser where Finesse page is used as the "remote control" on the VDI for the webphone session on the local browser. Since WebRTC audio stream is fully encrypted via TLS, security and data privacy is retained while user experience is still via the VDI.
Cisco Callmanager Integration
Comstice provides a universal Agent Experiences Portal for a web-based agent experience. Call center agents can handle customer calls as well as access to other features. Comstice Agent Portal supports Cisco, Avaya (red and blue) and Amazon Connect contact centers. Agents can have the same experience regardless of the underlying technology.
Internal Contacts with Presence via Cisco CUCM
Agent can search internal contacts in CUCM Corporate Directory and can also see their CUCM Presence information. This integration is via CUCM AXL APIs. A CUCM application user with AXL API access will be created.
Access to Cisco Finesse Phone Books
Agent can also access Cisco Finesse Phone Books and call the contact directly from the Finesse Phone Book section. This is part of the existing Finesse integration.
CODEC Negotiations
CODEC will be negotiated during call establishment and depending on the Cisco CUCM configuration. G711 a-law, u-law or G722 codes can be used. Web browsers support a wide range of CODECs. Click here to learn more about the supported CODECs by the web brosers.
CRM Integration and Screen-Pop
Call center agents use a handful of features and integrating those features into Comstice Agent Portal will help to minimize the CRM user subscriptions for call center agents. CRM platforms such as Salesforce and Zendesk offer REST APIs to access certain features, create, update and delete the data. Using these integration features, call center agents can retrieve the contact page of the calling customer, create tasks, send emails and activities. Comstice Portal automatically logs each call on CRM contact records as well.
Single Sign-On
Comstice Agent Portal offers SSO integration even if your Cisco CUCM and Finesse are not integrated with the SSO yet. It currently supports AzureAD, Okta and Google Workspaces.
Workforce Management Integration
Comstice Agent Portal can integrate with your existing WFM solution to synchronize agent shift information and Team Calendar. Agent Shift Information can be visible for the agent during the day so break times will be visible.
Comstice Agent Portal Team Calendar can synchronize with WFM and update agent's availability for the upcoming shifts.
Conclusion
Comstice Finesse Webphone Gadget along with the Screen Recording Gadget helps to avoid installing any software on agent's PCs. You can contact Comstice and request a PoC to validate all these scenarios.