Unleashing the Power of Avaya Aura; Why On-Premise Call Centers Outperform Cloud Solutions
July 31, 2023
in Avaya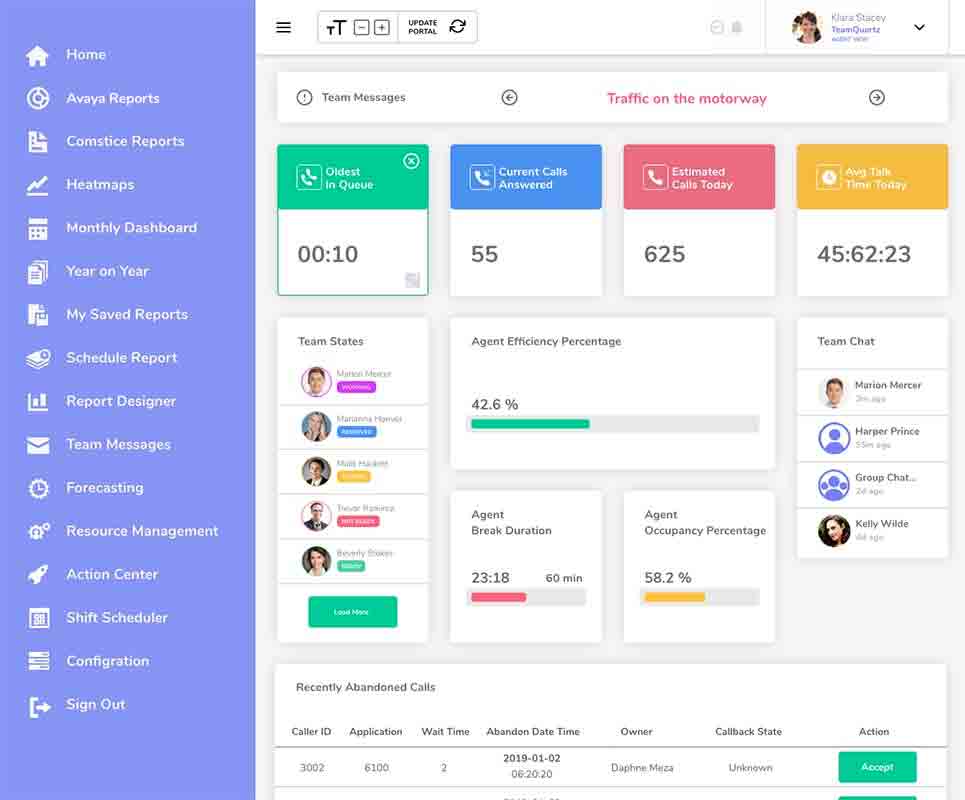 Why Avaya Aura Can Perform Better Than a Cloud Service
Introduction
Hey there, fellow customer success champions! Today, we're diving deep into the exciting world of call center solutions. You've probably noticed the buzz around cloud-based call centers, promising new features and operational benefits that sound too good to pass up. But hold on, before you take the leap into the clouds, let's explore why on-premise Avaya Aura call centers might just outshine those cloud solutions. We'll also introduce you to a game-changing toolkit from Comstice that can supercharge your Avaya Aura Call Center and put it ahead of the cloud competition.
Common Reasons for Adopting Cloud Call Center Solutions
Before we unveil the magic of Avaya Aura on-premise call centers, let's understand what makes cloud solutions so alluring for businesses.
1. New Features for the Business
Cloud call centers boast some shiny new features that can level up your customer service game. Imagine having a web-based agent phone and CRM phone, making it easier for your agents to handle customer interactions. With better web reporting and dashboards, you can stay on top of your call center's performance effortlessly. Secure remote agents without the hassle of VPNs? Check! Built-in recording and speech analytics? Double-check!
2. Operational Benefits
The cloud brings operational perks too. Say goodbye to tedious agent onboarding, as cloud solutions make it a breeze. There's no need to install software on agent PCs, reducing setup time and complexity. Plus, the cloud's hosting convenience means you can forget about operational overheads.
Challenges with Cloud Call Centers
Now, we know those features and benefits got you excited, but it's not all sunshine and rainbows in the cloud. Let's break down the challenges that many businesses might not be fully aware of.
There are two types of cloud call centers; SaaS or Shared Call Centers and PaaS or Instance-Based Call Centers. Let's explore both.
Shared Call Centers (SaaS)
In this model, you pay per seat per month for every named agent. You subscribe to the service and have to "trust" the provider for everything. Common challenges are;
High Downtime: Unfortunately, shared cloud call centers often suffer from frequent downtime, causing headaches for your operations and customer service. Since they try to offer many features, there are frequent updates and scalability issues.
High Cost: It's like purchasing a brand-new Avaya Call Center every year! The costs can quickly add up and take a toll on your budget.
Data Privacy and Security: Handing over your sensitive data to third-party providers can raise legitimate concerns about data privacy and security.
Instance-Based Call Centers (PaaS)
In this model, you are given an "instance" of a call center software. You can configure and customise it and pay as you use. Common challenges in this model are;
Bare Metal: Not many features available out of the box. Starting from scratch with minimal features can leave you feeling like you're missing out on important functionalities.
Limited Technical Support: Need help? Good luck! Instance-based call centers often offer limited technical support, leaving you in a lurch when you face issues.
Extra Coding Needed: Countless hours spent waiting on developers to implement essential features? No thanks!
Continuous Dependency on Developers: You might find yourself stuck in a cycle of dependence on developers for even the smallest tweaks.
Spiraling Long-Term Costs: With a pay-as-you-use model, costs can spiral out of control as your call center configuration and datasets grow, even when your agent count is pretty much the same.
Making On-Premise Avaya Call Centers Work Better with Comstice
Now, the moment you've been waiting for: how to make your on-premise Avaya Call Center shine brighter than any cloud service out there. Introducing the Comstice Avaya Call Center Toolkit!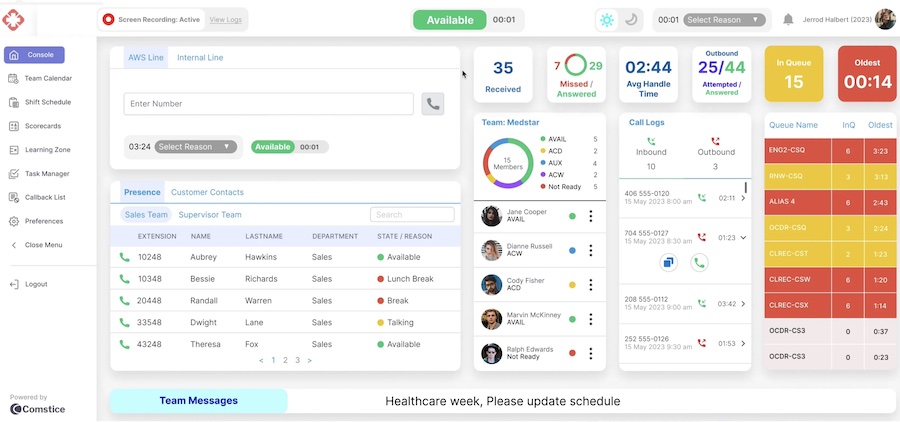 Avaya Agent Portal: Unleashing the True Potential of Your Agents
This is where the magic begins. Comstice's Avaya Agent Portal is a game-changer for your call center agents. Here's why:
Phone Inside the Webpage: No need for Avaya Softphone installation, reducing setup hassles and making agent life simpler.
Agent State and Call Control Features: Empower your agents with real-time control over their availability and calls, ensuring efficient call handling.
VPN-Less and Secure Agent Web Console: Say goodbye to the complexities of VPNs, and rest assured knowing your agents' data is secure with encrypted audio and signaling.
Supports Virtual Desktop Infrastructures: Seamlessly integrate with your virtual setup, giving you the flexibility to adapt to any environment.
Check out Avaya Agent Portal product page for more information.
Avaya CRM Webphone: Enhancing Agent Productivity within Your CRM
Want to take your agents' productivity up a notch? Avaya CRM Webphone is the way to go!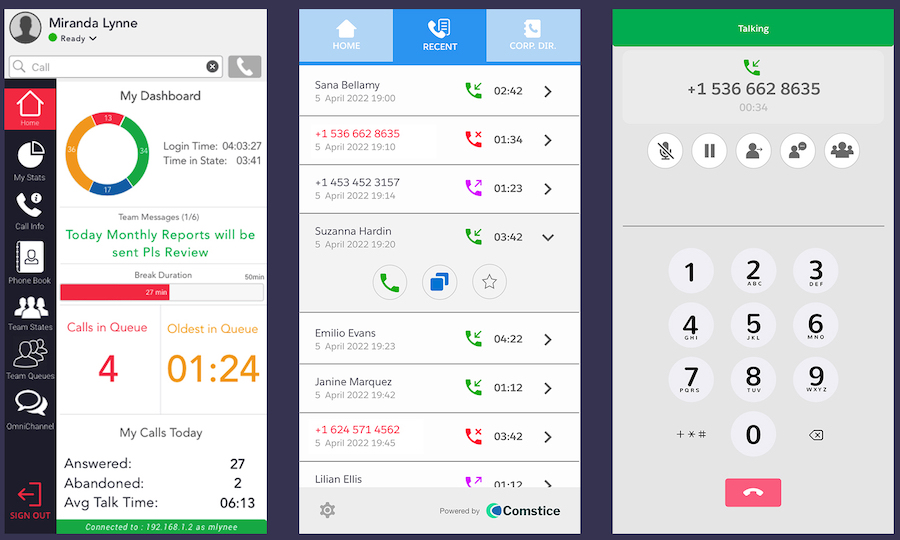 Browser-Based Agent Phone Inside CRM: A convenient all-in-one solution for your agents to manage calls and customer interactions right from their CRM interface.
Agent State Change and Call Control: Empower your agents with the ability to change their status and handle calls effortlessly.
Browser-Based Screen Recording: Capture important interactions for training and quality purposes without any additional setup.
No VPN Required: Enable your remote agents to work securely without the complexities of VPNs.
Call CRM Contacts Directly from Browser: Save time and effort by initiating calls directly from the CRM, streamlining your agents' workflow.
No Installation on Agent PCs: Forget about software installation woes – it's all browser-based for ultimate convenience.
Salesforce and Microsoft Dynamics Support: Seamlessly integrate with your favorite CRM systems, ensuring a smooth and productive experience for your agents.
Check out Avaya CRM Webphone product page for more information.
Comstice Quartz Reporting and Analytics Solution: Turning Data into Actionable Insights
In the world of call centers, data is gold. Comstice Quartz Reporting and Analytics Solution unlocks the true potential of your data: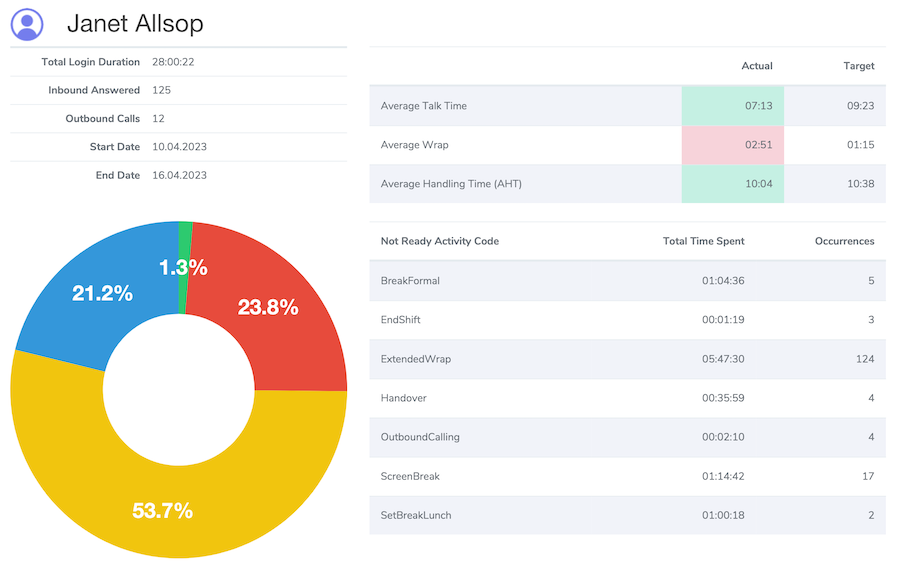 Web-Based Reports with Profile-Based User Access: Conveniently access reports tailored to your specific needs, ensuring that the right data is available to the right people.
Report Scheduling: Never miss a beat with automated report scheduling, delivering insights right to your inbox when you need them.
Retains Detailed Call Data Longer: Keep historical data at your fingertips for more in-depth analysis and trend spotting.
No License Limit on the Number of Users: Everyone on your team can access the reports they need without limitations.
Agent and Team Scorecards by Email: Keep your agents informed about their performance and motivate them to achieve their best.
Targets and Goals: Set benchmarks and track progress toward your call center's goals.
Drilldowns from Summary to Detailed Reports: Easily navigate from overview reports to granular details for actionable insights.
Improves First Contact Resolution: Enhance customer satisfaction with faster issue resolution.
Reduces Abandoned Calls: Optimize call handling to reduce customer frustration and increase engagement.
Check out Avaya Aura Call Reporting User Guide for more information and features.
Comstice Wallboard: Real-Time Data Visualization and Alerts
Knowledge is power, and real-time insights are invaluable. Comstice Wallboard delivers that and more: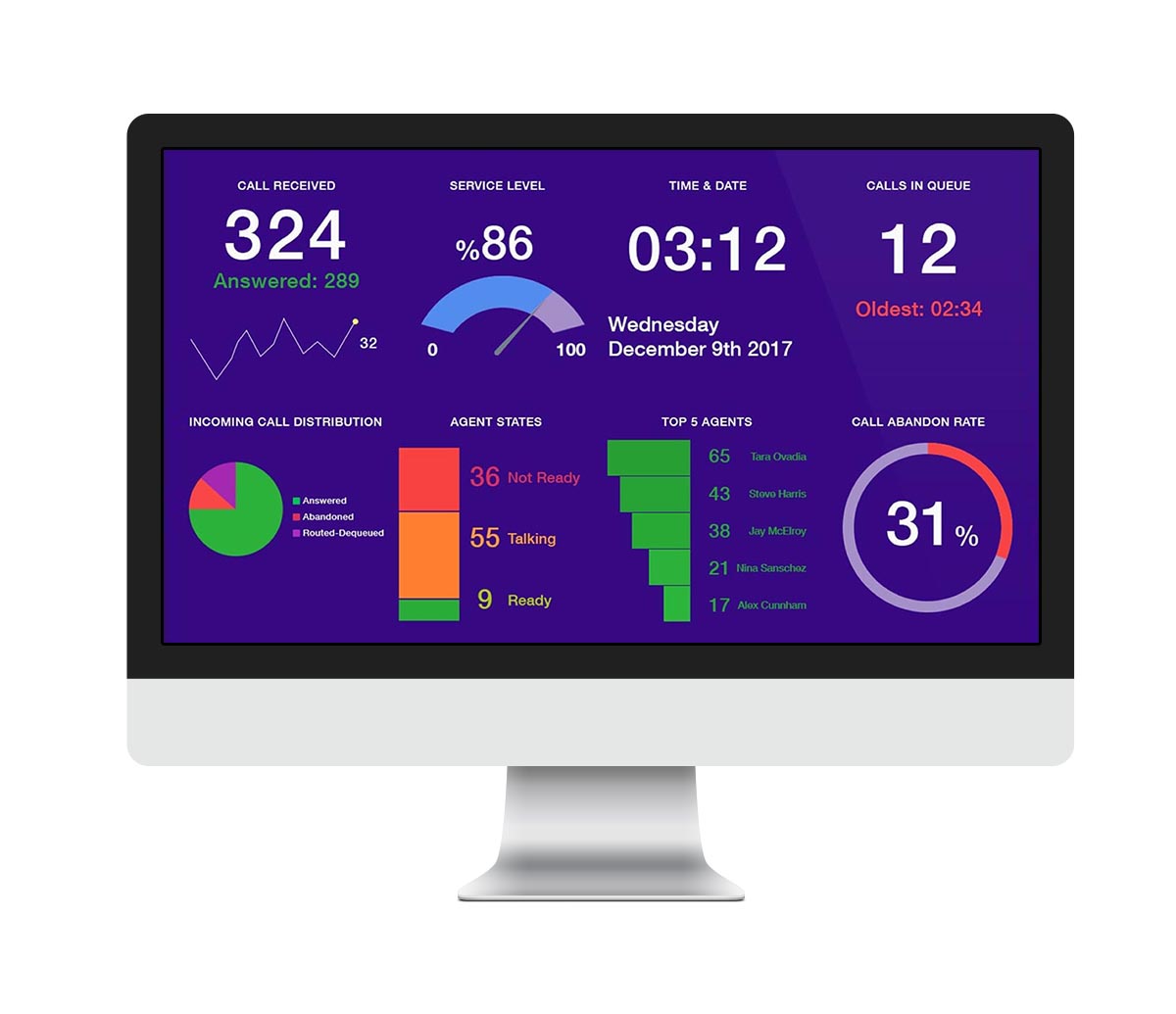 Create Customizable Dashboards: Tailor the visual representation of data to match your call center's unique needs and preferences.
Audio and Visual Alerts: Stay on top of critical situations with immediate alerts, ensuring timely responses to any issues.
No License Limit on the Number of Users: Give everyone in your team access to real-time data for better collaboration and decision-making.
Real-Time Notifications by Email and SMS: Never miss a beat with alerts delivered directly to your inbox or phone.
Additional Desktop Ticker App and Wallboard Mobile App: Stay connected and informed on the go with these handy add-ons.
Check out Avaya Aura Wallboard User Guide for more information and features.
Conclusion
Congratulations! You've now explored the world of on-premise Avaya Aura call centers and learned how they can outshine cloud solutions. Armed with Comstice's powerful toolkit, you have the tools to maximize your call center's potential, boost agent productivity, and deliver unparalleled customer experiences.
The future of call centers is here - it's accessible, efficient, and it's powered by Comstice Avaya Toolkit. Are you ready to embrace it?