Avaya Agent Experiences Portal
Universal Agent Portal for the call control, campaigns, real-time queue and agent activities, integrated CRM and omnichannel features for VPN-Less Remote Agent Experience.
On-Premises or in the Cloud,
For all Avaya Call Center models.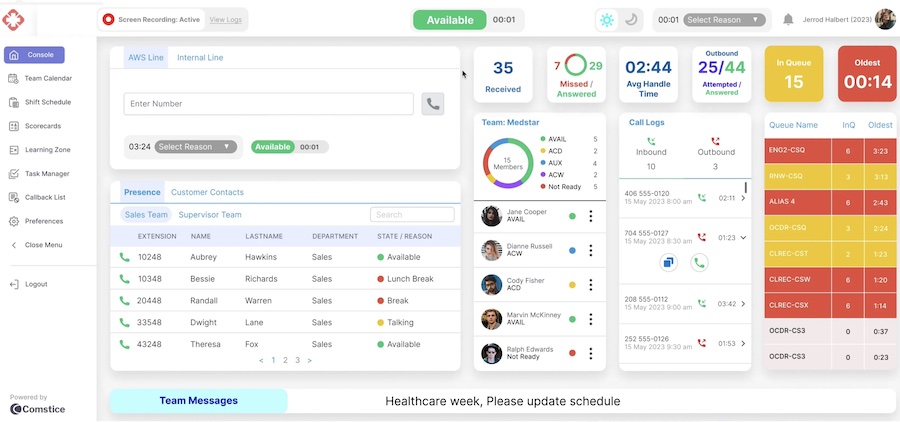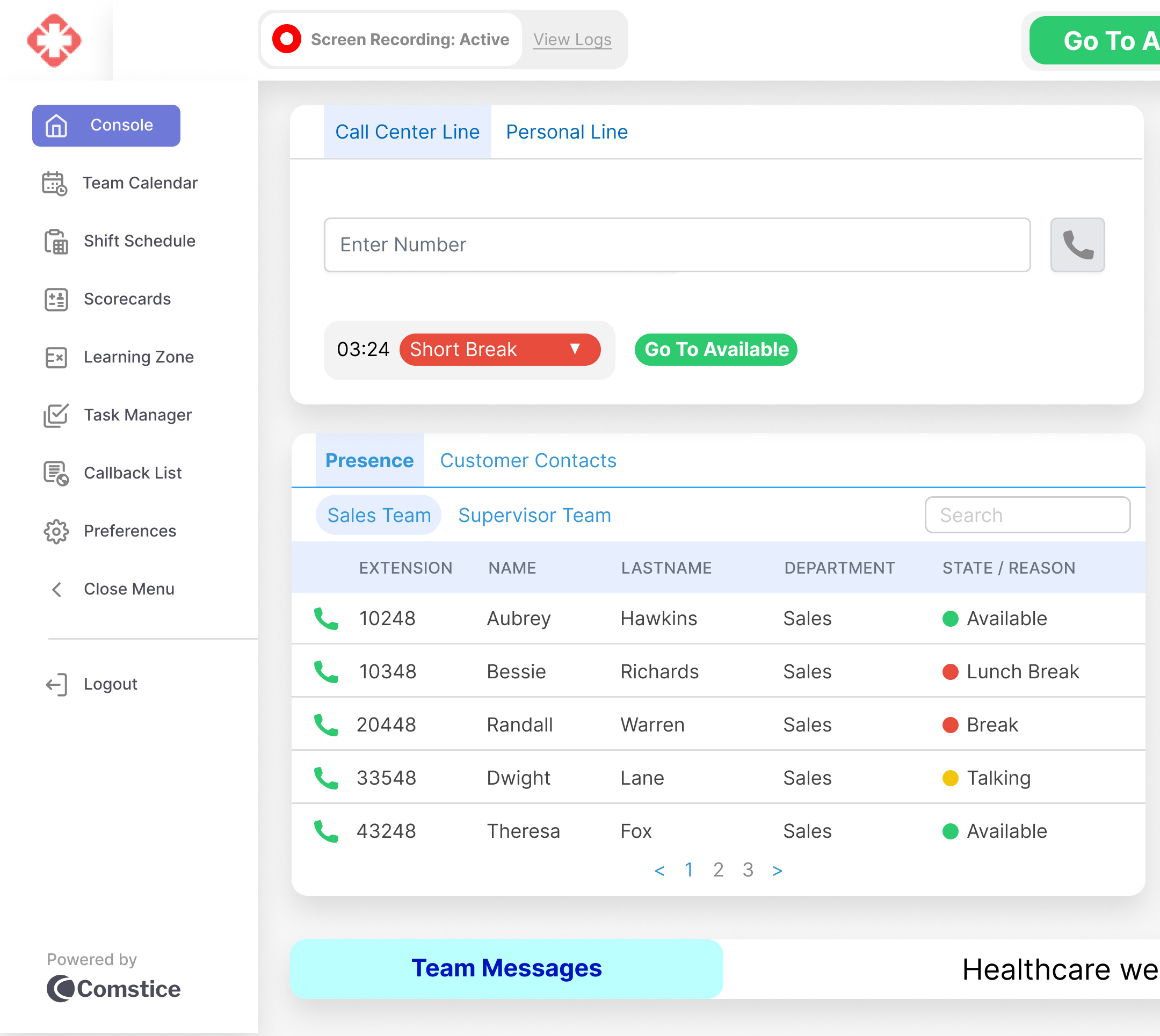 Handle Calls from Web Browser
VPN-Less Webphone and agent experience with access to internal and external contacts
Every modern web browser has a built-in telephony feature. Comstice offers a technology to make this webphone compatible with Avaya. Your webphone will register as a SIP Phone to Avaya Session Manager, make and receive customer service calls from web browser.
Agents can also search and check the presence information of the internal contacts. They can then transfer calls to internal contacts if needed.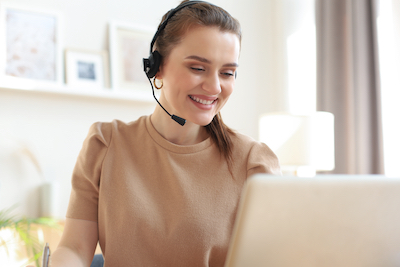 Universal Agent Portal
Single portal for all the agent features, Avaya and third-party. Configure agent experience for different business needs.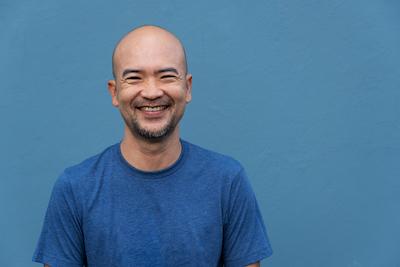 Minimize CRM Subscriptions
Eliminate CRM subscriptions for call center agents by accessing CRM features from Agent Portal.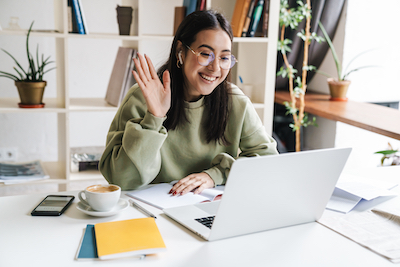 Remote-Working Ready
Agents can login remotely without any VPN required. You can roll out new agents with no installation on Agent PCs.
Outbound Campaign Agent
Better campaign performance with automated or one-click manual calling, offer creation and real-time campaign performance.
Agent Experiences Portal offers a separate outbound campaign agent experience for agents running outbound campaigns. They can monitor campaign progress, make call to the next contact in one click and manage campaign offers for each call on the active call window.
If there is an existing dialer function, campaign agent can be part of it. Otherwise, you can create campaigns, dialing lists and offers to create your own dialer experience.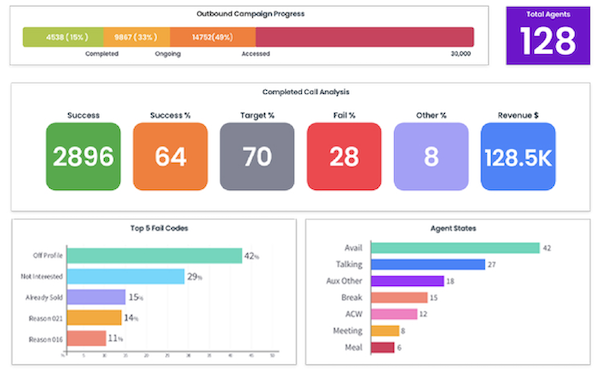 Agent Portal Features

Create agent experiences for various parts of the business with configurable web portal. Easy CRM integration with no additional CRM subscriptions.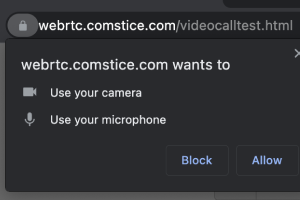 Webphone on the Browser
Eliminate any Avaya phone with built-in webphone inside the browser. No installation or browser plugin required.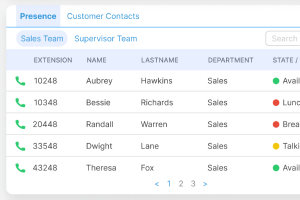 CRM Integration for Agents
Call CRM contacts from the web browser, create a task, automated call logging for Salesforce and Zendesk. Contact us for other CRM platforms.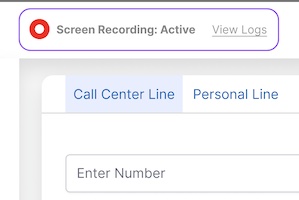 Screen Recording
Eliminate recording plugins with built-in Screen Recorder for recording the entire screen activity with audio.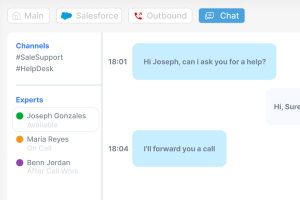 Omnichannel
Access to agent Webchat features, ability to send SMS, Email from your omnichannel provider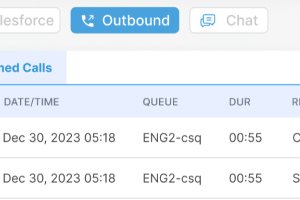 Outbound View
Separate layout for outbound agents for callbacks and campaigns. Works with or without any Dialer solution.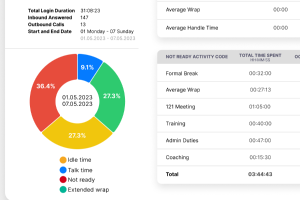 Agent Scorecards
Agents can access their daily, weekly, monthly performance reports created by Comstice Quartz Reporting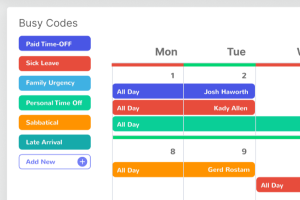 Team Calendar
Update availability in the Team Calendar for PTOs, review team availability and events for shift scheduling.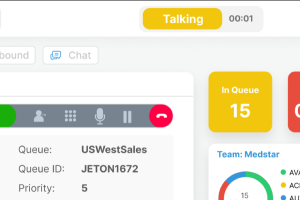 VDI Support
Agent can login to Comstice Portal via VDI and webphone from the local browser for the best quality audio.Learn more.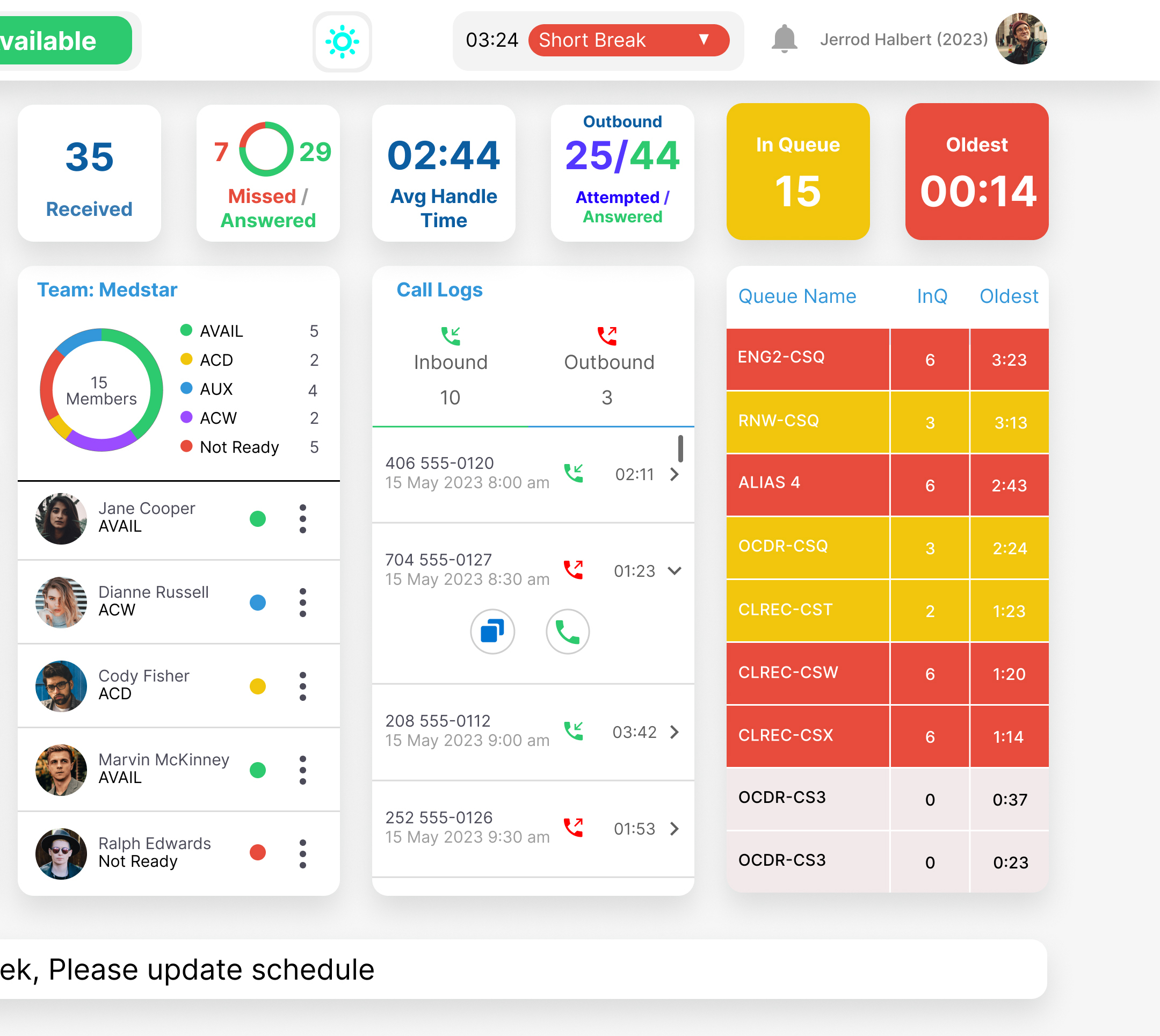 Real-Time Stats, Team and Queue Information
Set your team and queue thresholds and receive daily emails about the performance
You can set performance thresholds based on your strategic goals and get daily actionable insights as an email about the agents performing below the defined thresholds as well as the insights about your team queues.
You can then drill down to the agents and the queues exceeded the threshold and analyze further quickly. Learn more.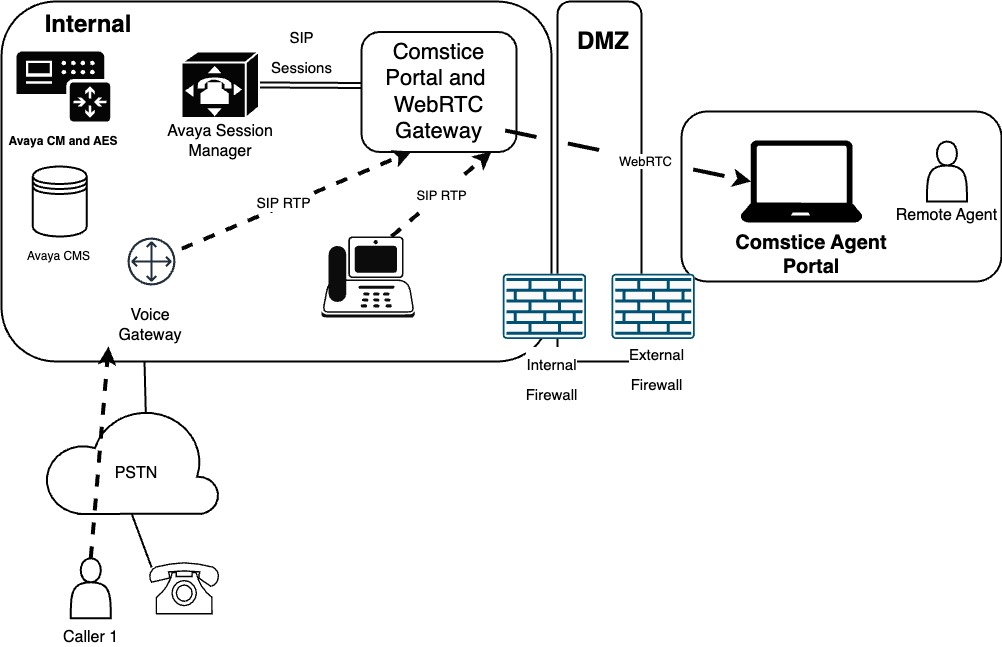 Solution Topology
Comstice Agent Portal communicates with Avaya AES Server for the call control and real-time information. It also communicates with Avaya CMS for the historical data and configuration information.
Agent Portal can also have a Webphone feature which helps agents to use the WebRTC features on the web browser.
Agent Portal can also communicate with third-party services and applications such as CRM and WFM for agent accessibility. Click here for detailed topology and architecture information.
Avaya Aura Agent Portal Frequently Asked Questions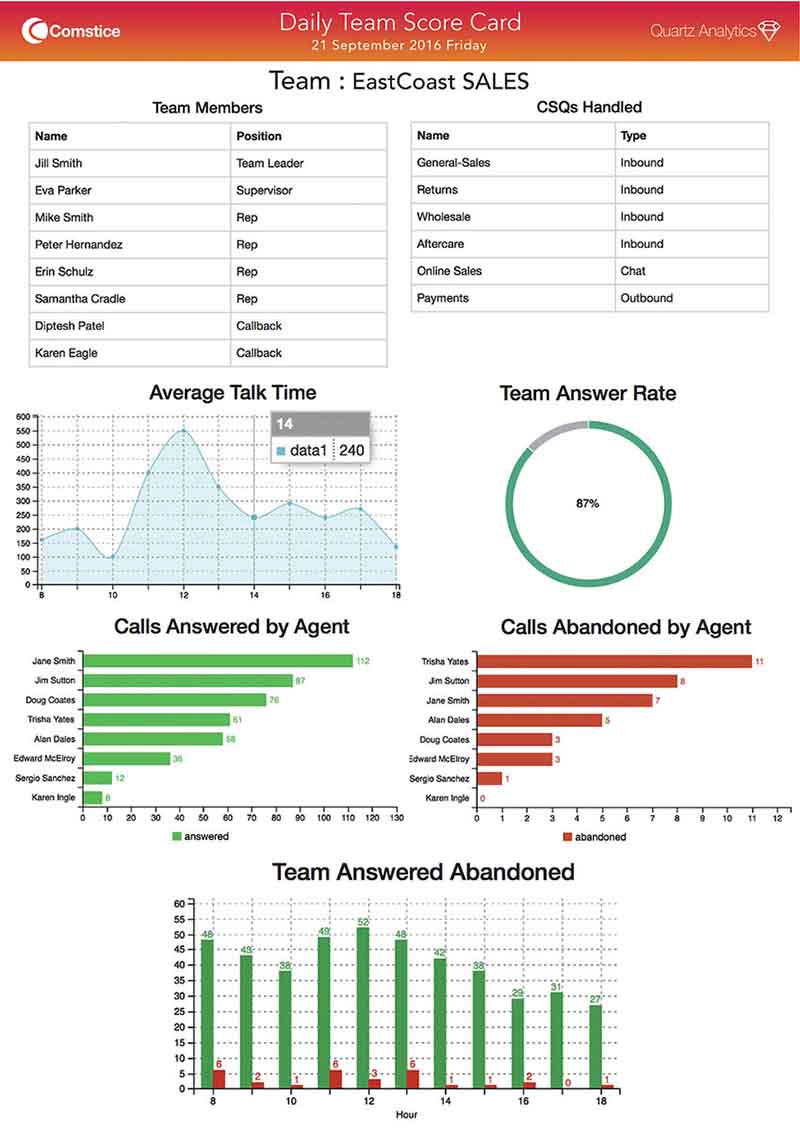 What is the license model for Comstice Agent Portal?

It is licensed as an annual subscription for the named agents. There are volume discounts available for higher numbers.

Do I need additional licenses on Avaya to use Comstice Agent Portal?

For Avaya AES integration, you will need need "Basic TSAPI Licence" per agent. For Avaya CMS integration, you will need Avaya CMS ODBC Licence.

How does the Third-Party Integration Work?

Comstice will integrate with the third-party solutions or services using the APIs available or direct database integration.

CRM platforms often provide REST APIs to access contacts, chat features, creating tasks and generating call logs. Using those APIs, Comstice will integrate with your CRM platform.

There is a built-in call control feature for the agent to control the Avaya phone. Using webphone which is a WebRTC-based browser phone, you can eliminate Avaya phone and use web browser as the phone. More information can be found here.

Does Avaya Aura Agent Portal Support ChatGPT?

You can integrate Avaya Portal with ChatGPT and your agents can use ChatGPT features as a knowledge base. They can ask questions and ChatGPT can search for the answers using the information you can upload.

Comstice can help to integrate ChatGPT for your knowledge base and for your

Can I create a different teaming feature other than Avaya Agent Groups

Yes, you can create new agent groups and assign managers for each group. This grouping feature can be used on the Team states and other Team features.

Does Agent Portal support Single Sign-On (SSO) Login?

It supports major SSO providers such as AzureAD, Okta and Google Workspaces. Other SSO providers can be integrated as well.

Can I plan, allocate and monitor backoffice tasks using this system?

Yes, you can, via our Task Manager capability. You can assign callbacks and training tasks as well.

Can this be hosted in the Cloud?

Yes, you can host it in your private cloud or Comstice can host it for you as well.