Comstice Avaya Agent Portal helps your Avaya agents to login from a web browser and handle communications without installing anything on agent's PC. Avaya Agent Portal also offers real-time information about the team members and integration with third-party applications including CRM.
Features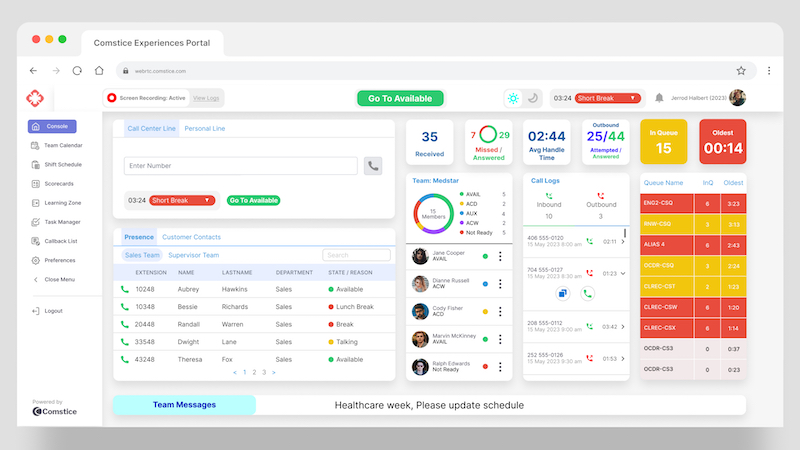 Here are some features of Avaya Agent Portal. Visit product page to learn more about the benefits, features and use cases.
Built-in Webphone inside the browser,
Built-in Screen Recording to record entire PC screen with audio,
CRM Integration (Salesforce, Zendesk and others) for contacts, tasks,
Sending SMS via Twilio or AWS,
Automated Call Logging on CRM,
Separate Outbound Campaign Agent Experience,
Migration options to Amazon Connect Cloud Telephony with the same agent experience,
Higher agent efficiency and occupancy,
Eliminate software installations on agent PCs,
Cloud-like experience for Avaya on-premises contact centers,
Single web portal for omni-channel contact management,
Easy access to shift schedule, performance reports, alerts and notifications for each agent
Avaya AES Integration
Comstice Avaya Agent Portal offers call control and agent state features via Avaya AES. User can login, change states, accept incoming calls and make outbound calls. This feature can use an Avaya Softphone or physical phone or it can also use Comstice Webphone on the browser. Comstice Portal communicates with Avaya AES using JTAPI.
For Avaya AES Interation, Avaya Basic TSAPI licences are needed for each agent.
Avaya Session Manager SIP Integration (Optional)
Comstice Agent Portal offers call control features out of the box. You then have the option to use Avaya softphones or hard phones. Alternatively, you can also use Comstice Webphone; the WebRTC softphone inside the browser. Comstice Webphone feature helps to avoid any Avaya softphone or hardphone and uses web broeser for all the audio communications.
Comstice Webphone is a WebRTC Phone on the browser. This WebRTC session is then converted to a SIP phone on the Comstice WebRTC Gateway. Those SIP sessions register to Comstice SIP Proxy / SBC which is also integrated to Avaya Session Manager via a SIP trunk. When the agent is picked, Avaya Session Manager sends the signaliing request to Comstice SIP Proxy then agent's WebRTC session starts ringing.
Audio CODEC is negotiated between the Avaya endpoint (gateway or Avaya phone) and the web browser the agent is using. Common audio codecs such as G.711, G.722 are supported as well as the other options. Here is the list of CODECs each web browser supports. All the WebRTC audio will be encrypted as Secure RTP.
Comstice Webphone VDI Support
Some organizations use virtual desktop infrastructure (VDO) for the remote agents. Comstice Agent Portal can run on the VDI without any issues. If Webphone is used, in that case, agent will login to Webphone from a standard browser via SSO. Audio will be through the local browser session. However, Agent Portal will be used for the call control; agent does not need to access to the local browser for making receiving calls. Portal can remotely control the call options.
Avaya CMS Integration (Optional)
Comstice Agent Portal can communicate with Avaya CMS for real-time data, daily historical data as well as Agent Scorecards that you can run daily, weekly monthly. CMS Integration is via ODBC to the database and as RT_Socket for the real-time data.
Avaya CMS ODBC licence and Avaya CMS RT-Socket licence required for this integration.
Avaya CCMS Integration (Optional)
For Avaya Blue versions with CCMS, Comstice communicates with InterSystems Caché DB and RTM (Real-time Multicast) data stream for the real-time data. No additional licences required for this integration.
High Availability and Failover
Comstice Agent Portal runs in a high availability topology with 1:1 redundancy. Each service runs as a container on Comstice Portal Server VM. Containers can work as active/active. They can also fail over from one side of Avaya AES / CMS / Session Manager to the other side automatically.
Conclusion
Comstice Agent Portal helps Avaya agents to work remotely without installing anything on their PCs. It helps to avoid user-side VPN, any software installations and also supports VDI. It offers more flexibility for a better agent performance and different business use cases.