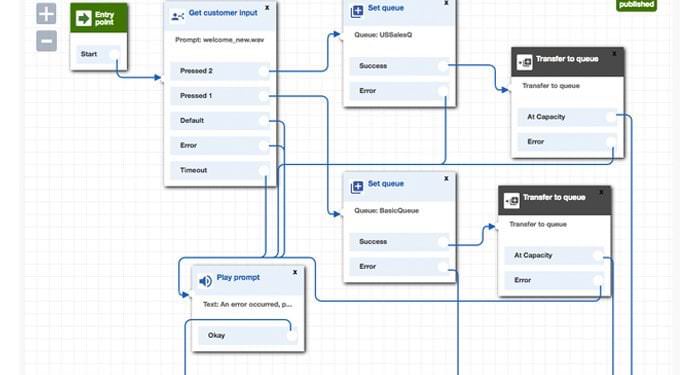 Amazon Connect is the new cloud-based contact center from Amazon Web Services. We created a quick demo setup with a single call flow, two queues and two agents using our existing prompts and got it working in 10 minutes. Here is a quick review about this service;
The Things I Liked
Very Quick Deployment
We got it working within 10 minutes. Everything is relatively straightforward; terminology is very similar to the existing contact center best practices. Some of the features are not part of the step-by-step instructions such as reason codes but you can figure out very easily.

Browser-based agent functionality
Agents can login and retrieve customer calls through their browser-based agent application which includes the softphone as well as the agent client. It is also possible to use a desk phone if preferred.

Visual Call Flow Design
It is easier than building a call flow on a visio document. Almost no training required. The steps are easy to understand and the user interface is techy enough to satisfy the gurus but simple enough to help business users create the business logic they prefer. There is a built-in text-to-speech feature as well, and it even works ;)
Customer-facing numbers
The service is pay-as-you-go and customer service numbers are already available for you to use. Very simple use, no activation required, everything was up and running and we were able to simulate customer calls and receive them through agent window easily.
Web-Based Real-Time Dashboard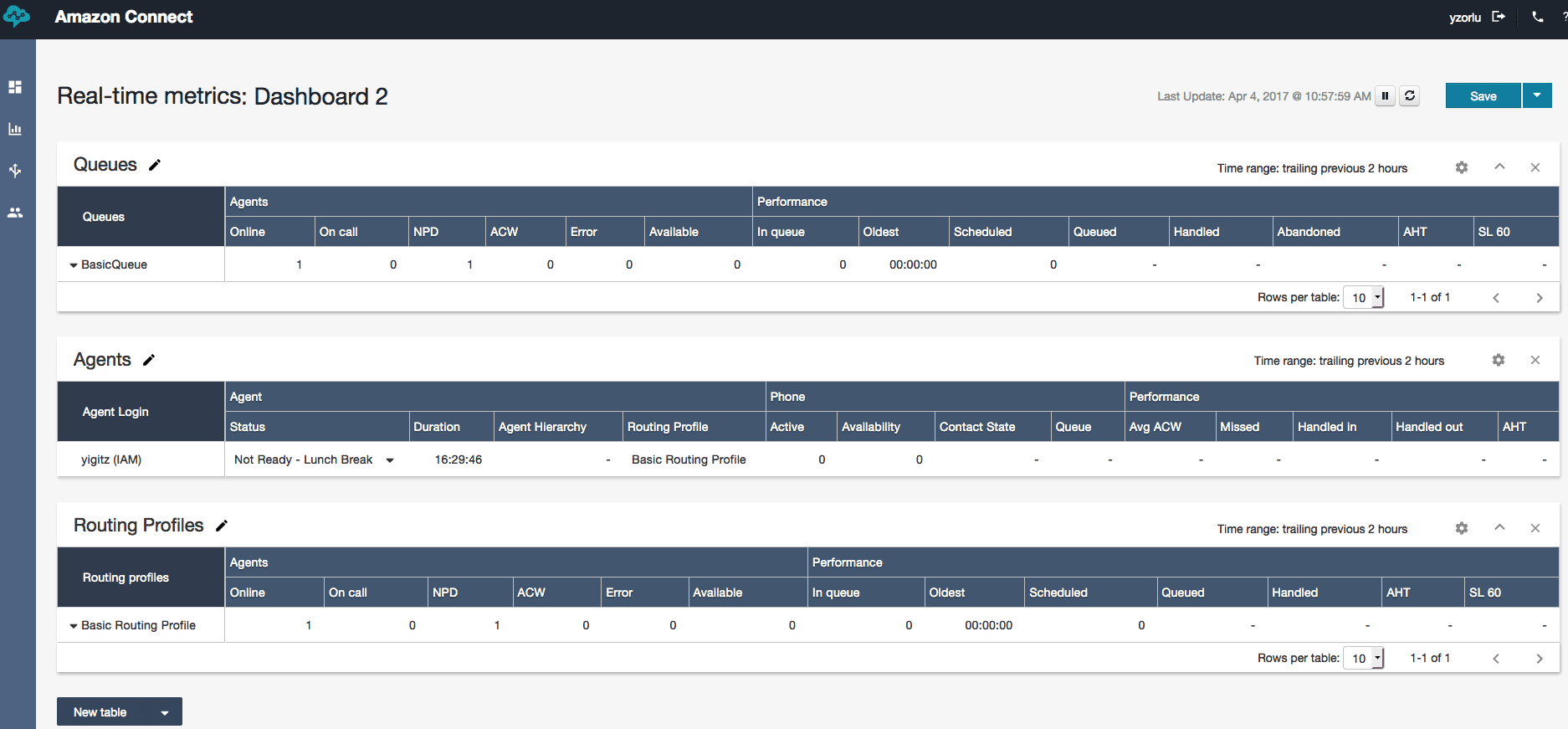 It is all tables but the reporting as it stands, does the job. Different businesses need different views and approach, I believe AWS Data Visualisation partners will offer alternatives. We definitely will start supporting Amazon Connect in Comstice Wallboard for real-time and historical data visualisation.
Features that need improvement
More functions on the Visual CallFlow Designer
Conditional statements, third party REST integration and a few other functions are needed. Also reporting-related steps may be required but the existing steps are more than enough to build a sophisticated call flow easily.
Agent and Supervisor Interfaces lack features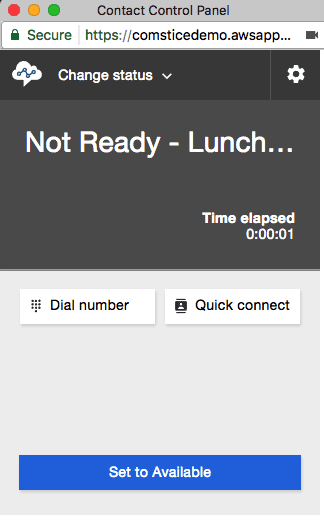 It is great that agent interface includes the softphone as well as the agent application. However, it is a bit simple; Not much info about agent performance, no visibility on the calls in Q oldest in Q and no team state details. It requires some APIs so that customers and third party vendors can create solutions for this.
CRM Integration is another part of the agent interface. Amazon Connect needs to release and support their APIs for third-party integrations. We can see that they are utilising RESTFul Web Services with JSON, but it would be nice to get those documented for the Partner Ecosystem.
No Internet Explorer Support
All the agent and supervisor interfaces, real-time and historical reports are web-based. However Amazon Connect currently only supports Firefox and Chrome. This can be an issue since many businesses still use IE and they will probably migrate to Microsoft Edge as the next step. Third-party reporting and Desktop Agent partners can resolve this issue. Comstice will offer Comstice Desktop Agent and Mobile Agent for supervisor and agent functionality to avoid browser and PC dependency as well as Comstice Wallboard for real-time and historical data visualisation.
More Documentation about the use cases and best practices
Current documentation is simple and easy to use but Amazon needs to build a knowledge base with articles on the the known issues, feature limitations and the roadmap. Amazon needs to build trust for this service and must show that they are heavily investing on the service and here for the long term.
SIP Trunk Support
Many businesses already have trunks to collect customer calls. They should be able to set up a SIP trunk into their cloud-based contact center to terminate the calls in Amazon Connect.

Amazon Customer Service Ecosystem
There is an existing AWS Partner network which needs to expand to include customer service solution vendors as well. Partners should have the confidence that Amazon wants to grow with them and get help on the joint marketing opportunities.
More Pricing Options Needed
Current pay-as-you-go pricing might sound great for zero barrier for entry but the bill might get bigger for the large contact centers. There should be other pricing options to attract large contact centers. Currently Amazon Connect supports up to 500 agents.
Overall Verdict
I believe Amazon Connect is the right step forward for the cloud-based contact centers. However Amazon also needs to build an ecosystem and a marketplace to support niche features and vertical markets. As Comstice, we will start to support Comstice Wallboard, Desktop Agent and Mobile Agent apps for Amazon Connect very soon. Email to Comstice if you would like to become a beta user.