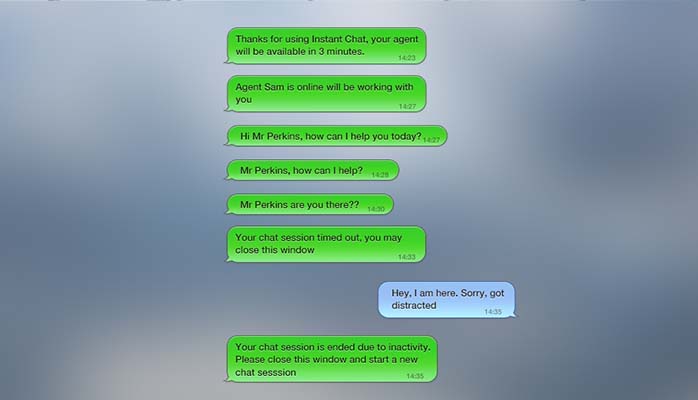 Webchat is meant to provide an alternative collaboration channel so that we can reduce the incoming customer calls and eventually the cost of overall customer services. In today's world where consumers prefer chat over making phone calls, webchat still covers the very small percentage of total customer inquiries. Why chat works well for everything except customer services?
It is easy to get distracted in front of the PC
It happened to me many times that while waiting to be answered or already in the live chat, I started to work on something else and when I remembered that I was on a chat, it was too late. I had to start a new chat, go through all the steps that I have already done and end up spending more time than expected. There is no powerful notification system in webchat because of the security features in many browsers.Also webchat is not forgiving to delays in response like other types of chats we use.
Customers are getting used to rolling chats
The main difference between webchat session and client-based chats such as Gtalk, Skype and WhatApp is that webchats can't be preserved; you can't continue your customer service chat after lunch or after a temporary loss of mobile internet signal. You have to start from scratch. Whereas in client-based chats, your identity is confirmed from the start, chat history can be retained on the client side and chat server can store the new messages while you are offline, then push it to your client. Also, chat clients can provide better visible and audible alerts than the web browser. The problem is; we can't expect customers to download chat client for each customer service and there is no universal chat client that we can hook our customer services into for chat collaboration.
Webchat is seen as "not quite safe"
Because it is browser-based and usually anonymous (i.e. you can start a webchat without any identity check or login), current perception of webchat is that it is not secure to share personal information such as birth date or mother's maiden name. This obviously limits the usage of webchat in customer service industry.
It sounds like for chat to be one of the dominant channels in customer services industry, there needs to be a chat client that addresses all the issues around Webchat. However even if all the contact centers in the world are hooked into it, I personally wouldn't download a chat client just to chat to my bank or utility company. There must be more significant, compelling reasons to download a client just for customer collaboration.
That's exactly what we thought ;)
At Comstice, we develop new ideas for Unified Communications and Customer Collaboration industry. We are currently working on a universal service that will address many known issues like Webchat. It will be able to integrate to any contact center technology in the world and will provide maximum flexibility, privacy and featureset. Most importantly, it will save time for everybody.