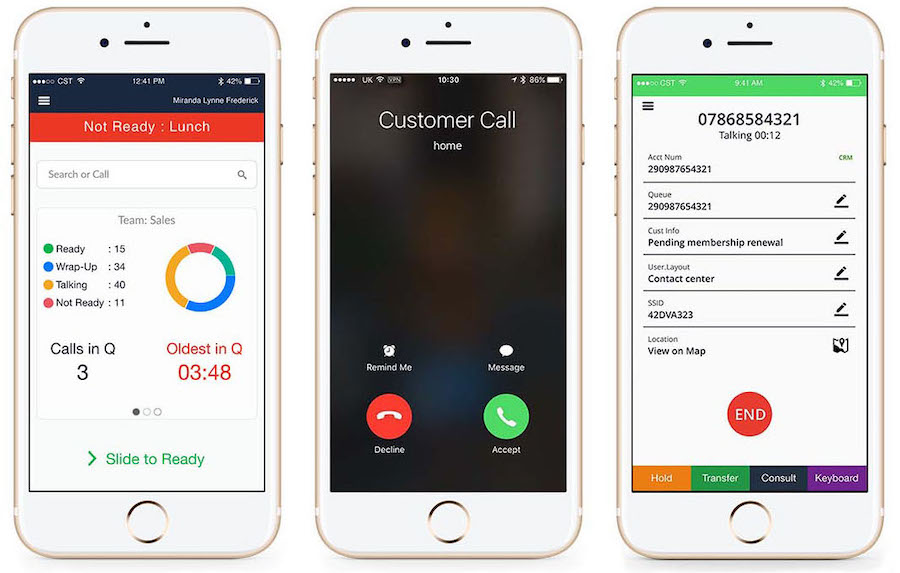 Record Business Mobile Calls With Amazon Connect
Business mobile phones today offer very limited visibility and control over mobile communications with customers. It is very costly to record mobile conversations and often not possible at all. Here are the common challenges with today's business mobile phones;
It is not possible to record audio, SMS chat and Wahstapp conversations with the customers
Costly and cumbersome to transcript the recorded conversations and create actionable insights
Unable to set "Do Not Disturb" mode on the mobile to reroute the incoming call to another team member
Not every customer-facing employee has a business mobile phone due to security risks
Employee's mobile number is directly reachable from the public telephony network, making the business mobile phone disruptive to mobile user
Unable to blacklist certain phone numbers and the cold callers for the entire team or the organization
Unable to restrict outbound mobile calls only to the customers and known contacts
Amazon Connect Mobile Softphone for Mobile Business Line
Amazon Connect Mobile Softphone is a mobile app by Comstice that helps business mobile users to communicate with their customers via voice and SMS Chat. The mobile business user can have a dedicated phone number or can be part of a team with a shared number to access. All the incoming and outgoing calls are via Amazon Connect, therefore can be recorded. Voice transcripts of each recorded call can be created for further analysis.
Amazon Connect Mobile Softphone is free to download form Apple and Goole app stores; you can search it as "Comstice Mobile Connect".
Mobile users can make and receive calls over Wifi. If the mobile internet is not reliable, the user can switch to the mobile phone line. Even in that case, all the calls will go through Amazon Connect with full control and audio recording. When making outbound calls in mobile phone line mode, the user will actually receive a call from Amazon Connect. Amazon Connect will also call the destination number and merge both call legs. The user's mobile phone number will never be exposed to the customer. It will be shielded by Amaozn Connect phone numbers.
Organizations can decide which number to display for outbound calls from their mobile users. It is often a team phone number so that if the customer calls back and the mobile user is not available, then Amazon Connect can send the call to an available team member dynamically.
SMS and Web Chat
Direct Chat: You can assign SMS phone number to mobile user, if needed. This will be separate from the direct Amazon Connect phone number mobile user may have. That will help to avoid direct SMS communication and every SMS message will go through Amazon Web Services, therefore it can be recorded and and analyzed. Customer will never be able to find out the actual mobile phone number of the user.
Team-Managed Chat: It is also possible to have a chat queue where customer can start a chat session from SMS, Whastapp or web chat, then one of the team members can handle the incoming chat.
WhatsApp Support:You can also accept customer chats from Whatsapp to Amazon Connect Chat and send messages as well, within the restrictions of WhatsApp.
Sending SMS Text:Mobile user can also send SMS Chat from her dedicated SMS number or the team SMS chat number via AWS.
IPad and Tablets
Mobile users do not need to use mobile phones; they can use IPad and Android tablets as well. Sales reps in the regional point of sale locations often have access to tablets. They can run the mobile softphone on those devices easily.
CRM Integration
Mobile users can be integrated with their organization's CRM so that the users can call CRM contacts from the mobile app, create CRM tasks, access tasks assigned to them, receive dynamic callback lists, and access CRM details of the incoming caller.
Data Security and Encryption
Your organization has full control and isolation of your Amazon Connect instance. All the recordings will be stored on AWS storage under your organization's account. Virtual servers under your AWS account will run Comstice Mobility solution. None of the service is shared; all dedicted to your organization.
Conclusion
With zero-trust mobile business line using Comstice and Amazon Connect, your organization can have full control and visibility of the mobile communications between your mobile users (employees, partners, resellers) and your customers.
Comstice Mobile Connect App is available at Apple AppStore and Google Play Store .