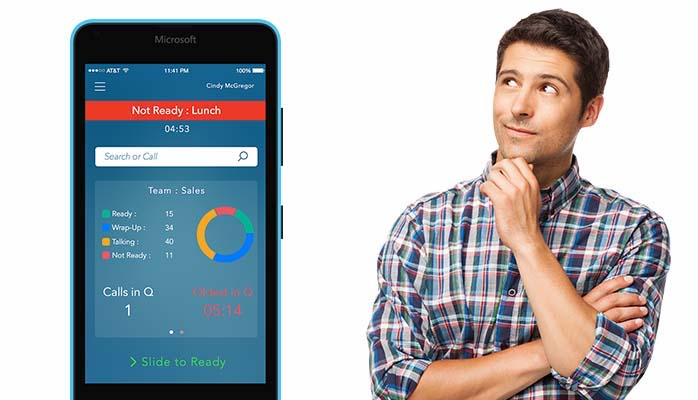 As the strategic importance of Customer Collaboration increases for your business, so does the cost of losing your contact center service availability. Thanks to the cloud and mobile technologies, it is easier, quicker and more economical than ever to create a high availability solution for your contact centers.
You did everything; dynamic failover mechanisms, countless hours of testing in the lab, high availability network links, geographical redundancy and all other ways to avoid service failure. Yet, there are still power outages, unknown disruptions and catastrophic network failures. When disaster struck, we need to have an alternative solution to get back into full service quickly.

Many contact centers have an outsourcing partners that they forward the calls when they go offline, but since their partners are not always up to speed on the latest processes and backoffice applications, often times this move backfires and returns as a negative customer experience. You also need to pay up for your outsourcing partner during the outage, even though you have agents sitting available at your site.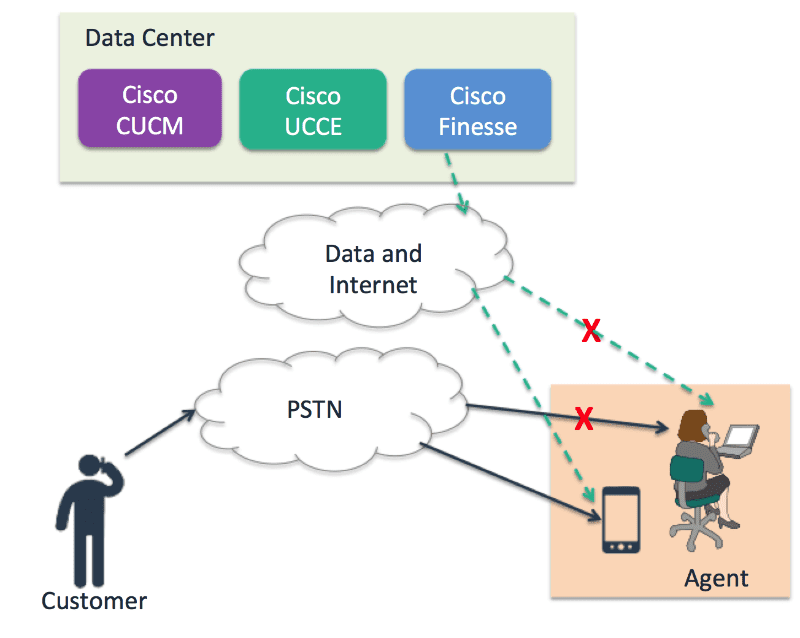 Shema 1- maybe deleted
There is a better way to get back in business and start taking calls in a contact center. Comstice created Mobile Agent App for Cisco Unified Contact Center Enterprise. This app provides all the agent features on a mobile phone when your agents can not login to their desktop PCs (network loss, power outage, Citrix failure etc.) but your centralized contact center is still active.
No Additional Cisco License Required
Mobile Agent App for Cisco UCCE uses the existing Cisco UCCE Agent licenses. Also in Cisco CUCM, there is no additional phone license required; Mobile Agent works with CTI ports (virtual phones) configured on Cisco CUCM.
No Expensive Mobile Phones Needed
Comstice Mobile Agent app works in IPhone, Android and Windows Phones. Windows phones in particular are very reasonably priced; 5-inch Microsoft Lumia 640 phones are just under $99 retail price in the US. This provides a very competitive alternative to mainstream smart phones. With Windows 10, Windows phones will be able to run IOS and Android apps as well.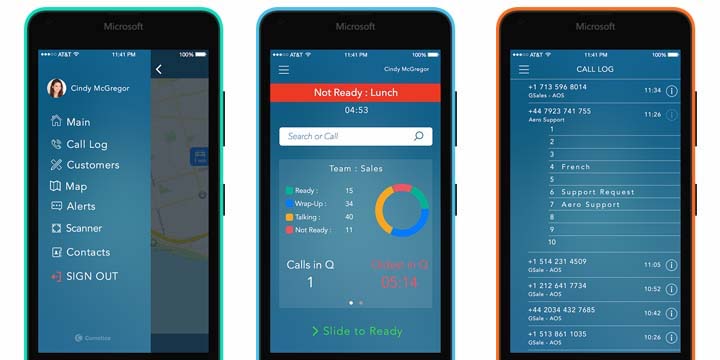 iOS app for Windows 10
No binding wireless contracts for Agent Mobile Phones
Please remember that in this solution, agents will only "receive" calls; even when they transfer the call, the actual call transfer will be done by the centralized Cisco CUCM, therefore they will never need to generate a mobile call from their device. Hence, you only need pay as you go / prepaid mobile SIMs for these phones. You don't need to sign binding contracts and pay fixed monthly fees for mobile agent phone lines.
No additional server required
Comstice Mobile Agent App communicates directly with your Cisco Finesse servers and doesn't require any additional server for agent functionality. There are some optional features such as barcode and signature pad and pushing alerts and announcements to mobile agents. Comstice Mobile Contact Center server can used for those optional services.
You don't need a Mobile VPN or a specialized Firewall
Access to Cisco Finesse Server is done using only four TCP ports which can be "port address translated" on your firewall. No sophisticated firewall features are required; please note that there will be no real-time voice going through your firewalls for this feature and the app doesn't send periodic updates so there is no risk of triggering your "Denial of Service" security applications. Cisco Unified CCE Mobile Agent feature uses your existing PSTN access to make outbound calls to agent mobile devices.
Access to customer data from Agent App
There is a customizable URL that we push to the app for each team so that your agents can access to the customer data from their mobile device. This URL can also use call variables such as account number, customer id or any other identifier so that agent can go straight into customer details without typing any customer-specific information.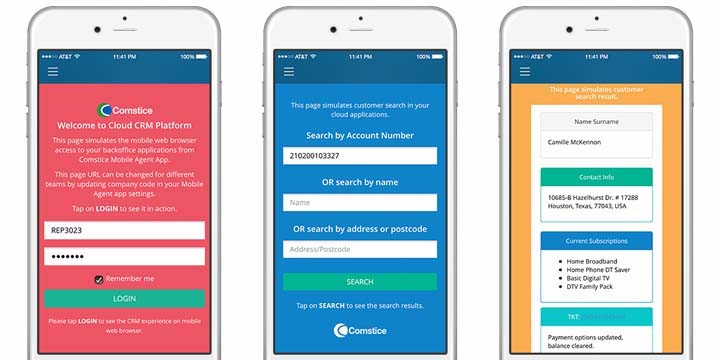 Which standard agent features are available with Mobile Agent App?
All of it. All the features such as state change, reason codes, real-time team data for the calls in queue and oldest in queue, hold/retrieve, transfer, consult transfer, conference, access to Finesse phone book, personal contacts (separate from phone contacts), calling and transferring the call to internal extensions are all available in the mobile agent app.
No additional training required for smart phone users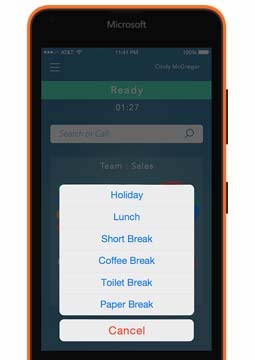 Comstice Mobile Agent App uses the common app gestures, menu options and user interface templates so that anyone who can use a smart phone would be able to use the app easily. There are a few short videos that can be used for introducing the apps into your teams.
Configuring the App is very easy
IT Managers may think that there will be quite a few configuration parameters to type on the app which means many potential support tickets to internal IT. In order to avoid this, Comstice provides a 6-character company code for each team in your organization so that they can retrieve your settings from Comstice Cloud Servers. This enables an easy setup on the apps.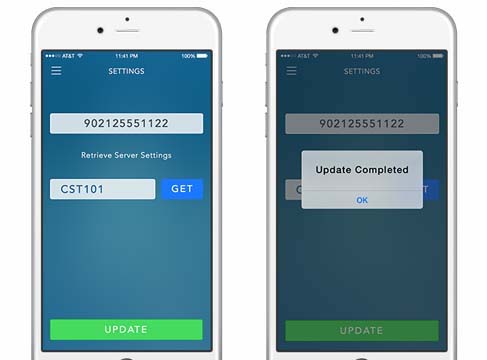 How about Supervisor and Real-Time Reporting functions?
Comstice also has Mobile Supervisor and Wallboard apps that can be rolled out to your teams. Because they are also centralized in your data center, supervisor functions and real-time and daily historical data will still be available for you in case of any site failure.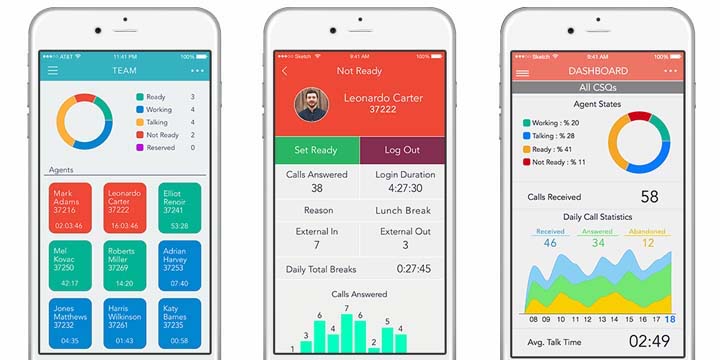 How does the app affect battery life?
Unlike the out of the box Cisco Finesse web client, Comstice Mobile Agent app doesn't send continuous keepalives. It listens to the incoming events and sends the events when needed, otherwise there is no continuous data exchange. Therefore you can use the mobile agent app for a long time. It is also able listen to the events even when the phone is locked and app is in the background. In case of any intermittent network loss (which does happen in mobile internet), agent can pull down the screen and update the latest state and queue information.
How long does it take to set up?
Main configuration will be done in your Cisco CUCM and Firewall. Using bulk configuration tools it can be done within a few hours. Cisco UCCE configuration is minimal; mobile agent feature needs to be enabled if it is not already on. Then, you are good to go.
How does the licensing work?
As mentioned above, no additional Cisco licenses required. Comstice Mobile Agent App requires a fixed, one-time license per agent and annual maintenance to make the app compatible with the latest mobile OS version updates.
What about the Client-Level Support?
Mobile Agent App comes with a support plugin where we receive the problem reports in case any app crash happens. This service is completely managed by Comstice. We also provide regular updates to resolve the reported issues. New updates become available on Google and Microsoft stores within a few hours. It takes 7-9 days to see the updates on Apple AppStore. We never collect app usage data.
Comstice creates new ideas for Unified Communications and Customer Collaboration.Please click here to request trials and more information.