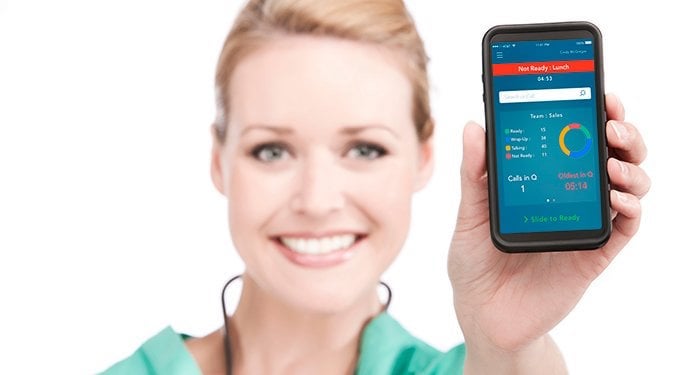 There are many teams within organisations where customers would like to communicate directly. They are not necessarily call center agents; they often have other roles and don't have a chance to login as an agent through a PC. Comstice Mobile Agent App helps to route the customer calls to these mobile teams remotely, and eliminate call center queues as a bottleneck in time-critical scenarios. It is also possible to monitor Mobile Agent geolocation so that call can be sent to the nearest agent automatically.
The Problem:
Customers would like to communicate directly with the employees outside the call centers when needed. Example could be call-in nurses, assistants in the nearest retail shop, service teams driving around with a vehicle or urgent response units. Their main role is not to sit and wait for customer calls in front of a PC but they can make themselves available using a mobile app and take customer calls while working on the shop floor or being on-call standby for a medical incident.

Currently, frontline agent in a call center responds to a call and then tries to find the right person. It is often tricky to find the best person to help since there is no real-time availability information for these employees but just a list of names and numbers. Also there is no real-time information about their geolocation either. This causes delays in response for these time-intensive situations often multiple calls for the same issue and overhead on the call center operations. Since final contact is not a call center agent, there is no end-to-end call center reporting for these scenarios either.
The Solution:
Comstice Mobile Agent App provides a full agent functionality for members of the organisation who are not necessarily call center agents. Shop assistants are often on the move within the shop floor, nurses are on-call at home or service van driver is usually busy driving the vehicle. They can login as an agent using Comstice Mobile Agent app, make themselves available and answer the incoming customer calls from the call center IVR. Their mobile number is not exposed to the caller and since it is an incoming call to a cell phone, the call quality not affected by the occasional signal drops in the mobile internet.
How It Works?
- Agent downloads free Comstice Mobile Agent App for Apple IOSor Google Android phones.


- Using 6-character company code, agent retrieves all the settings necessary to login as an agent to their Cisco Call Center. All the hostnames and other details required for login are gathered only for once and stored locally on the mobile phone.


- Agent then logs in using their agentID and passwords.


- They can monitor calls in queue, oldest in queue and other details and go to "Ready" state to receive incoming calls.


- Geolocation information of the agent is also monitored by Comstice Location Server in your data center.




- When a customer call arrives and agent is selected, your call center creates a new call to agent's mobile phone. This is a 2-stage call, therefore calling customer can not see the mobile agent's phone number.


- Mobile Agent can also access and update customer details using a built-in browser inside the app.


- If mobile agent is driving, she can launch the map view and find the best route to caller's geolocation.

- Caller doesn't need any mobile app to make this call.


- If there is any signature required once the job is complete or a barcode needs to be associated with the ticket, signature pad and barcode reader within the app can be used.
All the components in this scenario can be on-premise or in the cloud. There is no additional server-side component required for mobile agent app to work, unless agent geolocation information is required.
FAQ
Q: Do I need any Comstice Servers?
A:No, only mobile agent apps. If you need to monitor agent locations, Comstice Location Server is required, either in your data center or in the cloud.

Q: Does caller need any mobile app?
A: No, only mobile agent needs the app. Caller can make a call using any type of phone.

Q: What happens when agent makes herself "Ready" then lose mobile internet signal, but still have cell signal? A: Call center sees you as a "ready agent" and sends the customer call through mobile cell network.

Q: Do you support Genesys?
A: Genesys support is currently in beta testing. Please contact us if you would like to become a beta tester.

Q: Do you support Cisco UCCX?
A: Cisco UCCX does not support this scenario. Cisco HCS can be used for those customers.

Q: Can we use this app through a mobile VPN client?
A: Comstice Mobile Agent App is currently supports Cisco AnyConnect Mobile VPN client on the mobile phone.
Supported Platforms
Comstice Mobile Agent currently supports Cisco UCCE, PCCE and HCS. For more information, please visit https://comstice.com/agent