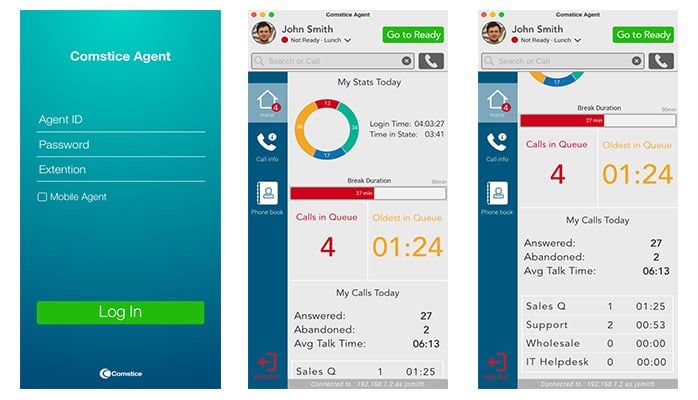 Cisco Finesse is a great feature helping us to create new ideas for Cisco Contact Center agents. Comstice Desktop Agent simplifies the agent functionality for Cisco UCCE and UCCX, provides better visibility for real-time and daily historical stats. It also eliminates the browser-related issues and creates consistency on agent features.
I believe that Cisco Finesse is one of the greatest enhancements offered for Cisco Contact Centers UCCE and UCCX in the recent years. It helped Comstice to create Comstice Mobile Agent App and now we can also offer Comstice Desktop Agent for Cisco Finesse.
Why Desktop Agent apps?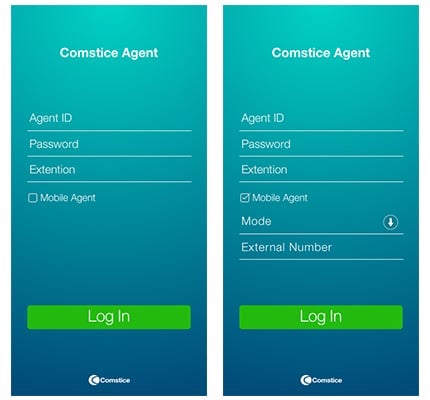 Browser-based contact center agent functionality provides great flexibility for get the agents up and running. There is no additional client installation required, agents can login using their browsers and start handing incoming contact requests. If there are any other features needed, they can be created in the form of widgets and hosted on the Finesse server.
However there are some cases where Internet Explorer is the only browser and it might have strict security policies. There are also instances where due to browser updates, agent functionality stops working on the browser which causes service disruptions.
Also any changes on the browser security policies can affect agents to be able to launch Cisco Finesse agent pages which are HTTPS-based. Browsers can change policies due to vulnerabilities and this also causes agents not able to login.
These are not necessarily Cisco Finesse issues; rather the issues caused by the browser dependency.A thick client application can overcome those problems. It also offers a better version control so that version updates can be pushed only after the new version is fully tested for the customer environment.
Why Comstice Desktop Agent?
Comstice Desktop Agent helps agents to login to Cisco UCCE/PCCE and UCCX environments using the same client. Comstice Desktop Agent uses RESTFul attributes on Cisco Finesse, therefore agent can use the same client application to login different UCCE and UCCX versions. This brings a lot of operational flexibility during Finesse version upgrades and migrations.
Agent View
Agent View presents the real-time and daily historical data for the agent. It also shows the break duration on that day; Agent counts the time spent on each Not Ready Reason Code that has a word "break" on it and reports back to the agent. This helps agent to monitor their break duration.

Comstice Desktop Agent can also be integrated to Comstice Wallboard. Comstice Wallboard provides visibility of every single call on the incoming contact queues and callback queues. Agent can monitor the details of the callers waiting in the queue. Desktop Agent also provides visibility on the callback queues so that agents can get a better visibility while working on the callbacks.
Call Info
All the call details are stored locally on a text file up to 100MB so that agent can review their call logs including the call variables..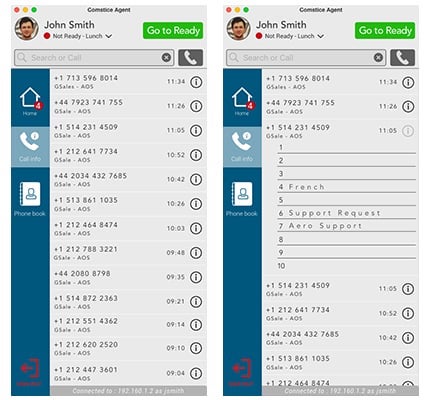 Phone Books and Contacts
All the call details are stored locally on a text file up to 100MB so that agent can review their call logs including the call variables.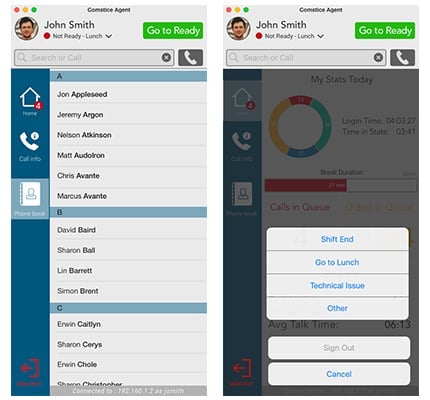 Desktop Agent Customisation
Comstice can also redesign the Desktop Agent for your company brand and colors. We can integrate this client into your CRM platform to offer more tools and features for your agents. Comstice Desktop Agent Data Sheet can be downloaded from here;