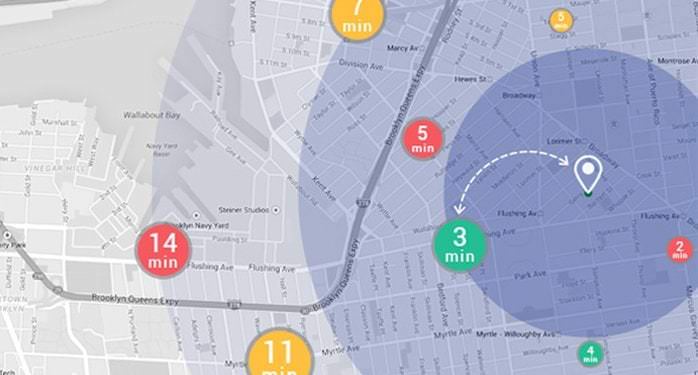 One of the challenges in Location-Based services is that customer and the expert must use the mobile app. Comstice created a technology where customer can receive the location-based services without using any app, thanks to Cisco Contact Center technologies.
1. Locating the customer
Customers can call a phone number for the service and confirm their location to speech recognition. For example;
- Please tell us your state: Arizona
- City ? Phoenix
- Where are you in Phoenix? Just outside Sheraton Grand Hotel
- And where would you like to go? Phoenix International Airport
- The fare will cost around $8, Would you like to order? Yes.
The location information will be turned into latitude/longitude using Comstice Location Server and will be added to to contact center call.
2. Assigning the Expert
Meanwhile, all the subject matter experts are using Comstice Mobile Agent App and registered to Cisco Contact Centers UCCE, PCCE or UCCX as a call center agent. Their geolocation is monitored by Comstice Location Server hosted in your data center. Cisco contact centers send the customer's geolocation to Comstice Location Server and get the agentID of the three available agents closest to the customer. Cisco Contact Centers route the call to the closest agent's cellphone and tries the others in case agent doesn't answer.
3. Expert meets the customer
Thanks to Cisco Contact Center technologies, geolocation information collected by speech recognition is added as a call variable and it will be received by the expert once the contact center call reaches her mobile app. Expert launches the built-in map and automatically gets the directions to the customer's geolocation.
4. Accessing and updating Customer details in CRM
Many businesses update the customer CRM details or trouble ticket once an enquiry is received and service is completed. In our example, the expert can access the calling customer's CRM page from the built-in browser in Comstice Mobile Agent App automatically. Using the identifiers received with the contact center call such as transactionID, accountID, calling number, Comstice Mobile App can launch web-based CRM page of the customer.

5. Recording the Calls
Organisations can still record contact center calls in this scenario using their existing recording platforms. Also expert's mobile phone number is not visible to the caller, therefore their privacy is retained.
6. SignaturePad and Barcode Reader
Using the signature pad and the barcode reader in Comstice Mobile Agent app, expert can collect customer's signature and associate it to the ticket.
Use Cases
Many customers use this solution to point the customers to their nearest salesperson, real estate agent, insurance expert, on-call medical staff or field support services. It is a mature technology that doesn't get affected by the temporary data network glitches. Even if the expert's data signal is lost, they can still receive the customer call from the contact centers through their mobile number. No VoIP functionality used, no desktop PC required.

For more information and to request a trial, please go to comstice.com/agent and fill our enquiry form.

#customerservice #omnichannel #ciscofinesse #cctr