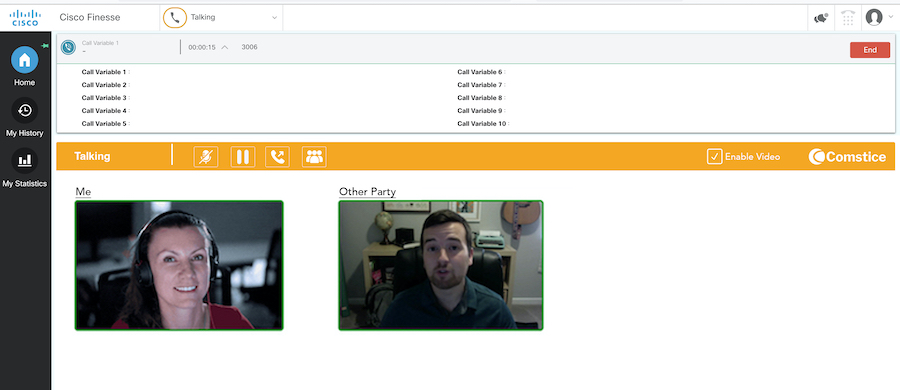 In this post, we will go through frequently asked questions about Cisco Unified Contact Center Enterprise (UCCE), Packaged Contact Center Enterprise (PCCE) and provide detailed answers and options. 
Comstice offers Finesse Webphone Gadget to use web browser as a phone without installing anything on agent's PC. It is an on-premises solution that you can run on your network. Agents can securely connect to your Cisco with no VPN required. Webphone also has Salesforce app version as well.
What is Cisco IPCC?
Cisco IPCC stands for IP-Based Contact Center. Cisco UCCX was previously called Cisco IPCC Express and UCCE was called IPCC Enterprise. Before the year 2000, all the call centers were hardware-intelligent; they had separate hardware circuits for different tasks and there was almost no IP connectivity. IP-Based Call Centers replaced this hardware intelligent platfforms with software intelligent systems, running on standard server hardware such as HP, Dell and IBM servers. Over the years, this has also evolved to virtual servers instead of dedicated server hardware.

What is Cisco Unified Contact Center Enterprise (UCCE) and what does it do?
Cisco UCCE is a contact center solution offered by Cisco for medium to large organisations. It can scale up to 60,000 agents and more. It helps businesses to set up a call center environment and distribute large volumes of customer calls to agents around.
What is Packaged Contact Center Enterprise (PCCE) ?
Packaged CCE is the marketing name of the UCCE which aims to reduce the deployment time in an attempt to re-target the medium-size call center market. It offers almost all the features and the functionality but the deployment time is shorter.

What is the difference between UCCE and UCCX?
UCCX is the small-size call center platform that supports up to 400 agents. UCCE has more comprehensive features and targets sophisticated operations and large agent numbers.
What is the difference between Cisco UCCE and PCCE?
Technically, they are the same solution. however PCCE is pre-packaged to reduce the deployment time and complexity of the design. It supports less agents. UCCE can support up to 60,000 agents.

What is the difference between Cisco UCCE and Cisco Finesse?
Cisco UCCE is the call center solution and Cisco Finesse is a server module that can be integrated into Cisco UCCE. Cisco Finesse offers agent functionality, whereas Cisco UCCE handles the call routing and also integrates with other modules such as interactive voice response (IVR) module which is called Cisco Voice Portal (CVP).
What is Cisco IVR?
IVR, Interactive Voice Response (also known as VRU, voice response unit) handles the call routing, promts and menu options to qualify the call, offer self-service features to the caller.

Cisco IVR is the interactive voice response service which integrates with Cisco UCCX and UCCE. Cisco UCCE no longer supports Cisco IVR and Cisco Voice Portal (CVP) needs to be used.
What is ICM in UCCE?
Cisco ICM is the main routing engine on UCCE and PCCE. It routes the calls to the destinations such as skills, queues, labels and IVRs. It is very scalable and can go up to 60.000 agents.
What does RONA mean in UCCE and PCCE Call Centers?
RONA stands for Reroute on No Answer. It is another name for the call missed by the agent. When the call is sent to the available call center agent's phone, if the agent does not answer within the timout duration, the call is sent back to the queue. It is not lost. Agent is set to Not Ready or AUX state with the reason RONA.

RONA or calls missed by the agents is a commonly used performance criteria. It is an unwanted situation and agent performance is measured with the number of calls missed as well as the other parameters.
What does Call Dequeue Mean in Cisco UCCE?
If the call waits too long in the queue, your routing script may send the call to another queue or a phone number. In this case, the call is taken out of the current queue and marked as "Dequeued" in the reports. So, the call is not abandoned or answered but taken out of the queue and sent to an alternate destination. This can be another queue or a phone number such as voicemail or outsourcer.