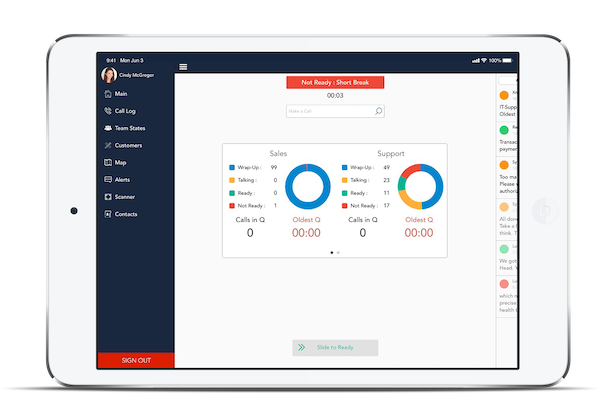 Comstice offers a Finesse mobile app in IOS and Android smartphones and tablets for Cisco UCCE, PCCE and UCCX. It is an on-premises solution and eliminates any delays and security risks of shared, cloud-based solutions. Cisco Finesse agents and supervisors can login and work without any VPN and using built-in WebRTC softphone without any dependency for Cisco Jabber, ExpressWay or Cisco MRA. Your remote agents can easily login and handle customer calls without any desktop PC required. Apple IOS and Google Android devices are supported.
No VPN Required
Comstice Mobile Agent app utilises Cisco Finesse REST APIs. It communicates with Cisco Finesse through Comstice Server on your network DMZ which also acts as a Web Proxy for HTTPS and secure XMPP traffic. Your Finesse clients can communicate with Cisco Finesse Service without opening any Finesse ports to the public Internet.
Built-In Phone inside the App
Comstice Mobile Agent app also includes a WebRTC-based softphone. Agents can receive customer calls through this phone, eliminating any Cisco Jabber or sophistocated firewall requirements. WebRTC negotiates the CODEC with Cisco CUCM and supports codecs like G.711, G.722 and others such as iLBC.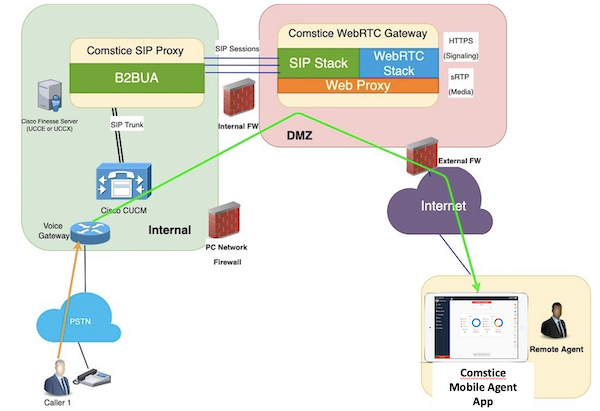 WebRTC signaling is through HTTPS and the audio is through secure RTP. Using a NAT configuration on your firewall, you can allow audio communication with Cisco CUCM and Comstice WebRTC softphones.
Integration with CRM Applications
Comstice Mobile Agent app includes a built-in web browser. Any web-based CRM application can be integrated. It is also possible to open the calling customer's CRM page when the call arrives to Comstice Mobile Agent App. Comstice Mobile Agent app also supports Cisco Finesse Workflows which offer a server-side CRM integration.
Support for Cisco Finesse Workflows
Cisco Finesse Workflow feature helps to open browser pop or make API requests when thee call is in RINGING, CONNECTEDE and ENDED state. This feature is configured on Cisco Finesse server and supporteed by Comstice Finesse Mobile apps.
Cisco Finesse Mobile App Call Flow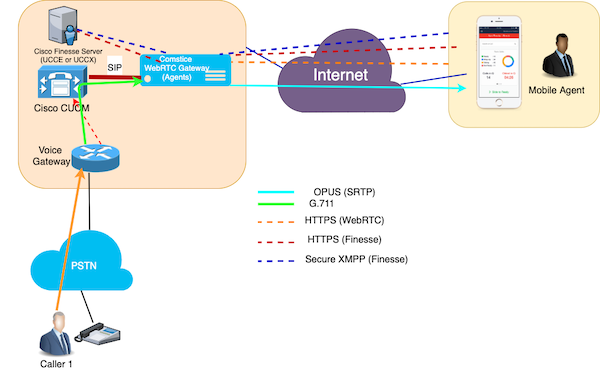 Each call center agent phone is run by WebRTC and acts as a third-party SIP Phone. Comstice Mobility Server will have a SIP trunk with Cisco CUCM and the calls will be sent to each agent's SIP extension.There is no Cisco Jabber or ExpressWay dependency in this scenario.
Comstice Mobile App Menu Options
Main: This section shows the agent state activity inside the team, queue activity and controls to change agent state.Agents can also start a call from this view to an internal or an exterenal number. When there is an active call, active call view overrides this view.
Call Logs: User can see the call logs, including missed calls and call variables for the ACD calls.
Team States: User can see the states and the reason codes of the team members. If the agent has supervisor credentials, she can change agent states and log out the agent if needed.
Customers: This is the built-in browser (Safari or Chrome) which is pointed to the CRM platform. This is launched when there is an active call or if agent needs to access CRM details of a caller from the Call Logs.
Map: If customer's location data is included in the call variables, agent can use the Map feature to visualise the location also launch a Map app available in the device to drive to the customer.
Alerts: Team leaders and supervisors can create team alerts in different severity levels 1,2 and 3. This is often used to broadcast information within the team.
Scanner: This section offers a barcode scanner and signature pad. A barcode can be scanned and added to the CRM and also signature confirmation can be receiveed from the customer during an on-site visit.
Contacts: This is the Phone Book section of the mobile app. It offers to create personal contacts and also offers access to Cisco Finesse Phone Books and Cisco CUCM Corporate Directory and Active Directory contacts.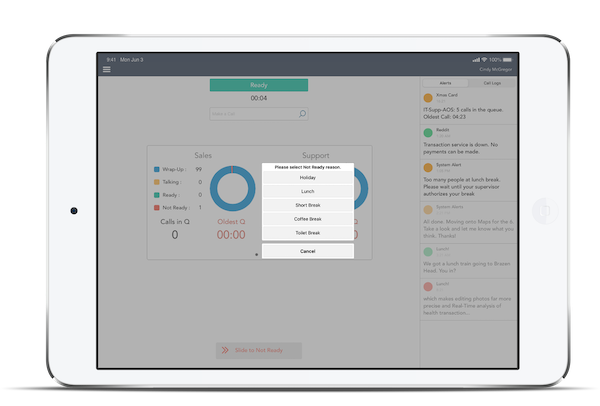 Comstice is a Cisco Solution Partner specialising contact center technologies and omnichannel customer service.Click here to learn more about Comstice Finesse Mobile app