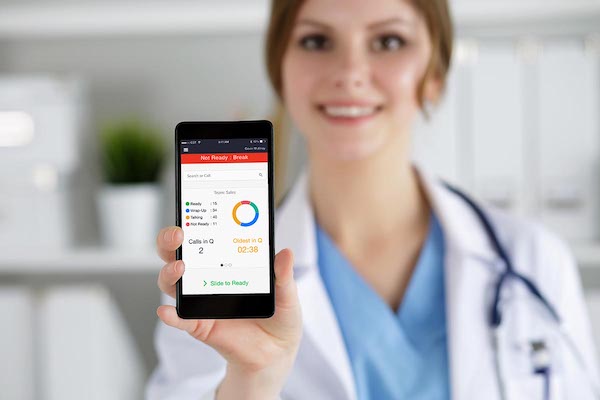 Customers often engage with employees, partners, and resellers during their customer journey with a company. You can use Cisco Finesse call center features to dynamically route customer calls and let employees make calls through the Cisco Finesse mobile app.
Drivers for Change
This organization has medical staff working across different geographical locations. These teams need to move around all day in order to look after patients and manage their administrative duties. In addition, they need to be available on-call as rostered.​
Prior to implementing Comstice, personnel needed to schedule desk time for patient callbacks. When they needed to leave their desks unmonitored patient calls were sometimes not answered. Patient satisfaction levels were impacted by this.
They tried Cisco Jabber mobile but, they could not set themselves unavailable to dynamically re-route to call in different business scenarios like call center agents.
Medical staff felt frustrated by the inefficiency of this process. They didn't want to have to schedule regular desk-bound time for patient callbacks and wanted to be more available to patients on the move. Medics were also receiving patient calls when they were busy as they were not able to set themselves to be unavailable, something they wanted to be able to do.​
Patients were calling back directly to the mobile numbers of the staff.
What we did:
Implemented the Comstice Mobile app for Cisco Finesse, enabling access to available/ not available status for medical staff on the move.​
Staff cell phone numbers were protected; when they called the patients, Cisco CUCM-controlled numbers appeared. Using call center dynamic call routing features, patient calls could be sent to an available staff automatically, if the doctors are not available.
We ensured secure mobile communications for Cisco Finesse so users did not need any mobile VPN.
Outcome / Wins:
All the mobile calls between the patient and the medical staff are being recorded.​
New contact flows were implemented and going forward when a patient called the main number, the organisation's telephony solution was able to match the calling patient with the relevant department/medic.
Medics were able to encourage customers to call the main number as the fastest route to service going forward — no need to leave a voicemail.​
On-call medics were able to stay mobile but still dynamically receive calls. ​
The business has the option to use geolocation to align the patient with the nearest on-call medic.​​
KPIs Impacted:
Employee satisfaction; Patient satisfaction​​
Employee efficiency
Better compliance with recorded mobile calls with the patients​
Conclusion
Mobile Business Communications is the next phase of enterprise telephony. With Comstice Mobile Softphone, you can create a true mobile-first enterprise communications that you can record, monitor and analyze.