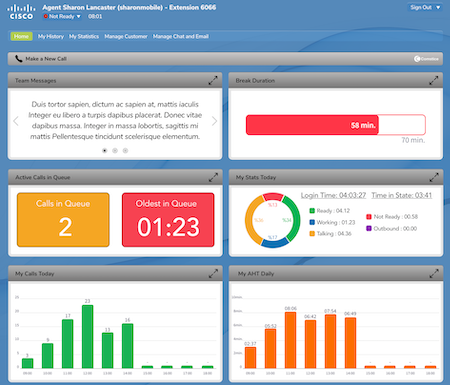 In this post, we will go through frequently asked questions about Cisco Finesse and provide detailed answers and options. 

What is Cisco Finesse and what does it do?
Cisco Finesse is a service that offers features for Cisco contact center agents and supervisors in UCCE, PCCE and UCCX. It provides a web interface for agents and supervisors to login, change their state and receive calls. It also has some integration options with other platforms to display some data and offer other features.Comstice offers Cisco Finesse Desktop Softphone and Finesse Mobile App to improve the agent and team leader experience and provide the missing features in Cisco Finesse.

Cisco Finesse Service runs on a separate, dedicated virtual servers on Cisco UCCE and PCCE solution. For Cisco UCCX, Finesse runs as a service inside the UCCX virtual servers.
<

How do I log into Cisco Finesse?
Cisco Finesse login is through the web browser. Any modern web browser can be used. Firefox seems to offer the best performance but any modern browser should work fine..
For UCCE and PCCE, agents and supervisors can login using the link format below;
http://server_name_or_IP/desktop
For the administrators;
http://server_name_or_IP/cfadmin
For UCCX, you need to add the port number 8082. For the agents and supervisors;
http://server_name_or_IP:8082/desktop
For the administrators;
http://server_name_or_IP:8082/cfadmin
These weblinks will re-route to HTTPS versions and may ask for certificate approval if self-signed certificates are used.

How to fix Cisco Finesse Certificate Errors on the browser?
Web browsers use SSL certificates for secure communication and they do not accept any certificates other than the ones issued by the validated certificate authorities. It is important to note that web browsers, although they are convenient, will get more secure and stricter in the future. That will cause more certificate related issues moving forward. It is recommended to use certificates from the recognised public certificae authority so that users will not experience any errors or other issues in different browsers.
Today, there are three options; accept the error messages and proceed to login. This is currently disabled by default but it can be enabled and you can login. Other option is to have publicly signed certificates. Third option is to use Finesse Thick clients.

Does Cisco Finesse use Java?
Cisco Finesse Server uses Python on the server side and Java on the server side. There is no Java dependency on the client side or agent web page.

How does Cisco Finesse work?
Cisco Finesse has event listeners and monitors CTI (Computer Telephony Integration) events on the call center. It also updates the call center with agent availability and other events such as making a call, transferring an existing call etc.

What does Cisco Finesse do?
Cisco Finesse is like a remote control for the call center agent. It helps agent to control her Cisco phone remotely. She can answer a call, make a call, transfer an existing call without touching her Cisco IP Phone or Jabber Phone. Cisco Finesse also helps agent to set her availability for taking calls from the queue.

What is Finesse phone system?
Cisco Finesse is a service that runs inside Cisco UCCX or as a separate virtual server in Cisco UCCE and PCCE. It offers call center agent functionality which includes managing agent's phone, answering incoming calls, making calls and other call control features. Cisco Finesse is like a remote control; it does not offer any telephony media or call control. It remotely controls the agent's Cisco phone and it is actually Cisco phone which offers all the telephony functionality.

How do I change my Cisco Finesse password?
If you are using Cisco UCCX, your Finesse username and password is probably your active directory username and password. So, when you change your active directory password, your Finesse password will change as well.
If you are using Cisco UCCE or PCCE, your Finesse password needs to be changed by your administrator or your supervisors. In some cases, single sign-on (SSO) is used and when SSO password is changed, that will also update Cisco Finesse password as well.

How do I get Cisco Finesse logs?
For Cisco Finesse, there are client-side logs and the server-side logs. Also there are logs for troubleshooting the installation and logs for checking the operational issues. You need an SFTP Server (not a client) to collect the logs from the server. On the Finesse server command line interface, you can run the relevant commands, enter your SFTP server details and Finesse will copy the logs to your server.Here is more information about the logging commands for Cisco Finesse
It is also possible to use Cisco RTMT for collecting Finesse server-side logs. In some cases, this options could be faster to get the relevant logs.