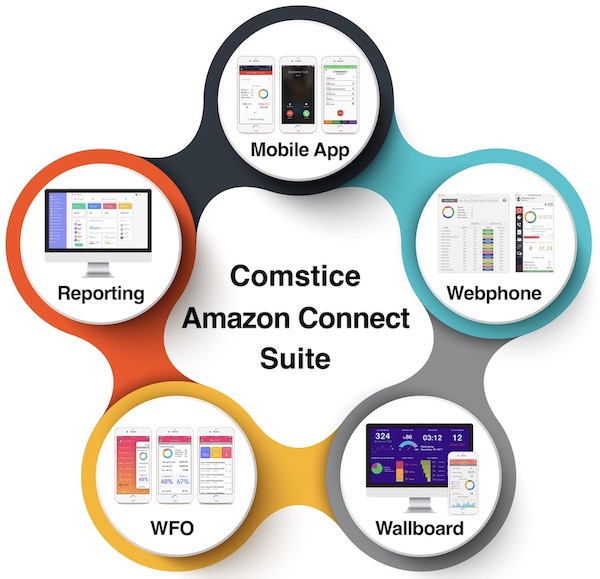 Amazon Connect Mobile Softphone with Salesforce
Amazon Connect Mobile Softphone app is a zero-trust mobile business softphone which helps customer-facing employees and partners to communicate with the customers easily. There are many use cases for integrating Amazon Connect Mobile Softphone with Salesforce.
Comstice Mobile Connect App is available at Apple AppStore and Google Play Store .
Business Benefits
Business Benefits of Mobile Softphone and Salesforce Integration:
More customer interactions with the Sales teams
Faster actions on customer follow-ups and higher lead conversion
More insights about the customer business plans and the sentiment
Recording all mobile communication with the customers and analyzing transcripts with the customers for new opportunities
Use Cases
Integrating Amazon Connect Mobile Softphone with Salesforce offers many use cases;
Callback Lists: You can automatically create dynamic callback lists for each salesperson. They can call and update the contact from Mobile Softphone.
Salesforce Contacts: The mobile app can be integrated with the Salesforce contacts so that mobile users can search the contact by name, account, company or other parameters, update the Salesforce contact once the call is ended.
Auto-Update Phone Activity: After each call with the customer, create a new phone activity on Salesforce contact with the call details and the recording link.
Salesforce Tasks: Create Salesforce tasks automatically and update mobile softphone user with mobile notifications.
Mobile Alerts: Automatically send mobile alerts with the actions for urgent callback requests, missed calls, etc.
Post-Call Result Codes: Mobile user can update salesforce contact with post-call result codes
Calling Name: Comstice can replace the Calling Number with Calling Name of the customer if the calling number is known by Salesforce.
Hiding Customer Phone Number: In order to protect customer's phone number, Comstice can hide the caller's number and only show the name.
Geolocation-Based Contact Routing: Mobile users can pin their geolocation and incoming call can be sent to the nearest sales point or the specialist.
Conclusion:
Amazon Connect Mobile Softphone is a zero-trust mobile business line that every customer-facing employee and the partner in your organization should use. Please visit product page for more information and the use cases.