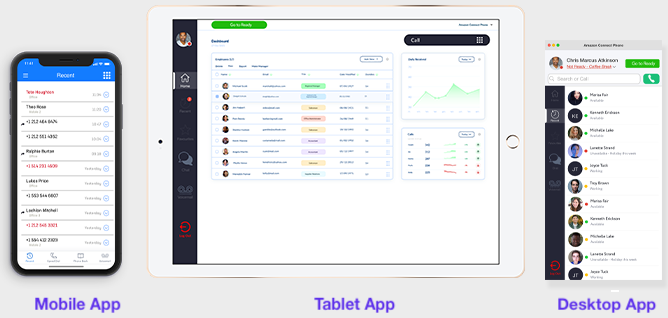 Is it possible to move all your enterprise telephony to Amazon Connect? How can you discontinue your company's PBX and handle all your internal and external telephony using Amazon Connect service? In this post, I'll explain how to move your company's entire telephony system into Amazon Connect cloud service by using Comstice desktop and mobile solutions. 

You are thinking about moving your call center to Amazon Connect but unless you move company's entire telephony system, this move doesn't make much sense. You probably don't want to manage one system for enterprise telephony and another separate system for the call center. So how can you use Amazon Connect for unified communications as well as the Call Center? How can you migrate all the features your telephony users currently have into Amazon Connect?
There are four user types for enterprise telephony users and I will explain how we can achieve all the telephony features they need using Comstice client applications and physical phones.
Enterprise Telephony User:

Enterprise telephony user can make and receive calls as voice over Internet calls from desktop and the mobile using Amazon Connect. You can assign them a direct phone number (DID) from Amazon Connect and they can receive and make calls using those DID numbers. They can access their Amazon Connect voicemail, company phone books, their favourites etc.

They can also make and receive user to user calls with other colleagues using Comstice WebRTC feature on the Comstice Softphone and Comstice Mobile Connect app as voice and video over Internet calls.

Comstice desktop and mobile apps can change their user interface for different use cases.

Physical Phones:

In some areas of the office, there must to be a physical phone, like warehouse, kitchen etc. You have two options here;

- You can either use an Android tablet in Kiosk Mode with Comstice Mobile Connect app with tablet's built-in microphone and speaker. This will have the full Amazon Connect phone featureset and simple to use. User can make and receive Amazon Connect calls and also internal user to user calls in voice over Internet. Amazon Connect user can also login to this phone if needed. User can also make E911 emergency calls in the USA.
- Alternatively, you can use physical SIP phones and register with your Comstice instance. In this case, you can make and receive internal calls, make external calls but will not be able to receive Amazon Connect calls as VoIP calls. You can still make E911 emergency calls.

Attendant Console:

Receptionists and department assistants can receive and distrubute incoming Amazon Connect calls using Attendant Console user interface and Amazon quick connects. They can receive Amazon Connect calls and transfer them to the users, queues and external numbers. They can also manually type an external number to transfer an Amazon Connect call.

Manager Assistant:

Manager assistant feature is only of the common scenarios in Enterprise Telephony. Assistants can monitor and handle phone lines for multiple managers. Multiple assistants can work as a team and handle a group of manager phone lines and transfer them accordingly.

Assistants can also access to quick connects and company's phone books. They can work using an IPad/Tablet and switch between desktop PC or Mac and IPad tablet.
In the second part of this post, we will cover the subjects below;
E911 Emergency Calls (USA)
User to user calls as VoIP calls
Mobile softphone
Video calls
Attendant Console
Manager Assistant scenarios
Group Pickup
Corporate and Personal Phone Book
Click here for more information about Comstice Desktop Softphone
Click here for more information about Comstice Mobile Connect App