Comstice offers Agent Portal experience for Amazon Connect agents for a better contact handling, high availability, great campaign performance and accessing commonly used CRM features from the portal.
Features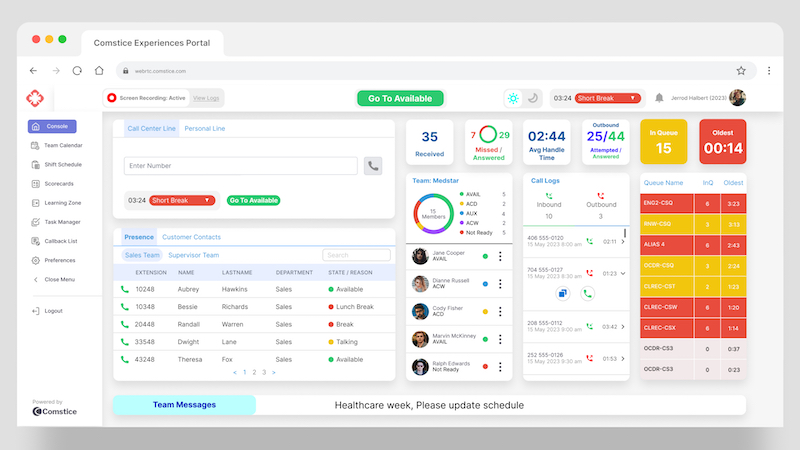 Built-in Webphone inside the browser,
Built-in Screen Recording to record entire PC screen with audio,
CRM Integration (Salesforce, Zendesk and others) for contacts, tasks,
Sending SMS via Twilio or AWS,
Automated Call Logging on CRM,
Separate Outbound Campaign Agent Experience,
Migration options to Amazon Connect Cloud Telephony with the same agent experience,
Higher agent efficiency and occupancy,
Eliminate software installations on agent PCs,
Cloud-like experience for Avaya on-premises contact centers,
Single web portal for omni-channel contact management,
Easy access to shift schedule, performance reports, alerts and notifications for each agent
Amazon Connect Integration
Comstice Portal integrates with AWS Kinesis service to retrieve the CTR and Agent State data streams. This helps to offer real-time as well as the historical reports and agent scorecards.
Comstice Portal also integrates with Amazon Connect CCP and Amazon Connect Streams for call control and web audio stream.
Single Sign-On (SSO) via Amazon Connect
Comstice Portal supports SSO if your Amazon Connect instance has single sign-on enabled.
Single Sign-On (SSO) outside Amazon Connect
Comstice Portal supports SSO even when your Amazon Connect instance does not have SSO enabled. Amazon Connect users can be given random passwords in an encrypted repository which refreshes the passwords on Amazon Connect every 24 hrs. Comstice Portal can authenticate the user via SSO then access to the latest Amazon Connect password of the user from the repository and login to Amazon Connect Control Panel.
CRM Integration
Comstice integrates with Zendesk and Salesforce out of the box using the APIs available for certain functions. Commonly used features are;
Screen-pop for the incoming caller's contact details; contact details, contact history, call logs.
Creating and accessing CRM tasks
Logging the incoming call as an activity on the CRM. This is done automatically, not a manual process.
Handling customer chats
Integration will be done using the REST and other API and integration options provided by the CRM platforms. CRM platforms other than Zendesk and Salesforce can also be integrated based on the available APIs offered.
Comstice WebRTC Phone and SIP Integration
Comstice Portal also includes WebRTC phone as an internal phone line. Agents and other users can call each other directly from the browser as a voice over Internet call. This helps to avoid sending internal calls via PSTN. It also acts as a SIP Phone which can be integrated with SIP Voice and Video Networks.
Conclusion
Comstice Agent Experiences Portal helps you to offer a great service regardless of the underlying call center technology. Your agent experience will be transparent to the technology used and will make remote-working accessible.