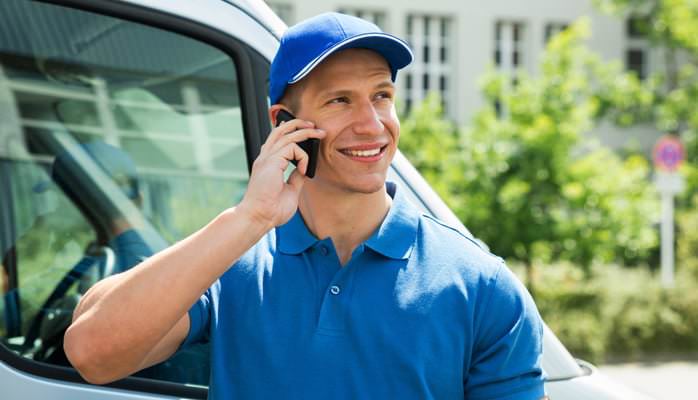 Customer Service teams need to be agile and innovative so that they can monitor customer experience better and optimize the customer journey. Agent Mobile Apps help to expand customer service beyond on-premise call centers and offers direct communication between the customers and the employees of the organization who are not full-time call center agents.
The Problem
These days, there are many different profiles of call center agents. Along with the full-time, on-premise agents, we have;
Remote/home-based agents
Outsourcers
Occasional/backup agents / subject-matter experts
Agents who are on the move
Regional agents, branch agents
Most of these agents can not use full agent functionality, therefore either they rely on front-desk to transfer the calls or complex IVR steps to identify and send the caller to them. Sometimes they even have to join the customer service journey through a much lower agent feature set which affects the overall customer service quality and reportability.
C'mon, tell me the real problem in Customer Services
TOK, let's "keep it real" ;) The main issue is that customers spend too much time to be able to access the right team that will solve their problems. They are either transferred several times and have to start all over again or they are unable to reach out to the correct team at that moment and have to call back and repeat the same process. Meanwhile customer service teams are under pressure to lower the repetitive calls for the same issue by the same customer and reduce the resolution time since the agents are unnecessarily occupied. They are trying to find ways to create simpler pathways between the customer and the right team who can help them. That will shorten the journey and lead to quicker resolution. Ah yes, customers will be happier as well.
The Solution: Extending Customer Service beyond call centers
Wider segmentation of the customer inquiries and offering specialists an infrastructure to become call center agents when needed. Mobile agent apps enable agents to login through a mobile app and receive customer calls through their mobile phone line. This can be helpful in many ways; it can help extend customer service practice to the teams that are not traditionally part of customer service organization. It is also helpful when calls need to be directed to an outsourcer; they can use the same call center technology and unified reporting without any additional configuration than an on-premise agent needs. It can also help remote and home-based agents to be truly mobile using mobile internet and do other tasks freely rather than sitting on their desks.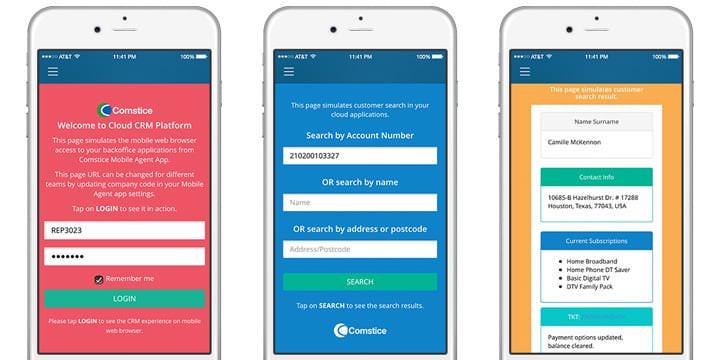 Location-Based Agent Allocation
Mobile agent app notifies agent Geo-location information to the central server.along with agent states and reason codes. This help to route customer calls to the agents based on the Geo-location of the caller. So that, customer call is transferred to an agent in the nearest branch or shop to the customer.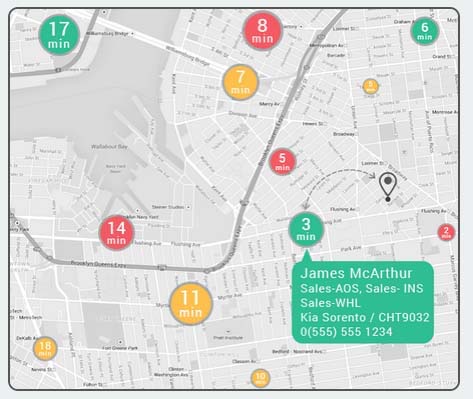 Example Scenario
Katy: Welcome to Comstice, how may I help you today? (This can be live agent or Speech Recognition)
Person 1: My dad needs medical support urgently
Person 2: Can I meet an insurance expert at my property please? It is urgent.
Person 3: We ran out of some supplies in my store
Person 4: I would like to get more information about your new home entertainment package
Person 5: I have a parcel that needs to be picked up.
Katy: OK, please tell me the location;
- He is outside San Diego Convention Center
- The Habit Burger in El Segundo, LA
- I am at home.
- My phone compass shows that I am XXX north and XXX west
Katy: OK, I updated your current location, system will automatically transfer the call to the nearest team. Have a nice day.
Mini-FAQ
Can mobile agents receive customer calls through their cell line? Yes
Will their mobile number visible by the caller? No
Will the agent get logged out if they lose mobile internet coverage?No
If a customer call comes in and agent has no mobile internet?Agent can answer the call, but accessing customer data may be tricky.
Conclusion
Mobile agent apps are one of the many ways to extend customer service functions beyond traditional call centers. Call centers are often used as a relay mechanism to access other teams. Mobile agent apps can help those teams to become more reachable by the customers directly and help to minimize the bottlenecks in customer journey.

Comstice creates Mobile Agent apps for agent and supervisor functionality in Cisco Unified CCE, Packaged CCE* and HCS*. You can download and run the apps in demo mode for Apple IOS and Google Android.

For more info, please visit http://comstice.com/agent

*Comstice Mobile Agent uses call-by-call mode feature which is available in Cisco PCCE and HCS from v11.5.