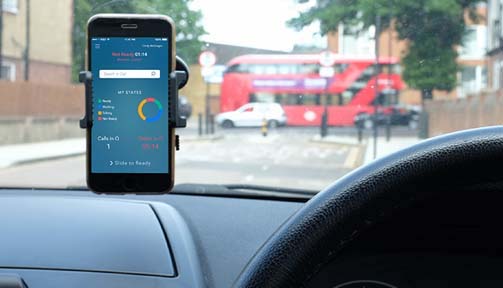 It is aggressive, it is controversial but it is successful about what it offers. What can we learn from Uber about customer collaboration and how can we use mobile apps to interact with the customers?
"Uber it" is the new buzzword that confirms the success of Uber's communication with its customers. For the skeptics, I am more interested in the execution of this simple idea rather than Uber's financial model and controversy around it. For those who haven't met Uber yet, it is a location-based taxi/cab service targeting major cities and urban areas worldwide. Customers request a cab using an app by sending their pickup location and the destination. The nearest available taxi is picked and routed to the customer. The fare is charged through customer's credit/debit card, therefore no cash exchange required. After the service, customer can rate the driver and provide feedback, which will be used for performance management and to keep the service standard to a certain level.
First, the good points;
It solves multiple problems at once
We are often told to focus on a single problem while designing solutions, but in Uber's case, by using the same process, they are able to solve multiple issues. The service response is very quick due to location-based agent (driver) assignment, no cash used which solves that stress of cash availability in taxi journeys and it has a very powerful customer feedback mechanism.
Great customer service by just using email as a channel:
If you had to cancel with a valid excuse, they waive the cancellation fee. They also listen and respond to your feedback on an email very quickly, so you don't feel like you have to call them and get the issue resolved.
App provides a convenient way to collaborate
You don't need to get a callback and rate the agent or answer five SMS/text questions sent for an independent evaluation survey. You can mark the driver using the app from 1 to 5 and that's it. Driver ratings are used to extend or terminate the contract with the drivers.
It definitely inspires us to think out of the box and work on how we could improve our communications with our customers. So here are a few suggestions;
It still requires an app on the customer side
There are many instances where customers either don't have a smart phone or they are outside mobile internet coverage. For those instances Uber falls short; there can be location-based call routing option to request the service and identify the location over a phone call.
Voice over data communication on the app
In case customer and the agent/driver need to talk, there can be a call option similar to WhatsApp. It is over data network, therefore free and also no phone numbers exchanged therefore protects privacy of both parties.
Follow-up after initial service request
Once customer makes a request, pickup location can not be changed at Uber. If, for some reason customer changes location, there is no mechanism to update the latest coordinates. Occasionally customers move to avoid traffic, but driver has no way of tracking the customer which causes service failures.
The great thing about customer collaboration via mobile app is that, customers are more inclined to use alternative channels such as chat or email rather than voice calls. When voice call is needed, mobile app can also provide a free voice call option over the mobile internet. Once the collaboration ends, customer can submit a quick feedback about their experience via mobile app as well.
It is also possible to use the customer's location and pick the nearest agent available. Agent can track and find the customer using the Mobile Agent App and provide the service face to face. This enables many new business opportunities for customer collaboration.
Comstice is a Cisco Solution Partner specializing Mobile Contact Center, Location-based Call Routing and Customer Connect mobile solutions for Cisco Contact Center technologies.