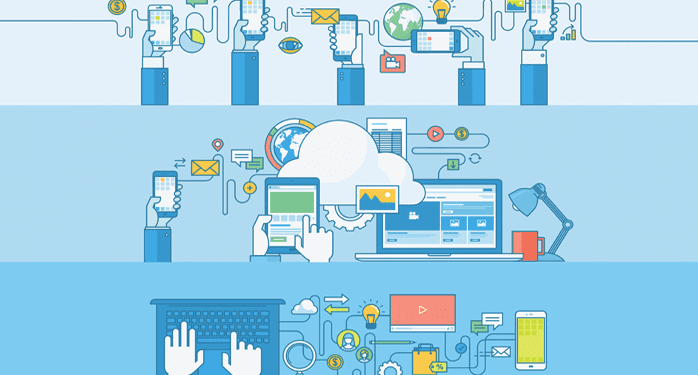 As contact centers are gradually moving to the cloud, the competition based on the price, basic features and functionality will soon push many players out of the market. The applications that contact center users can purchase and use for their service will be the main competitive difference.
Cloud Contact Center is about efficiency and innovation
Better utilisation of capacity and the resources is one of the main advantages of cloud services. Contact Center in the cloud will help roll out business processes quicker, utilise resources better and will give more breathing space to the managers to experiment new ideas and solutions for their specific line of business.
Contact Center App Stores
At this point, contact center app stores can offer many niche, industry-specific solutions under their cloud service umbrella as well as alternative solutions for basic features and functionality. Exchanging use cases can help decision-makers to minimise the risk by learning the lessons from others' experiences.
Giant Spreadsheet on a Browser vs Optimised User Experience with Specialist Apps
Not only browser-based applications but also dedicated desktop and mobile apps will be part of the cloud contact center services. App stores will help distribute many dedicated apps to overcome the browser-related limitations on desktop and mobile use cases.
Bespoke vs Industry-Specific Solutions
"Our business is completely different than any others out there", I hear often from our customers. My experience is that the solutions and technologies that are tried and tested by other organisations help bring a level of confidence no matter how niche they are. Cloud contact centers will help build these use cases to share the experiences and minimise the level of risk at trying new, innovative technologies. It will help you to compare the hype vs reality.
Attack the Real Problem: Making OmniChannel Customer Service Priority
No matter which predictive analytics or workforce optimisation tool you use, there will always be customers waiting on the line to talk to your teams. We need to stop using call centers like a flood defense system and find ways to distribute customer inquiries more intelligently with more personalised service. Ideas to to expand customer service beyond call center floor, making alternative communication channels more accessible will benefit a lot from cloud-based customer service. Mobile applications will be used more and employees who are not full-time call center agents will have direct contact with the customer when they are available, without any fontline involvement.
Comstice is a Cisco Solution Partner specialising customer service applications. Here are a few of our solutions for cloud contact centers;
Agent and Supervisor Interfaces lack features
Comstice Omnichannel Desktop Agent for Cisco Finess
Supporting various omnichannel platforms for chat and email along with Cisco voice agents, Comstice Desktop Agent is a dedicated agent and supervisor application for Cisco UCCE/PCCE and UCCX. It is a click-and-run application, no installation required.
Comstice Mobile Agent App for Cisco Finesse
Any user who has no access to desktop PCs can login as an agent using Comstice Mobile Agent app and receive customer calls from their mobile phone. Comstice Mobile Agent App users' locations can be monitored and nearest agent to the calling customer can be picked automatically. Customer doesn't need an app.
Comstice Wallboard: Real-time and Historical Data Visualisation Tool
We are transforming call center wallboards into real-time and historical dashboards that you can visualise daily, weekly, monthly and year on year comparison of your call volumes and agent activities. Comstice Wallboard also includes third party data such as social media activity, Salesforce or similar web-based CRM data, Google Analytics and platforms such as Zendesk.